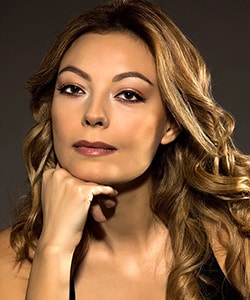 Profile
Name: Ozge Ozder
Birthdate: April 1, 1978
Birthplace: Ankara, Turkey
Height: 162 cm
Eye Color: Brown
Hair Color: Blonde
Education: Hacettepe University State Conservatory – Theatre (undergraduate and master's degree) (Hacettepe Universitesi Devlet Konservatuari Tiyatro Bolumu Lisans ve Yuksek Lisans)
Talent Agency: Icon Talent Management
Spouse: Tansel Ongel (m. 2007–2010), Sinan Guleryuz (m. 2018-present)
Biography: Ozge Ozder was born in 01 April 1978 in Ankara. She studied her secondary and high school at Ankara Ozel Yukselis College. Dyring that time, she started to be interested in theatre. In 1996, she was awarded to study at Bilkent University Theatre School with full scholarship as well as Hacettepe University State Conservatory. In 2000, she graduated from Hacettepe University and started her acting career at BKM. Since 2001, she has been actively taking part in various theatre plays. During the period of 2004-2006, Ozge Ozder took part in popular Turkish series Night of June (Haziran Gecesi) and became well-known afterwards. In 2007, she became one of the lead characters in popular Turkish series From Lips to Heart (Dudaktan Kalbe).

Ozge Ozder Tv Series / Movies
1993 – Mrs. Ferhunde (Ferhunde Hanimlar)
1998 – Women of Autumn (Sonbahar Kadinlari)
2000 – Nanny (Dadi)
2001 – Istanbul Seven Hills (Yeditepe Istanbul)
2001 – Double Trouble (Cifte Bela)
2002 – Iyi Aile Robotu (as Cagla)
2003 – Hayat A.S.
2003 – Estagfurullah Yokusu (as Didem)
2004 – Miracles of Love (Askin Mucizeleri)
2004 – Night of June (Haziran Gecesi) (as Lale)
2004 – Woe Is Me (Uy Basuma Gelenler)
2005 – Yes Sir (Emret Komutanim) (as Sultan)
2006 – Hope Island (Umut Adasi) (as Sibel) (Movie)
2006 – So Glad I Have You (Iyi ki Varsin) (as Asli)
2006 – Exam (Sinav) (as Teacher Candan) (Movie)
2007 – Sifir Dedigimde (as Muberra) (Movie)
2008 – Children of Another District (Baska Semtin Cocuklari) (as Gul) (Movie)
2007 – 2009 From Lips to Heart (Dudaktan Kalbe) (as Cavidan Mericoglu)
2009 – 2010 The Cost of Living (Omre Bedel) (as Aylin)
2011 – Turkan (as Zeynep) (Movie)
2011 – 2014 Desperate Housewives (Umutsuz Ev Kadinlari) (as Emel)
2014 – Buddy Istanbul (Ulan Istanbul) (as Sevilay Karam)
2016 – The Return (Kehribar) (as Adile Yarimcali)
2016 – 2017 Never Lose Hope (Umuda Kelepce Vurulmaz) (as Perihan)
2017 – Ruya (as Ruhsan)
2019 – Talking Animals (Konusan Hayvanlar) (Movie)
2019 – 2020 Miracle Doctor (Mucize Doktor) (as Kivilcim Boysal)
2019 – Jet Society (Jet Sosyete) (as Sema)
2020 – 2022 A Woman Scorned (Sadakatsiz – Unfaithful) (as Derya)
2022 – Poison Ivy (Gecenin Ucunda) (as Sara Kohen)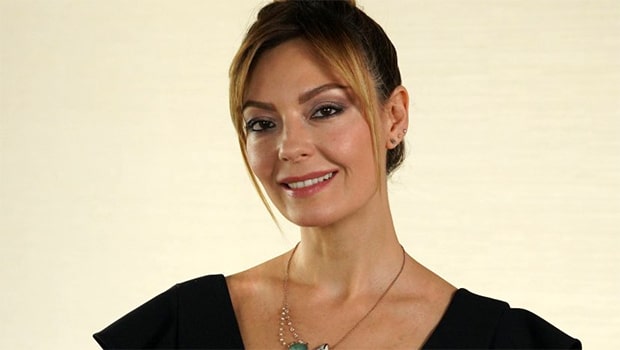 Awards
2014 – 19. Sadri Alisik Theatre and Cinema Awards (19. Sadri Alisik Tiyatro ve Sinema Oyuncu Odulleri) – Best Actress in Musical and Comedy (Guests for the House without Music) – Muzikal yada Komedi dalinda En iyi kadin oyuncu (Muziksiz Evin Konuklari)
2014 – 14. Direklerarasi Theatre Awards (14.Direklerarasi Tiyatro Odulleri) – Best Actress (Guests for the House without Music) – En iyi Kadin Oyuncu (Muziksiz Evin Konuklari)
2014 – Ekin Yazin Awards (Ekin Yazin Odulleri) – Best Actress (Guests for the House without Music) – En iyi Kadin Oyuncu (Muziksiz Evin Konuklari)
2014 – Afife Awsrds (Afife Odulleri) – Best Actress (Guests for the House without Music) – En iyi kadin oyuncu adayliği (Muziksiz Evin Konuklari)
2011 – Cuneyt Gokcer Awards (Cuneyt Gokcer Odulleri) – Actress with Distinction (Marat-Sade) – Ovguye Değer Kadin Oyuncu (Marat-Sade)
2009 – Afife Awards (Afife Odulleri) – Best Actress in Supporting Role Nominee (Leons and Lena) – En Iyi Yardimci Kadin Oyuncu adayliği (Leons ile Lena)
2008 – Bedia Muvahhit Awards (Bedia Muvahhit odulu) – Best Young Actress (Three Sisters) – En Iyi Genc Kadin Oyuncu (Uc Kiz Kardes)
2008 – Sadri Alisik Theatre and Cinema Awards (Sadri Alisik Tiyatro ve Sinema Odulleri) – Best Actress in Supporting Role Nominee (Three Sisters) – En Iyi Yardimci Kadin Oyuncu adayliği (Uc Kiz Kardes)
2008 – Afife Awards (Afife Odulleri) – Best Actress in Supporting Role Nominee (Three Sisters) – En Iyi Yardimci Kadin Oyuncu adayliği (Uc Kiz Kardes)
Theatre Plays

2002 – Masal
2002 – Cephede Piknik Yok
2002 – Iki Kisilik Hirgur
2003 – Bahar Noktasi
2003 – Baris Ormaninda Yaris
2004 – Klaksonlar Borazanlar Birtlar
2006 – Baba
2006 – Dus Oyuncaklari
2007 – Ceza Kanunu
2008 – Uc Kiz Kardes
2008 – Leonce ile Lena
2010 – Marat-Sade
2011 – Gizli Oturum
2012 – Oyun
2012 – Matmazel Julie'den Esinti
2013 – Muziksiz Evin Konuklari
2014 – Kes ve Kac
2015 – On Ikinci Gece
Social
Instagram: Official Instagram Account
Twitter: Official Twitter Account
Facebook:
Youtube Channel: Official Youtube Channel
E-Mail: Contact
Trivia
Body Type:
Skills:
Zodiac Sign: Aries
Blood Type:
Hobbies:
Weight: 50 kg