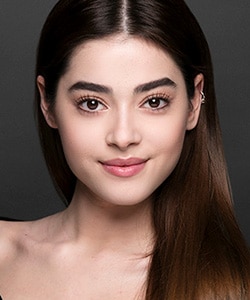 Profile
Name: Simay Barlas
Birthdate: May 5, 1998
Birthplace: Istanbul, Turkey
Height: 166 cm
Eye Color: Brown
Hair Color: Brown
Education: Bilgi University – Cinema and Television (Bilgi Universitesi Sinema Televizyon Bolumu)
Talent Agency: Yasemin Ozbudun Talent Management
Spouse:
Biography: Simay Barlas was born in 5 May 1998 in Istanbul. After graduation, she made her debut with her role as Oyku at a successful Turkish series Broken Pieces (Paramparca). After then, she continued to take part in various television projects.
Simay Barlas Tv Series / Movies
2013 – Broken Pieces (Paramparca) (as Oyku)
2016 – 2017 Bitter Sweet Life (Hayat Bazen Tatlidir) (as Gozde Sariyaz)
2017 – A.K.A. The Legend (Adi Efsane) (as Naz Yalinay)
2019 – Dijital Esaret (as Damla) (Movie)
2019 – 2020 Ruthless City (Zalim Istanbul) (as Damla Karacay)
2020 – A Mother's Guilt (Bir Annenin Gunahi) (as Yagmur Gungor)
2021 – Aziz (as Efnan)
Awards
Social
Instagram: https://www.instagram.com/simaybarlass/
Twitter: https://twitter.com/simaybarlass
Facebook:
E-Mail:
Trivia
Body Type:
Skills:
Zodiac Sign: Taurus
Blood Type:
Hobbies:
Weight: 47 kg
Gallery
A Mother's Guilt (Bir Annenin Gunahi) – Yagmur Gungor
"Bir Annenin Günahı" Yağmur Güngör'ü (Simay Barlas) tanıyalım.