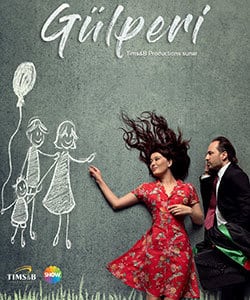 Details
Original Title:
Gulperi
English Title:
Gulperi
Also Known As:
Genre:
Drama
,
Romance
Episodes:
30
Broadcast Network:
Show Tv
Broadcast Period:
September 15, 2018 – May 4, 2019
Production Company:
Tims Productions
Director:
Cem Karci
,
Senol Sonmez
,
Yagiz Alp Akaydin
,
Metin Balekoglu
Screen Writer:
Eylem Canpolat
,
Sema Ergenekon
,
Cuneyt Bolak
,
Cenk Bogatur
,
Cem Gorgec
,
Meryem Gul
Synopsis
Gulperi (Nurgul Yesilcay) is a beautiful middle-aged woman who has three children: Hasan (Burak Dakak), Bedriye (Aleyna Ozgecen), and Can (Emir Ozyakisir). Hasan and Bedriye are 16 years old while Can is 6 years old.
Gulperi comes from a small town in Izmir and meets her husband during his military service there. Even though she is accepted to Istanbul University (Literature department), she cannot attend the school due to her father's pressure. As she is forced to give up her dreams, Gulperi never forgives her father and accepts to get married in the hope of salvation while she is so young.
After getting married, Gulperi starts to live in Taskinhan where her husband Eyup comes from. As a bride from a different city, Gulperi is never approved by her parents-in-law. Her father-in-law Yakup Taskin (Tarik Pabuccuoglu) is a strong business man in Taskinhan where all locals respect him. He dominates all people around him and uses his power and money to achieve his goals.

Gulperi and her husband want to raise their children as ordinary citizens who are not spoilt because of money. However, their life changes dramatically when Gulperi's husband Eyup dies on a business trip to Syria. After her husband's death, Gulperi starts to live at the big mansion of her parents-in-law. Now, she stands alone against her in-laws, the patriarchal culture, and the community pressure.
Gulperi dedicates her life to her children and tries to do her best to raise her children properly. For the sake of her children, she endures the hostility of her parents-in-law, sister-in-law, and brother-in-law. As a widow, she tries to survive in the traditional/conservative world dominated by men.
5 years after her husband's death, Gulperi finds herself in a difficult situation. While there is nobody at home, Gulperi is attacked by her brother-in-law Ejder (Onur Bilge). In her struggle to end the attempted rape, she stabs her brother-in-law. She manages to save her honor but she finds herself in prison.
Gulperi spends 2 years in prison. During that time, her parents-in-law and her sister-in-law brainwash her children. They burn Gulperi's letters and do not let her talk with her children. Gulperi's children Hasan, Bedriye, and Can have been raised with hatred towards their mother and believe that Gulperi is a dishonorable woman who has caused the death of their father and the injury of their uncle.
After getting out of prison, Gulperi wants to see her children but she is forced to go to Istanbul far away from Taskinhan. However, she does not give up her children and decides to make a living in the city to win back her children. She settles in Istanbul, finds a job, and starts to save money so that she could get the custody of her children.
Gulperi works as a doorkeeper in one of the buildings in rich neighborhood. She stays at the basement floor of the building where she works, cleans the building and does shopping for the residents. At the same time, she does stitching at night for one of the fashion houses. Through this way, she saves money so that she could find a good lawyer.
After 6 months, Gulperi rediscovers her first love Kadir (Timucin Esen) who is a successful lawyer in Istanbul. With the help of Kadir, Gulperi gets the custody of her 3 children and reunites with them. However, she faces a new challenge: she needs to win back the love her children and she needs to work harder to make her children get used to impoverished life in Istanbul.
Gulperi tv series story is about a middle aged mother who does her best to reunite with her children and tries to survive in the conservative world dominated by men. Will Gulperi manage to win back the love of her children? Will Yakup Taskin give up his grandchildren and let Gulperi live in peace? Will Kadir be beside Gulperi all the time? Will the youth love between Gulperi and Kadir rekindle years later? Will Hasan, Bedriye and Can learn all the truth about their mother and ask for forgiveness?
Gulperi Tv Series Cast
Nurgul Yesilcay as Gulperi
Timucin Esen as Kadir
Tarik Pabuccuoglu as Yakup Taskin
Ece Sukan as Seyma
Burak Dakak as Hasan
Aleyna Ozgecen as Bedriye
Emir Ozyakisir as Can
Gulcin Kultur Sahin as Kader
Sefika Umit Tolun as Fatma
Ezgi Gor as Artemis
Emir Cubukcu as Ali
Onur Bilge as Ejder
External Links
Official Site: https://www.showtv.com.tr/dizi/tanitim/gulperi/2338
English Wikipedia:
Imdb:
Instagram: https://www.instagram.com/gulperidizi/
Youtube: https://www.youtube.com/gulperidizi
Twitter: https://twitter.com/gulperidizi
Facebook: https://www.facebook.com/gulperidizi
You Might Also Like
Aliye
Coming Home (Sila)
Gallery
Gulperi Turkish Drama Relationship Chart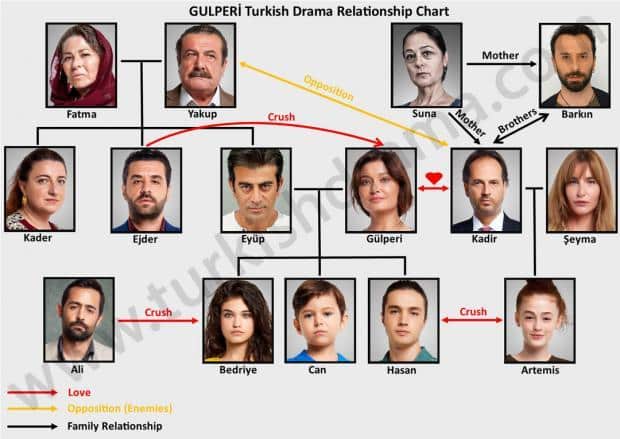 Gulperi Tv Series Trailer (with English Subtitle)
Gulperi Tv Series Trailer (Eng Sub)