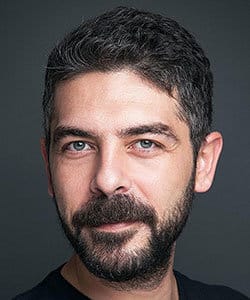 Profile
Name: Sinan Tuzcu
Birthdate: July 10, 1977
Birthplace: Gaziantep, Turkey
Height: 184 cm
Eye Color: Blue
Hair Color: Black
Education: Mimar Sinan University State Conservatory Theatre (Mimar Sinan Universitesi Devlet Konservatuvari Tiyatro Bolumu) (2000-2004)
Talent Agency: We Act Talent Management
Spouse: Dolunay Soysert (m. 2006 – 2016), Beyza Kapu (m. 2021 – present)
Biography: Sinan Tuzcu started to work at Kondon Arcola Theatre after he graduated from Mimar Sinan University. He made his debut with his role at popular Turkish drama Under the Linden Tress (Ihlamurlar Altında). He took part in various theatre plays including Ayse Operati.

Sinan Tuzcu Tv Series / Movies
2003 – Construction (Insaat) (as Cemal) (Movie)
2005 – Under the Linden Trees (Ihlamurlar Altinda) (as Omer Tekiner)
2005 – The Net 2.0 (Movie)
2006 – 2007 Back Streets (Arka Sokaklar) (as Oktay)
2006 – Nightmare House: While Waiting For You (Kabuslar Evi: Seni Beklerken) (as Ziya / Kaan)
2007 – 2008 Farewell Rumelia (Elveda Rumeli)
2007 – Nazim Hikmet Blue Eyed Giant (Mavi Gozlu Dev) (as Yusuf) (Movie)
2007 – The Market: A Tale of Trade (Pazar: Bir Ticaret Masali) (Movie)
2007 – Outside the Circle (Cemberin Disinda) (as Cesur Akinci)
2008 – From Adana (Adanali)
2008 – Jack Hunter and the Quest For Akhenatens Tomb (as Mustafa)
2008 – Rumi (Mevlana Aski Dansi) (as Mevlana Celaleddin-i Rumi) (Movie)
2008 – The Treasure of Ugarit (as Mustapha)
2008 – 2009 My Soul Mate (Yol Arkadasim) (as Sertac Aydeniz)
2009 – Golden Girls (Altin Kizlar) (as Yusuf)
2009 – Breath (Nefes) (as Goksenin)
2009 – There (Orada) (as Mazhar Gumus) (Movie)
2010 – Farewell (Veda) (as Ali Riza Efendi) (Movie)
2011 – Love and Punishment (Ask ve Ceza) (as Hakan)
2011 – Blue Violets (Mor Menekseler) (as Dedo)
2012 – Fathers and Children (Babalar ve Evlatlar) (as Yilmaz)
2013 – Visiting Day Women (Gorus Gunu Kadinlari) (as Mehmet)
2013 – The Miracle (Yarim Kalan Mucize) (as Sefik) (Movie)
2014 – Love, Effort and Dreams (Ask Ekmek Hayaller) (as Ferit)
2014 – Witnesses (Taniklar)
2015 – Saruhan (as Arif) (Movie)
2016 – My Father and His Family (Babam ve Ailesi) (as Tamer)
2017 – 7Faces (7Yuz)
2018 – Lifeline (Sen Anlat Karadeniz – You Tell, The Black Sea) (as Mustafa Kaleli)
2020 – Ethos (Bir Baskadir) (as Soap Opera Actor)
2021 – Last Summer (Son Yaz) (as Metin Yaman)
2021 – Mavera (as Hace Ahmed Yesevi)
2021 – Alparslan: The Great Seljuks (Alparslan: Buyuk Selcuklu) (as Constantine X Doukas)
Screenwriter
2014 – Trust (Emanet)
2014 – Devoted (Urfaliyam Ezelden)
2016 – The Return (Kehribar)
Social
Instagram: Official Instagram Account
Twitter:
Facebook:
Sinan Tuzcu Gallery