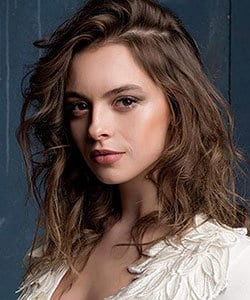 Profile
Name: Melis Sezen
Birthdate: December 2, 1993
Birthplace: Istanbul, Turkiye
Height: 169 cm
Eye Color: Brown
Hair Color: Brown
Education: Koc University Media and Visual Arts (Koc Universitesi Medya ve Gorsel Sanatlar Bolumu)
Talent Agency: Socia Entertainment & Gcma
Spouse:
Biography: Melis Sezen was born in 2 December 1993 in Istanbul. She made her debut with her role in Turkish series Life is BitterSweet (Hayat Bazen Tatlidir). She took part various projects, but she became popular with her role in Dishonour (Leke).

Melis Sezen Tv Series / Movies
2016 – Arkadaslar Iyidir (as Yasemin)
2016 – 2017 Life is BitterSweet (Hayat Bazen Tatlidir) (as Asya Turan)
2017 – 2018 Black Pearl (Siyah Inci) (as Ebru)
2018 – Tilki Yuvasi (as Aylin) (Movie)
2018 – Champion (Sampiyon) (as Esra Atman) (Movie)
2019 – Dunya Hali (as Gizem) (Movie)
2019 – Dishonour (Leke) (as Yasemin Adivar Yenilmez)
2019 – Miracle 2: Love (Mucize 2: Ask) (as Beren) (Movie)
2019 – Dear Past (Sevgili Gecmis) (as Deren Kutlu)
2019 – Icten Sesler Korosu (as Burcu)
2020 – Either Independence or Death (Ya Istiklal Ya Olum) (as Nazan)
2020 – Kovala (as Merve) (Movie)
2020 – 2022 A Woman Scorned (Sadakatsiz – Unfaithful) (as Derin Guclu Arslan)
2021 – Fatma
2023 – Gulcemal (as Deva Nakkasoglu)
Awards
2021 – 47th Golden Butterfly Awards (47. Altin Kelebek Odulleri) – New Rising Star (Yildizi Parlayanlar)
Social
Instagram: Official Instagram Account
Twitter:
Facebook:
E-Mail: Contact
Trivia
Body Type: Athletic
Skills: English, Driver Certificate (B), Turkish Signal Language, Amateur Sailor Certificate
Star Sign: Sagittarius
Blood Type:
Hobbies: Salsa, Bachata, Argentina Tango, Modern Dance, Volleyball, Ski, Swimming, Drawing, Ice Skating
Melis Sezen Gallery