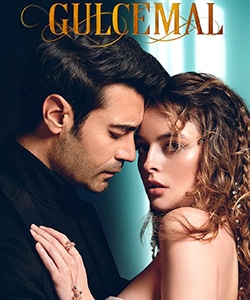 Details
Original Title: Gulcemal
English Title: Gulcemal
Also Known As:
Genre: Romance, Drama
Episodes: 13 (each episode is 130-140 minutes)
Broadcast Network: Fox Tv
Broadcast Period: April 6, 2023 – July 13, 2023
Production Company: MF Yapim
Director: Yusuf Pirhasan, Merve Colak
Screen Writer: Eda Tezcan, Selda Akin
Filming Locations: Istanbul, Bursa
Synopsis
Gulcemal (Murat Unalmis) is a cold-hearted cruel man. Even though his name means smiling-faced, he never becomes happy in his life. He faces various difficulties in life since his childhood. Abandoned by his mother years ago, Gulcemal always looks for love and compassion.
Gulcemal and his little sister Gulendam (Nilay Erdonmez) are shattered by their mother's departure. Their mother Zafer (Ayda Aksel) leaves her children in order to start a new life together with her lover and chooses her love over her family. For this reason, Gulcemal never forgives his mother and wants to get his revenge.

Gulcemal and Gulendam have grown up in difficulty and fortunately, get an enviable life for themselves. In order to execute a revenge plan, Gulcemal decides to return to Bursa where his mother lives. He is determined to get everything owned by his mother and make her regret the past.
Gulcemal just wants to hear lovely words from his mother. He tries his best to make his mother say "I am glad I gave birth to you, son." After then, he will forgive his mother and his miserable past.
Gulcemal's revenge plan is not easy to execute. This is because, his mother Zafer is a strong woman who never forgives Gulcemal for killing her lovely husband. After her husband's death, Zafer takes over the family business, becomes the respectful woman in the city, and devotes her life to her son Armagan (Samet Kaan Kuyucu). She has a wealthy life and lives happily without thinking about her past.
Like her son, Zafer also wants to take revenge on Gulcemal. She cannot stand to see him and owes to make his life miserable. He calls Gulcemal a beast and wants him to understand what a person can do because of true love.
On the first day Gulcemal returns to Bursa, he comes across a girl with long eyelashes. His acquaintance with a beautiful Deva (Melis Sezen) starts with fear and anger and turns into passion.
Deva is a designer who makes handmade designs over silk and works for Zafer. She is well-known in the city due to her creative designs.
Deva is about to get married to Mert (Edip Tepeli) whom she knows for a very long time. However, Gulcemal and his biggest enemy Zafer do their best to prevent her wedding from happening. Due to a series of unfortunate events, the innocent Deva is abandoned by her groom on her wedding day. The story becomes more complicated when Gulcemal starts to keep Deva as his captive.
Gulcemal tv series story is about the love of Gulcemal whose mother abandoned him years ago and a beautiful girl Deva who tries her best to become a remedy for troubles. Will Gulcemal execute his revenge successfully and defeat his mother? Will Gulcemal choose hatred or love? Will Gulcemal turn from a fierce hunter into an open prey? Will Deva see the true side of Gulcemal behind this cruel young man?
Gulcemal Tv Series Cast
Additional Cast Members
Samet Kaan Kuyucu as Armagan
Atilla Sendil as Halil Ibrahim
Nilufer Acikalin as Gara Ana
Meltem Akcol as Ipek
Ipek Ayaz Kortunc as Canan
Sabahattin Yakut as Emrullah
Gokcem Coban as Semra
Melike Kucuk as Narin
Evren Duyal as Fatos
Yasin Yamanol as Young Gulcemal
Characters:
Gulcemal is a cold-hearted cruel man. His name means smiling-faced but his face has never been laughed at throughout his life. When he was a little child, his mother left him for another man and his father committed suicide. Gulcemal becomes all alone and tries to survive together with his younger sister Gulendam. Gulcemal does not forget the agony he has suffered throughout his life and wants to revenge from his mother.
Deva is a beautiful young girl who is known as the best designer in the city. Her name means a remedy. Similar to her name, she wants to become a remedy for troubles and cure her loved ones. When she was a little child, her mother left her without saying a word. Even though Deva has been raised by her father with care and she has not been apart from her step-sister, she always feels the absence of her biological mother. Deva is a beautiful and emotional girl but at the same time, she is stubborn and fearless. She does not give up easily and she says whatever she thinks without any fear.
Zafer is the mother of Gulcemal and Gulendam. She leaves her children and her husband in order to start a new life together with her lover. She chooses her love over her family. She never regrets leaving her little children behind and starts to live happily together with her new family. She gives birth to another son whose name is Armagan. However, her perfect life turns upside down when Gulcemal kills her lovely husband. Zafer never forgives Gulcemal and considers her own son as her biggest enemy.
Gulendam Sahin (Nilay Erdonmez):
Gulendam is the sister of Gulcemal and the daughter of Zafer. She falls in love with Mert and tries to do her best not to lose him. Gulendam is a very fragile girl. She never forgets her mother's betrayal.
Mert is the ex-boyfriend of Deva. After having an affair with Gulendam, he has to leave Deva on their wedding day. With the pressure of Gulcemal, he gets married to Gulendam. Even though he does not love Gulendam, he has nothing to do but pretends he is a good husband.
Vefa is Gulcemal's best friend. Since his childhood, he has been living together with Gulcemal and Gulendam. He has been in love with Gulendam for a very long time even though he does not have the courage to disclose his feelings. He does his best to protect Gulcemal and Gulendam.
Armagan (Samet Kaan Kuyucu):
Armagan is Zafer's lovely son. He does not know anything about his step-brother Gulcemal and step-sister Gulendam. He is disabled and cannot walk.
External Links
Official Site: Broadcast Network
English Wikipedia:
Imdb:
Social
Instagram: @gulcemalldizi Instagram
Twitter: @gulcemalldizi
Facebook: gulcemaldizi Facebook
Youtube Channel: @gulcemaldizi
You Might Also Like
Redemption (Esaret)
Gulcemal Turkish Series Trailer (with English Subtitle)
Gulcemal Turkish Drama Trailer – 2 (with English Subtitle)
Gülcemal İlk Bölümüyle Yakında FOX'ta!