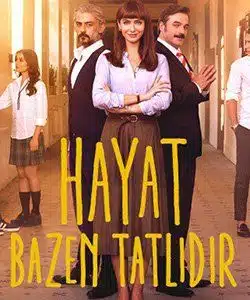 Details
Original Title: Hayat Bazen Tatlidir
English Title: Bitter Sweet Life
Also Known As:
Genre: School, Romance, Friendship
Episodes: 26
Broadcast Network: Star TV
Broadcast Period: October 16, 2016 – April 30, 2017
Production Company: Surec Film
Director: Hamdi Alkan
Screen Writer: Gani Mujde
Filming Locations: Istanbul, Turkey
Synopsis
Hayat (Birce Akalay) is a literature teacher at a top private school. She is so idealist that she cannot refrain from defending her own rights in every occasion. Due to this attitude, she does not have an easy life and often faces with different difficulties.
Hayat lives together with her little sister Gozde (Simay Barlas) who goes to the same high school where Hayat teaches. After their parents' death, Hayat becomes both a mother and a father for her sister and tries to do her best to protect her sister from dangers. Sometimes, she becomes so authoritarian and for this reason; she is exposed to criticism by her sister.

Hayat's job at a private high school makes it financially possible for her sister Gozde to attend the school as a student. They have a modest life whereas all the students at that private school have a wealthy life. Thus, Gozde sometimes finds it hard to keep pace with her classmates' lifestyle.
One day, Hayat gets an urgent phone call saying Gozde is in danger at a party.
Gozde arrives at the given address just in time to stop her unconscious sister from being raped by a fellow student Koray (Anil Tetik). Koray is Gozde's boyfriend who is attending to the same high school and at the same time, is the brother of an ex mafia leader Cerrah (Kanbolat Gorkem Arslan).
In order to move her sister away from Koray, Hayat takes a radical decision and is transferred to a public school at the Anatolian side of Istanbul. She gets a new job at Gedikpasa Anatolian High School whose all students come from poor or middle income families.
Hayat and her sister Gozde starts to have a very different life than what they are used to have. Gozde tries to adjust her new environment while Hayat has to fight the corruption at this new school. Hayat starts to fight the education system in order to give her students a good education while she is trying to win the student's trust and hearts.
The arrival of Hayat and Gozde overturns the balances in the public school. Gozde finds new friends and gets the attention of the school's popular guy Ronaldo (Deniz Can Aktas). For this reason, she starts to have a discussion with Sevda (Sevda Erginci) who also has some feelings towards Ronaldo.
The story becomes more complicated when Gozde's ex-boyfriend Koray and two other rich students are transferred to this public school. Now, Gozde finds herself in the middle of her new friends and her former rich friends.
In bitter sweet life (hayat bazen tatlidir) tv series story, you will explore an enjoyable school life that changes dramatically with the arrival of a idealist literature teacher Hayat. Will Hayat and Gozde manage to adjust their new life easily? Will Hayat manage to move her sister away from her formerrich friends? Will Gozde start to love her new school life and her classmates? Will Koray forget his feelings towards Gozde and start a new relationship?
Bitter Sweet Life (Hayat Bazen Tatlidir) Tv Series Cast
Birce Akalay as Hayat Sariyaz
Ufuk Ozkan as Mudur Serif Alkan
Simay Barlas as Gozde Sariyaz
Anil Tetik as Koray Cerrahgil
Kanbolat Gorkem Arslan as Murat Besim Cerrahgil / Pasa
Deniz Can Aktas as Burak Erkin / Ronaldo
Sevda Erginci as Kara Sevda
Alihan Araci as Locko
Zeynep Alkan as Emel
Temmuz Ugur Yildiz as Tarhan
Elif Dogan as Zeynep
Nedim Suri as Orhan / Aragaz
Melis Sezen as Asya Turan
Ilayda Cengel as Ayhan Mertoglu / Bariyer
Esin Gundogdu as Zehra Kumru
Lale Basar as Simetrik Nazan
Gamze Topuz as Birtanem
Hamdi Kahraman as Mustehak
Samil Kafkas as Erol Kivri
Tolga Canbeyli as Nadir
External Links
Official Site: https://www.startv.com.tr/video/arsiv/dizi/hayat-bazen-tatlidir
English Wikipedia:
Imdb:
You Might Also Like
Life Sciences (Hayat Bilgisi)
Daydreaming (Kavak Yelleri)
Social
Instagram:
Twitter:
Facebook:
Youtube Channel: https://www.youtube.com/channel/UC45ktxmhFf9sBR4LknKSh7g
Bitter Sweet Life (Hayat Bazen Tatlidir) Tv Series Trailer (with English Subtitle)
Bitter Sweet Life Turkish Tv Series - Trailer
Bitter Sweet Life (Hayat Bazen Tatlidir) Turkish Drama Trailer – 2 (with English Subtitle)
Bitter Sweet Life Turkish Drama - Trailer
Bitter Sweet Life (Hayat Bazen Tatlidir) Tv Series Gallery