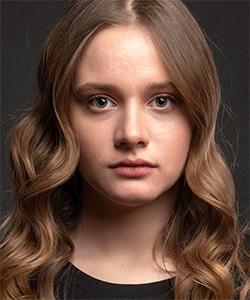 Profile
Name: Miray Daner
Birthdate: January 15, 1999
Birthplace: Istanbul, Turkey
Height: 166 cm
Eye Color: Blue
Hair Color: Brown
Education: Fine Arts High School – Music (Guzel Sanatlar Lisesi Muzik Bolumu)
Talent Agency: Id Iletisim
Spouse:
Biography: Miray Daner was born on 15 January 1999 in Istanbul. Her full name is Miray Naz Daner. She is the cousin of Turkish actor Aras Bulut Iynemli. Miray Daner started her acting career with her role in Bez Bebek when she was 7 years old.

Miray Daner Tv Series / Movies
2008 – 1 Kadin 1 Erkek (as Zeynep)
2008 – 2010 Rag Doll (Bez Bebek) (as Oyuncak Nergis)
2009 – 2011 My Daisy (Papatyam) (as Gonca)
2010 – Dersimiz: Ataturk (as Sabiha Gokcen) (Movie)
2011 – Plane Tree (Cinar Agaci) (as Pelin) (Movie)
2012 – When the Bell Ringing (Zil Calinca) (as Duygu)
2012 – Zil Calinca Avi (as Miray)
2012 – 2013 Hello Life (Merhaba Hayat) (as Dunya)
2013 – My Friend Max (Arkadasim Max) (as Melda) (Movie)
2013 – 2015 Tide and Eid (Medcezir) (as Beren Beylice)
2016 – 2018 You Are My Country (Vatanim Sensin) (as Hilal)
2018 – Hurkus: Hero in the Sky (Hurkus: Goklerdeki Kahraman) (as Selin) (Movie)
2018 – 2019 One Liter Tiers (Bir Litre Gozyasi) (as Cihan Yurekli)
2019 – 2020 The Protector (Hakan: Muhafiz) (as Kahin)
2020 – Saygi (as Helen Altug)
2022 – Hayat (as Hicran) (Movie)
2022 – Kara Tahta (as Irmak Gungor)
2022 – As the Crow Flies (Kus Ucusu) (as Asli Tuna)
Awards
Theatre Plays
2010 – Surc-i Lisan Etti-isek Affola (as Miray)
2021 – Romeo ve Juliet (as Juliet)
Social
Instagram: Official Instagram Account
Twitter: Official Twitter Account
Facebook:
E-Mail:
Gallery