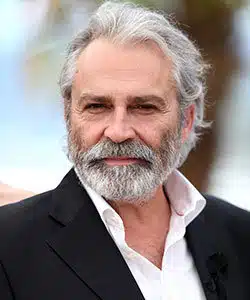 Profile
Name: Haluk Bilginer
Birthdate: June 5, 1954
Birthplace: Izmir, Turkey
Height: 174 cm
Eye Color: Hazel
Hair Color: Black
Education: Ankara State Conservatory Theatre (Ankara Devlet Konservatuvari Tiyatro Bolumu) (1971), London Academy of Music and Dramatic Art
Talent Agency:
Spouse: Zuhal Olcay (m. 1992–2004), Askin Nur Yengi (m. 2006–2012)
Biography: Haluk Bilginer was born in June 5, 1954. He won his first award at Demokrat Izmir Gazetesi high-school theatre competition. After graduating from State Conservatory, he started to work at Ankara State Theatre. In 1977, he went to UK in order to study at London Academy of Music and Dramatic Art. He took part in various tv series and movies in UK between 1980 and 1993. He came to Istanbul in 1987 in order to shoot the movie of Gecenin Oteki Yuzu and met his first wife Zuhal Olcay. He founded Theatre Studio (Tiyatro Studyosu) together with Ismet Levendoglu and Zuhal Olcay in 1990 and also founded Play Studio (Oyun Atolyesi) together with Zuhal Olcay in 1999. He took part various theatre plays such as Aldatma (Harold Pinter), Kan Kardeşleri (Willy Russell), Derin Bir Soluk Al (Ben Elton), Copluk (Turgay Nar), Histeri (Terry Johnson) ve Balkon (Jean Genet).

Haluk Bilginer Tv Series / Movies
1981 – Bergerac (as Ahmed)
1985 – Eastenders (as Mehmet Osman)
1986 – Half Moon Street (Movie)
1987 – Ishtar (Movie)
1987 – Lionheart (Movie)
1987 – Atesten Gunler (as Ahmet Rifki)
1987 – Gecenin Oteki Yuzu
1990 – Olurayak (as Omer) (Movie)
1991 – Kara Sevdali Bulut (as Atilla) (Movie)
1991 – Memories of Midnight (Movie)
1991 – Safiye'dir Kizin Adi
1992 – The Adventures Of Young Indiana Jones Daredevils Of The Desert (as Ismet Bey) (Movie)
1992 – Two Women (Iki Kadin) (as Metin) (Movie)
1992 – Borsa (as Reha Calik)
1993 – Last Word is for Love (Son Soz Sevginin) (as Tahsin)
1994 – Gulsen Abi (as Abidin Ozbidin)
1995 – Relationship Status (Medeni Haller) (as Haydar)
1996 – Usta Beni Oldursene (as Aaron) (Movie)
1996 – Istanbul Beneath My Wings (Istanbul Kanatlarimin Altinda) (as Evliya Celebi) (Movie)
1996 – 80. Adim (Movie)
1997 – Innocence (Masumiyet) (as Bekir) (Movie)
1997 – Nihavend Mucize (as Erol Alemdaroglu) (Movie)
1998 – Oops My Father (Eyvah Babam) (as Sedat)
1999 – Harem Suare (as Abdulhamit) (Movie)
2000 – Beans (Fasulye) (as The Imaginary Old Man) (Movie)
2000 – Oops My Daughter Has Grown Up (Eyvah Kizim Buyudu) (as Sedat)
2000 – The Raindrop (Gule Gule) (Movie)
2001 – Elephants and Grass (Filler ve Cimen) (as Sabit Uzucu) (Movie)
2001 – Buffalo Soldiers (as The Turk) (Movie)
2001 – Cesur Kusku (as Cesur)
2001 – Those Running at Dark (Karanlikta Kosanlar) (as Ali)
2001 – Sweet Life (Tatli Hayat) (as Ihsan Yildirim)
2002 – Ti Show (as Robot Memduh)
2002 – Spooks (as Emre Celenk)
2002 – The Hittites: A Civilization That Changed the World (Hititler) (as King III. Hattusili) (as III. Hattusili) (Movie)
2003 – Where's Firuze? (Neredesin Firuze) (as Hayri Kalipci) (Movie)
2004 – Dear Minister (Sayin Bakanim) (as Samim Bayraktar)
2004 – She's Gone (as Inspector Yilmaz) (Movie)
2005 – Robbery Alla Turca (Hirsiz Var) (as Seckin Doruk) (Movie)
2005 – Yine de Asigim (as Ali)
2006 – Killing the Shadows (Hacivat Karagoz Neden Olduruldu) (as Karagoz) (Movie)
2006 – 15 Minutes in Low Heat (Kisik Ateste 15 Dakika) (as Muhtar) (Movie)
2007 – Police (Polis) (as Musa Rami) (Movie)
2007 – Sevgili Dunurum (as Ahmet)
2008 – Cars of the Revolution (Devrim Arabalari) (as Necip) (Movie)
2008 – Son of the Sun (Gunesin Oglu) (as Alper Canan) (Movie)
2008 – Where are we? (Nerede Kalmistik) (as Ates)
2009 – 7 Husbands for Hurmuz (7 Kocali Hurmuz) (as Kuscu Cebrail) (Movie)
2009 – Fast Friends (Siki Dostlar) (as Hikmet)
2009 – The International (Uluslararasi) (as Ahmet Sunay) (Movie)
2009 – The Watercolor (Suluboya) (Movie)
2010 – Up to Cuma (Cuma'ya Kalsa) (as Cuma)
2010 – Five Minarets in New York (Newyork'ta Bes Minare) (as Haci Gumus) (Movie)
2010 – Ezel (as Kenan Birkan)
2010 – Uvey Ikizler
2011 – W.E. (as Mohamed Al-Fayed) (Movie)
2011 – Goldens of Istanbul (Istanbul'un Altinlari) (as Resat Altin)
2012 – Weird Stories (Acayip Hikayeler) (as Sinan)
2012 – Becoming a Nanny (Hayatimin Rolu) (as Musfik)
2012 – Gallipoli Children (Canakkale Cocuklari) (as Kasim) (Movie)
2013 – 2014 Fugitive (Kacak) (as Ustura Faysal)
2013 – Winter Sleep (Kis Uykusu) (as Aydin) (Movie)
2013 – The Reluctant Fundamentalist (Zoraki Radikal) (as Nazmi Kemal) (Movie)
2014 – Rosewater (as Baba Akbar) (Movie)
2016 – The Bank of Broken Hearts (Kirik Kalpler Bankasi) (as Yusuf Yagmur) (Movie)
2016 – Ben-Hur (as Simonides) (Movie)
2016 – New Blood (as John Malik)
2017 – Forget About Nick (as Nick) (Movie)
2017 – Cingoz Recai (as Mehmet Riza) (Movie)
2017 – Black Destiny (Kara Yazi) (as Oguz Karahan)
2017 – Innocent (Masum) (as Cevdet)
2017 – The Ottoman Lieutenant (Osmanli Subayi) (as Khalil) (Movie)
2017 – Shelter (as Ahmet) (Movie)
2017 – Trendy (as Hasan) (Movie)
2018 – Halloween (as Ranbir Sartain) (Movie)
2018 – Personality (Sahsiyet) (as Agah Beyoglu)
2019 – Nuh Tepesi (as Ibrahim) (Movie)
2020 – 9 Kere Leyla (as Adem) (Movie)
2020 – Alex Rider (as Hugo Grief)
2021 – Azizler (as Erbil) (Movie)
2021 – Seref Bey (as Seref)
2022 – Wild Abandon (Uysallar) (as Berhudar)
2022 – Our Father (Baba) (as Emin Saruhanli)
Awards
1997 –

34. Antalya Film Festival (34. Antalya Film Senligi) – Best Actor in Supporting Role (Innocence)

– En Iyi Yardimci Erkek Oyuncu (Masumiyet)
1997 –

11. Golden Cocoon Culture and Art Festival (11. Altin Koza Kultur ve Sanat Senligi) – Best Actor (Innocence)

– En Iyi Erkek Oyuncu (Masumiyet)
1998 –

20. Siyad Turkish Cinema Awards (20.Siyad Turk Sinemasi Odulleri) – Best Actor (Innocence)

– En Iyi Erkek Oyuncu (Masumiyet)
1998 –

10. Ankara Film Festival (10. Ankara Film Festivali) – Best Actor (Innocence)

– En Iyi Erkek Oyuncu (Masumiyet)
1998 –

10. Angers Festival (10. Angers Festivali) – Best Actor (Innocence)

– En Iyi Erkek Oyuncu (Masumiyet)
2004 –

9. Sadri Alisik Awards (9. Sadri Alisik Odulleri) – Best Actor (Where's Firuze?)

– En Iyi Erkek Oyuncu (Neredesin Firuze)
2006 –

17. Ankara Film Festival (17. Ankara Film Festivali) – Best Actor (Killing the Shadows)

– En Iyi Erkek Oyuncu (Hacivat Karagoz Neden Olduruldu?)
2007 –

18. Ankara Film Festival (18. Ankara Film Festivali) – Best Actor (Police)

– En Iyi Erkek Oyuncu (Polis)
2010 –

37. Golden Butterfly Tv Stars Awards (37.Altin Kelebek Tv Yildizlari Odulleri) – Best Actor (Up to Cuma)

– En Iyi Erkek Oyuncu (Komedi) (Cuma'ya Kalsa)
2015 –

47. Siyad Turkish Cinema Awards (47. Siyad Turk Sinemasi Odulleri) – Best Actor (Winter Sleep)

– En Iyi Erkek Oyuncu (Kis Uykusu)
Theatre Plays
1991 – Aldatma
1991 – Kan Kardesleri
1993 – Derin Bir Soluk Al
1995 – Copluk
1996 – Histeri
1998 – Balkon
1999 – Dolu Dusun Bos Konus
2000 – Ayrilis
2002 – Ermisler Ya Da Gunahkarlar
2004 – Cimri
2005 – Atinali Timon
2005 – Jeanne D'arc'in Oteki Olumu
2007 – Evlilikte Ufak Tefek Cinayetler
2009 – Sekspir Muzikali
2011 – Don Juan'in Gecesi
2012 – Antonius ile Kleopatra
2013 – Nehir
2016 – Pencere
2016 – Kundakci
2018 – Kral Lear
Social
Instagram: Official Instagram Account
Twitter: Official Twitter Account
Facebook:
E-Mail:
Haluk Bilginer Gallery