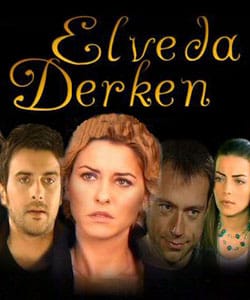 Details
Original Title: Elveda Derken
English Title: Moment of Farewell
Also Known As: A Farewell Moment (English), Lahzat Wadaa (Arabic), Înainte de sfarsit (Romania), Sylzi nad Bosfora (Bulgarian)
Genre: Drama, Romance
Episodes: 51
Broadcast Network: Kanal D
Broadcast Period: March 21, 2007 – June 18, 2008
Production Company: Yagmur Ajans
Director: Hilal Saral Unalan
Screen Writer: Ozgur Evren Hepturk
Filming Locations: Turkey
Synopsis
Lale (Ece Uslu) is a pediatrician and has a very happy family. She deeply loves her author husband Ege (Sinan Sumer) and her two little daughters. But her happy life changes when she is diagnosed a deadly terminal disease, a tumor in her brain.

Lale thinks that the best thing is leaving her family behind before her illness relapses. Therefore, she secretly leaves, files for divorce and keeps away as a sick woman while she is under treatment from doctor Ates (Gokhan Tepe) who is her close friend.
Ege doesn't understand what is happening and thinks that Lale leaves him because she loves Ates. For this reason, he immediately marries Zeynep (Burcu Kara), the house teacher of his daughters.
In moment of farewell (elveda derken) tv series story, you will explore a dramatic story of a beautiful woman torn between her two children and her struggle with life. Also, the story sheds light on how the kids end up suffering even more than the parents do after the divorce case. Will the sacrifices of Lale make her husband and daughters happy? Will Lale eventually recover from her deadly disease? How will Ege react after learning all the truths?
Moment of Farewell (Elveda Derken) Tv Series Cast
Ece Uslu as Lale
Gokhan Tepe as Ates
Burcu Kara as Zeynep
Sinan Sumer as Ege
Cagla Simsek as Naz
Seda Guven as Eda
Sait Genay as Selcuk
Kubra Ayca Turan as Ece
Incilay Sahin as Sahika
Fatma Karanfil as Ulviye
Tansel Ongel as Kerim
Ece Bostanci as Zeynep Asu
Aydan Kaya as Seyda
Ebru Bilingen as Pinar
Isik Aras as Adile
Beliz Inal as Ayse
Gokhan Aydinli as Berk
Seyfettin Karadayi as kasim
Emre Armagan Ozcan as Sami
External Links
Official Site: Broadcast Network
English Wikipedia:
Imdb:
You Might Also Like
Aliye (Aliye)
My Mother (Annem)