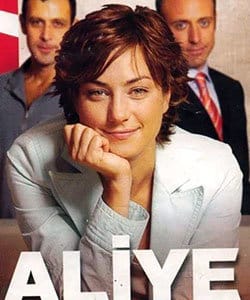 Details
Original Title: Aliye
English Title: Aliye
Also Known As: Alia (Arabic)
Genre: Drama, Family, Romance
Episodes: 76
Broadcast Network: ATV
Broadcast Period: September 14, 2004 – October 17, 2006
Production Company: TMC Film
Director: Kudret Sabanci
Screen Writer: Guliz Kucur, Mehmet Bilal, Yildiz Tunc
Synopsis
Aliye (Sanem Celik) has two beautiful children but an unhappy marriage. She lives in a big house with her mother-in-law and sister-in-law. When Aliye discovers that her husband Sinan (Halit Ergenc) is cheating on her with a younger chick, she decides to leave the house and go to her uncle's house in Istanbul. She takes her two kids with her but Sinan follows her to the train station and manages to take their son away from her.
Aliye starts a new life in Istanbul with his uncle Feyyaz (Ilhan Sesen) and at the same time struggles to get her son from Sinan. She tries to keep away from her ex-husband but Sinan still loves her and wants to be with her again. Although Aliye wants nothing more than to forget about her past and live the rest of her life quietly with her children, she comes across a new love.

As the series goes on, Aliye and a young/promising doctor Deniz (Nejat Isler) become attracted to each other.
In aliye tv series story, you will explore a dramatic life of a beautiful woman torn between her two children and her struggle with love. Will Aliye manage to avoid returning to her previous life? Will Deniz make Aliye happy? Will the kids get over the divorce of their parents?
Aliye Tv Series Cast
Sanem Celik as Aliye
Nejat Isler as Deniz
Halit Ergenc as Sinan
Baris Falay as Muco
Ayten Uncuoglu as Ikbal
Ayla Algan as Refiye
Ilhan Sesen as Feyyaz
Emel Colgecen as Meric
Eser Yenerler as Ozgur
Recognitions
32. Golden Butterfly Awards (2004): Best Actress (Sanem Celik)
Main Characters' Other Popular Dramas
Sanem Celik: Black Angel (Kara Melek)
Nejat Isler: Gulbeyaz (Gulbeyaz), Grand Bazaar (Kapalicarsi)
Halit Ergenc: 1001 Nights (Binbir Gece), Zerda (Zerda), Magnificent Century (Muhtesem Yuzyil)
External Links
Official Site: https://www.atv.com.tr/webtv/aliye/bolum
Imdb:
You Might Also Like
Moment of Farewell (Elveda Derken)
My Mother (Annem)