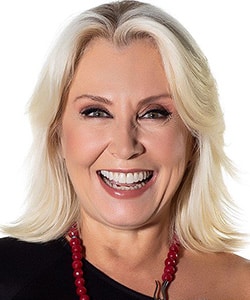 Profile
Name: Nergis Kumbasar
Birthdate: May 25, 1963
Birthplace: Ankara, Turkey
Height: 175 cm
Eye Color: Green
Hair Color: Yellow
Education: Ankara University Economics Department (drop out) (Ankara Iktisadi ve Ticari Ilimler Akademisi Iktisat Bolumu – Terk)
Talent Agency:
Spouse: Mehmet Ali Erbil (m. 1989–1996)
Children: Yasmin Erbil
Biography: Nergis Kumbasar was born in 25 May 1963 in Ankara. She comes from Rize and she the daughter of Abidin Kumbasar who is a professor of cardiology. Nergis Kumbasar went to pre-primary school in the US due to her father's research in the US. While she was going to TED Ankara College, she also went to the school of modelling and ladylikeness. While she was studying economics at Ankara University, she dropped out the school and moved to Istanbul in order to work as a model. Nergis Kumbasar started her acting career with her role as Nuzhet in Turkish series Dokuzuncu Hariciye Kogusu. Nergis Kumbasar got married to popular Turkish comedian Mehmet Ali Erbil in 1989 and gave birth to her daughter Yasmin in 1995. She got divorced in 1996. She returned to her acting career in 2000.

Nergis Kumbasar Tv Series / Movies
1985 – Dokuzuncu Hariciye Kogusu (as Nuzhet)
1989 – Time of Love and Die (Sevmek ve Olmek Zamani) (as Aysun) (Movie)
2000 – Eyvah Kizim Buyudu (as Berna)
2002 – Muhteris Ruhlar (Movie)
2004 – Full Hostel (Tam Pansiyon) (as Sermin)
2005 – Capkin (as Kevser)
2006 – 2007 The Rookie Witch (Acemi Cadi) (as Melda)
2009 – 2011 Papatyam (as Semiha)
2013 – Neva (as Ilgin's Mom) (Movie)
2015 – 2017 Love for Rent (Kiralik Ask) (as Neriman Iplikci)
2017 – Made in Turkey (Turk Mali) (as Saduman Sumbul)
2018 – Love Puzzle (Darisi Basimiza) (as Canan Tekinsoy)
2019 – Cat Kapi Ask (as Ayten) (Movie)
2020 – Happily Ever After (Iyi Gunde Kotu Gunde) (as Perihan)
2021 – Bewitched Mom (Sihirli Annem) (as Perihan)
2022 – Love and Hate (Seversin) (as Suzan Tuna)
Awards
Screenwriter

2007 – Man of My Home (Evimin Erkegi)
2007 – Sardunya Street (Sardunya Sokagi)
Presenter

2008 – May it Restart (Yeniden Baslasin)
2018 – 2019 Nergis Time (Nergis Zamani)
Social
Instagram: Official Instagram Account
Twitter:
Facebook:
Management E-Mail: Contact
Trivia
Body Type:
Skills:
Star Sign:
Blood Type:
Hobbies:
Weight: