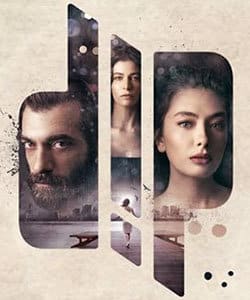 Details
Original Title:
Dip
English Title:
The Deep
Also Known As:
Genre:
Crime
,
Thriller
,
Mistery
Episodes:
8
Broadcast Network:
Puhu Tv
Broadcast Period:
March 30, 2018 – May 25, 2018
Production Company:
TMC
Director:
Uygar Kutlu
Screen Writer:
Basar Basaran
,
Emre Ozdur
Synopsis
Sahir (Ilker Kaleli) works for Istanbul police as a suicide preventer. He is a psychiatrist who talks with people who are on the verge of committing suicide and tries to prevent them committing suicide. After his wife Ekin (Berrak Tuzunatac) died 2 years ago, he dedicates his life for saving other people's lives.
Sahir is unhappy in his life. He feels responsible for not saving his wife's life. Whenever he goes to his house, he sees the ghost image of Ekin who either watches TV, eating something or just staying without speaking.

Sahir's monotone life changes dramatically when he receives a mysterious phone call. He finds a woman who is about to jump from the bridge. Sahir saves the life of that woman Bilge (Neslihan Atagul) who is a mysterious scientist with full of secrets.
Bilge is a genius woman who works as a physics teacher but writes computer codes at night. She has been raised by her aunt and uncle after her father left her. Bilge's father Orhan (Feridun Duzagac) is a successful physicist who is in charge of defense technologies in Turkey. In order to protect his daughter, Orhan hides that Bilge is his own daughter.
Orhan goes to abroad and starts to live there in order to protect the secrets about national defense. He deceives everybody that he is dead. Even his own daughter Bilge does not know that her father is alive. However, one day, Bilge gets a mysterious message from her old friend and learns that her father is alive.
Out of pure coincidence, the lives of Bilge and Sahir intersect. Bilge and Sahir start to fight side by side against the forces in a dangerous new world. They both try to find why young engineers one by one commit suicides. While searching for answers, they also find answers about their past.
In The Deep (Dip) tv series story, you will watch the mysterious events related to defense technologies. Will Sahir learn why his wife committed suicide? Will Sahir manage to protect Bilge? Is Orhan really alive? Why young engineers one by one commit suicide?
The Deep (Dip) Cast
Ilker Kaleli as Sahir
Neslihan Atagul as Bilge
Berrak Tuzunatac as Ekin
Bulent Emin Yarar as Ali Kemal
Lale Mansur as Imre
Burak Yamanturk as Emre
Tugay Mercan as Sniper
Defne Kayalar as Sengul
Gun Koper as Uygar
Tugce Altug as Aylin
Feridun Duzagac as Orhan
Gozde Turkpence as Eda
Unal Silver
Olgun Toker
Can Gox as Can
External Links
Official Site: https://puhutv.com/dip-detay
English Wikipedia:
Imdb:
You Might Also Like
Personality (Sahsiyet)
Evidence (Kanit)
The Deep (Dip) Tv Series Gallery
The Deep (Dip) Tv Series Trailer – 1
The Deep (Dip) Tv Series Trailer - 1
The Deep (Dip) Tv Series Trailer – 2
The Deep (Dip) Tv Series Trailer - 2