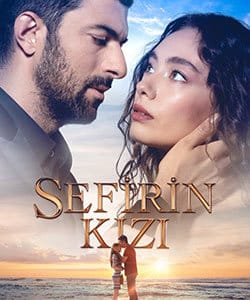 Details
Original Title: Sefirin Kizi
English Title: The Ambassador's Daughter
Also Known As: La hija del embajador, Elchining Qizi, Vajza e Ambasadorit, A nagykövet lánya, ابنة السفير, دختر سفیر
Genre: Romance, Drama
Episodes: 52
Broadcast Network: Star Tv
Broadcast Period: December 16, 2019 – May 11, 2021
Production Company: O3 Medya, NGM
Director: Emre Kabakusak
Screen Writer: Ayse Ferda Eryilmaz, Sedef Nehir Erdem
Filming Locations: Mugla, Turkiye; Podgorica, Montenegro
Synopsis
Sancar Efeoglu (Engin Akyurek) is the son of a sharecropper who works at mayor's olive groves. He lives in Bodrum (a small Aegean town of Mugla, Turkey) throughout his life and does not have a chance to take leave from his village. Sancar lives in a small cottage inside olive groves together with his family and works at mayor's service.

Nare (Neslihan Atagul), on the other hand, is the daughter of ambassador. Due to her father's occupation, she travels a lot and lives in different countries (India, Japan, Norway etc.) throughout her life. During summer time, she comes to Bodrum for vacation.
Sancar and Nare fall in love with each other even though they come from different backgrounds. They love each other very much since their childhood and dream to get married. They fight for their love for years and eventually, they get married. However, on the night of their marriage, Sancar learns that Nare has been raped by her stand-in brother Akin. No matter how hard Nare tries, Sancar does not believe her and thinks that her lover Nare is not loyal to him.
At that night, Nare disappears without a trace and no one hears from her again. Some people in the town believe that she went to Europe, some people believe that she died, and some people believe that she became a bird and ascended to the sky. But, nobody knows what happened to her at that night.
The love of Sancar and Nare becomes a legend and is told around the region after then. 8 years later, the life of Sancar and Nare intersect again.
Now, Sancar is a rich businessman who owns vast olive groves where his father worked. He lives in a big mansion together with his mother Halise (Gonca Cilasun), his sister Zehra (Cemre Oktem), his brother Yahya (Dogukan Polat) and his sister-in-law Elvan (Hivda Zizan Alp). Sancar believes that his first love Nare betrayed him and run away to Europe after the first night of their wedding. Therefore, he tries to do his best to continue his life and forget Nare.
Nare, on the other hand, buries her pain in her heart and dedicates her life to her daughter Melek. She does not forgive Sancar and thus, never tells him that he has a daughter. Nare tries to be strong to raise her daughter properly by her own. Now, she lives in Montenegro together with her father and daughter. However, her life changes dramatically all of a sudden.
One day, Nare stabs her stand-in brother while he is harassing her. This time, she does not let him do whatever he wants. When she sees his dead body, Nare wants to run away from the scene of accident. Before going to jail, she wants to entrust her daughter to Sancar. Therefore, she takes her daughter and goes to Bodrum, Turkey.
When Nare arrives at Bodrum, she finds out that Sancar is getting married to Menekse (Tulin Yazkan). Nare has nothing to do but to entrust her daughter to Sancar as soon as possible. That's why, she visits Sancar's wedding by surprise and comes like a bombshell. When she reveals that Melek is the daughter of Sancar, everybody is shocked and becomes speechless.
The Ambassador's Daughter (Sefirin Kizi) tv series story is about a legendary love between Sancar and Nare. Will Sancar believe that Melek is his own daughter? What will happen to Sancar's new marriage with Menekse? Will Nare go to jail? Will Sancar and Nare start over again for the sake of their daughter and find happiness this time?
The Ambassador's Daughter Tv Series Cast
Engin Akyurek as Sancar Efeoglu (episodes 1-52)
Tuba Buyukustun as Mavi Cinar (37-52)
Gonca Cilasun as Halise Efeoglu (1-52)
Dogukan Polat as Yahya Efeoglu (1-52)
Hivda Zizan Alp as Elvan Efeoglu (1-52)
Erdal Kucukkomurcu as Guven Celebi (1-52)
Cemre Oktem as Zehra Kavruk (1-52)
Edip Tepeli as Omer Kavruk (1-52)
Beren Gencalp as Melek Celebi Efeoglu (1-52)
Ilayda Ildir as Dudu (3-52)
Sami Aksu as Necdet Yilmaz (1-52)
Safak Baskaya as Sedat (42-52)
Leaving Cast
Neslihan Atagul Dogulu as Nare Celebi (1-36)
Uraz Kaygilaroglu as Gediz Isikli (1-37)
Tulin Yazkan as Menekse Yilmaz (1-35)
Zerrin Sumer as Feride Efeoglu (26-36)
Nilufer Kilicarslan as Atike Yilmaz (1-35)
Deniz Isin as Doctor Sahra Yalcin (27-34)
Furkan Aksoy as Lokman (7-29)
Erhan Alpay as Akin Baydar (1-26)
Ferit Aktug as Bora (39-49)
Esra Kizildogan as Muge Isikli (1-46)
Ozlem Cakar Yalcinkaya as Refika Isikli (1-41)
Bulent Sakrak as Kahraman Boz (12-40)
Gozde Cigaci as Ceylan (17-40)
Duygu Karaca as Ese (1-34)
External Links
Official Site: Broadcast Network
English Wikipedia: Wikipedia – Sefirin Kizi
Imdb: Imdb – The Ambassador's Daughter
Social
Instagram: Instagram – sefirinkizidizi
Twitter: Twitter – @SefirinKiziDizi
Facebook: Facebook – SefirinKiziDizi
Youtube Channel: Youtube – @sefirinkizidizi
You Might Also Like
Endless Love (Kara Sevda)
Black Money Love (Kara Para Ask)
The Ambassador's Daughter (Sefirin Kizi) Turkish Drama Relationship Chart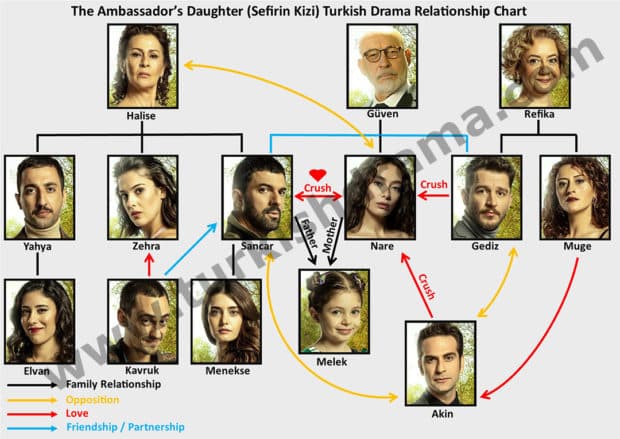 The Ambassador's Daughter (Sefirin Kizi) Tv Series Trailer (with English Subtitle)
The Ambassador's Daughter (Sefirin Kizi) Tv Series Trailer (Eng Sub)