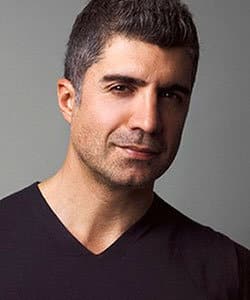 Profile
Name: Ozcan Deniz
Birthdate: May 19, 1972
Birthplace: Ankara, Turkey
Height: 180 cm
Eye Color: Brown
Hair Color: Black
Education:
Talent Agency:
Spouse: Feyza Aktan (m. 2018–2019), Handan Deniz (m. 1991–2000)
Children: Kuzey Deniz
Biography: Ozcan Deniz is a Kurdish, Turkish singer and actor. He lived in Ankara until 5 years old and then moved to Aydin in 1977. He spent his childhood and youth in Aydin. Ozcan Deniz started his music career in Aydin in 1985 and started to take to the stage in Izmir and Antalya. He won the Sultanhisar Town Traditional Voice Festival. Ozcan Deniz moved to Istanbul in 1988 and went to Germany in 1989. He did his first music album in 1992. Ozcan Deniz take part in various social responsibility projects such as Kidney Foundation, Red Cross, and TOCEV Long Live Our School.
Ozcan Deniz Tv Series / Movies
1994 – Tell Him About My Love (Ona Sevdiğimi Söyle) (Movie)
1995 – Yer Cekimli Asklar (as Cemal) (Movie)
1997 – A Lie (Yalan) (as Hasan)
1999 – Your Love Floats in Mountains (Askin Daglarda Gezer) (as Zal)
2002 – 2003 Vine Mansion (Asmali Konak) (as Seymen Karadag)
2002 – Easy Money (Kolay Para) (as Cevher Yildiz) (Movie)
2002 – Now He Is a Soldier (O Simdi Asker) (as Volkan Ates) (Movie)
2002 – Rating Hamdi (Reyting Hamdi) (as Ozcan)
2003 – Vine Mansion Hayat (Asmali Konak – Hayat) (as Seymen Karadag) (Movie)
2003 – Where Are You Firuze (Neredesin Firuze) (as Ferhat Can) (Movie)
2004 – 2006 Night of June (Haziran Gecesi) (as Baran Aydin)
2005 – Keloglan vs. The Black Prince (Keloglan Kara Prens'e Karsi) (as Dark Prens) (Movie)
2007 – Destiny (Kader) (as Ali Asyali)
2008 – 2009 Love Hurts (Ask Yakar) (as Mustafa)
2008 – Aksamdan Kalma (as Ferit) (Movie)
2008 – Rumi: The Dance of Love (Mevlana Aski Dansi) (as Celebi Husamettin) (Movie)
2008 – Sarikamis White Sadness (Sarikamis Beyaz Huzun) (as Faik) (Movie)
2009 – 2010 The Galaxy (Samanyolu) (as Nejat)
2010 – Aksamdan Kalma 2 (as Ferit) (Movie)
2011 – And Then What? (Ya Sonra) (as Adem) (Movie)
2012 – Somewhere in Between (Araf) (as Mahur) (Movie)
2012 – Aksamdan Kalma 3 (as Ferit) (Movie)
2012 – Once Upon A Time In The Ottoman Empire: Rebellion (Bir Zamanlar Osmanli Kiyam) (as Serhat)
2012 – You are My Home (Evim Sensin) (as Iskender) (Movie)
2013 – 2014 Black Rose (Karagul) (as Murat Samverdi)
2013 – Water and Fire (Su ve Ates) (as Hasmet/Kemal) (Movie)
2014 – 2015 The Day My Destiny is Written (Kaderimin Yazildigi Gun) (as Kahraman Yorukhan)
2016 – Everything is Due to Love (Her Sey Asktan) (as Kado) (Movie)
2016 – You Are My Home 2: Blessed Love (Evim Sensin 2: Kutsal Ask) (as Iskender) (Movie)
2016 – Second Chance (Ikinci Sans) (as Cemal) (Movie)
2017 – Other Side (Oteki Taraf) (as Cetin) (Movie)
2017 – 2019 Bride of Istanbul (Istanbul'lu Gelin) (as Faruk Boran)
2021 – Waiting for You (Seni Cok Bekledim) (as Kadir)
Director
2011 – And Then What? (Ya Sonra) (Movie)
2012 – You Are My Home (Evim Sensin) (Movie)
2013 – Water and Fire (Su ve Ates) (Movie)
2015 – Cute & Dangerous (Sevimli Tehlikeli) (Movie)
2016 – You Are My Home 2: Blessed Love (Evim Sensin 2: Kutsal Ask) (Movie)
2016 – Second Chance (Ikinci Sans) (Movie)
2017 – Other Side (Oteki Taraf) (Movie)
Screen Writer
2011 – And Then What? (Ya Sonra) (Movie)
2012 – You Are My Home (Evim Sensin) (Movie)
2013 – Water and Fire (Su ve Ates) (Movie)
2015 – Cute & Dangerous (Sevimli Tehlikeli) (Movie)
2016 – You Are My Home 2: Blessed Love (Evim Sensin 2: Kutsal Ask) (Movie)
2016 – Second Chance (Ikinci Sans) (Movie)
Ozcan Deniz Music Albums
1992 – You Made Me Cry Again (Yine Aglattin Beni)
1993 – My Angel (Melegim)
1994 – My White Butterfly (Beyaz Kelebegim)
1997 – Is it a Lie? (Yalan Mi)
1998 – Shepherd's Star (Coban Yildizi)
2000 – Like a Lion (Aslan Gibi)
2002 – Leyla
2003 – Vine Mansion Hayat (Asmali Konak Hayat)
2004 – Voice and Separation (Ses ve Ayrilik)
2009 – Lover (Sevdazede)
2012 – Just Think About It (Bi Dusun)
2014 – Gift (Hediye)
2015 – Deli Damla
Awards
2002 – 10. Magazine Journalists Association Awards (10.Magazin Gazetecileri Dernegi Odulleri) – Best TV Lead Actor (Vine Mansion) – En Iyi TV Oyuncusu (Asmali Konak)
2011 – 20.Mannheim Turkish Film Festival (20.Mannheim Turk Film Festivali) – Public Award (And Then What?) – Halk Odulu (Ya Sonra)
Social
Twitter: https://twitter.com/OzcanDeniz
Facebook: https://www.facebook.com/ozcandeniz
Youtube Channel: https://www.youtube.com/channel/UC4mi75OBoU-NPJXNgcvcYWA
Instagram: https://www.instagram.com/ozcandeniz/
Spotify: https://open.spotify.com/artist/4VU1nemTk5QFsrclcN8VFl
Apple Music: https://music.apple.com/tr/artist/%C3%B6zcan-deniz/256881361
Ozcan Deniz – color of love (Sevdanin Rengi) (Clip)
Özcan Deniz - Sevdanın Rengi (Klip)