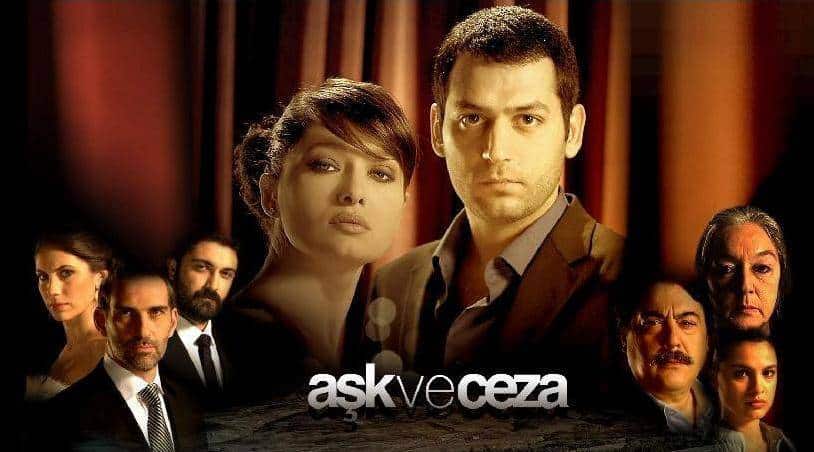 Details
Original Title: Ask ve Ceza
English Title: Love and Punishment
Also Known As:
Genre: Romance, Drama
Episodes: 62
Broadcast Network: ATV
Broadcast Period: January 5, 2010 – June 27, 2011
Production Company: TMC Film
Director: Kudret Sabanci
Screen Writer: Yildiz Tunc, Murat Lutfu, Mehmet Bilal, Ethem Yekta
Synopsis
Yasemin (Nurgul Yesilcay) is a 25-year old girl who works in an advertisement company. She plans to get married Mehmet (Caner Kurtaran) but one week before their wedding, she finds out that her fiancé is cheating on her with her best friend. After this betrayal, she loses her belief in love, marriage and innocence and immediately goes to Bodrum (a touristic place in western Turkey) where her mother lives.
In Bodrum, Yasemin goes to the night pub and out of pure coincidence she comes across Savas (Murat Yildirim) who turns her life upside down. They spend one night together but in the morning, Yasemin disappears without leaving any track but just a necklace. This one night stand which is the beginning of the hope for a greater love changes both the life of Yasemin and Savas.

In love and punishment (ask ve ceza) tv series story, you will explore a love story which is surrounded with secrets. Will Savas manage to find Yasemin and express his feelings? Will the difference between East and West affect their relationship? Will all the secrets be revealed?
Cast
Murat Yildirim as Savas Baldar
Nurgul Yesilcay as Yasemin Ustun
Tomris Incer as Sahnur Baldar
Feride Cetin as Cicek
Caner Kurtaran as Mehmet
Sinan Tuzcu
Kerem Atabeyoglu as Pala
Gokce Yanardag as Nazan Baldar Noyan
Halil Kumova as Ahmet Moran
Cenk Ertan as Bora Noya
Sennur Kaya as Leyla Ustun
Nazan Kesal as Sevgi
External Links
Official Site: http://www.tmc.com.tr/diziler.php?diziadi=A%C5%9Fk%20ve%20Ceza
Imdb: http://www.imdb.com/title/tt1580811/
Wikipedia: https://en.wikipedia.org/wiki/Aşk_ve_Ceza
You Might Also Like
Coming Home (Sila)
Rebellious (Asi)
Love and Punishment (Ask ve Ceza) Tv Series Gallery