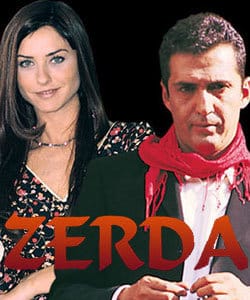 Details
Original Title: Zerda
English Title: Zerda
Also Known As:
Genre: Romance, Drama
Episodes: 68
Broadcast Network: ATV
Broadcast Period: September 26, 2002 – June 3, 2004
Production Company: TMC Film
Director: Kudret Sabanci
Screen Writer: Gaye Boralioglu, Nese Sen, Sertac Engin
Filming Locations: Istanbul, Turkey
Synopsis
Sahin (Yavuz Bingol) and Zerda (Ece Uslu) are two young people that deeply in love. They live in Gaziantep in the East of Turkey. Sahin comes from a traditional conservative family whereas Zerda is a daughter of an ordinary teacher and has been raised as a Westerner.
Despite the difference between this couple, they plan to get married. However, their life changes radically when Sahin's brother dies in a traffic accident. Now according to tradition; Sahin is supposed to marry his brother's wife, Hacer (Hulya Sen).
Sahin carries the burden of tradition and her mother on one shoulder and his love for Zerda on the other. Although he doesn't want to loose Zerda, eventually he marries to Hacer but he doesn't even touch her. He still tries almost every possible way to become together with Ece Uslu again.

In zerda tv series story, you will explore a love story that grows up between modern world and traditions, sometimes full of tragedy that will make you cry, and sometimes full of humor to make you laugh. Will Zerda forgive Sahin? Will Ece Uslu and Yavuz Bingol manage to escape from the burdens of tradition? Will their love overcome every obstacle?
Zerda Tv Series Cast
Yavuz Bingol as Sahin
Ece Uslu as Zerda
Halit Ergenc as Devran
Burak Sergen as Mahmut
Koksal Engur as Siddik
Guven Hokna as Sultan
Hulya Sen as Hacer
Fusun Kostak as Akgul
Nihat Nikerel as Hasan Ali
Idil Firat as Canan
Kaya Gurel as Dursun
Deniz Oral as Apo
Dilaver Uyanik as Bekir
Derya Artemel as Sila
External Links
Official Site: https://www.atv.com.tr/webtv/zerda/bolum
English Wikipedia:
Imdb:
Youtube: https://www.youtube.com/channel/UCn7HKVteh3-4Ch02WmjXfmw/
You Might Also Like
Vine Mansion (Asmali Konak)
Coming Home (Sila)
Black Rose (Karagul)