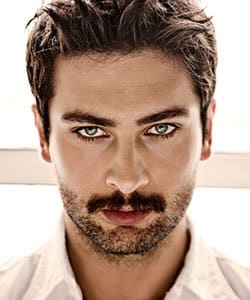 Profile
Name: Onur Tuna
Birthdate: July 2, 1985
Birthplace: Canakkale, Turkey
Height:  195 cm
Eye Color: Blue
Hair Color: Black
Education: Dokuz Eylul University – Economics (Dokuz Eylul Universitesi Ekonomi), Ege University State Conservatory – Art Music (Ege Universitesi Konservatuvari Sanat Muzigi Ses Egitimi)
Talent Agency: Black Listt Management
Spouse:
Biography: Onur Tuna was born in 2 July 1985 in Canakkale. He got his bachelor degree in economics from Dokuz Eylul University. After then, he studied Art Music education at Ege University State Conservatory. Onur Tuna, whose height is 1.95 m., played professional basketball and volleyball since secondary school. while he was going to secondary school and high school, he took part in theatre plays. While he was studying at university, he worked as a model for 4 years. After graduating from university, he took acting lessons from Izmir Mujdat Gezen Art Center for 2.5 years. After then, he took acting lessons in Istanbul from Uc Mota, Ayla Algan, Craft and Saim Guveloglu. In 2011, Onur Tuna started his acting career professionally with his role in Turkish drama Life Goes On (Hayat Devam Ediyor). Besides acting, he is interested in music. He plays guitar and piano. He also writes songs and has EP consisting of 4 songs.

Onur Tuna Tv Series / Movies
Awards
2012 – Doruktakiler – Fen Bilimleri Okullari Yilin Basari Odulleri – Yilin En Iyi Cikis Yapan Erkek Oyuncusu (Hayat Devam Ediyor)
2016 – Cekmekoy 2023 Dergisi 1. Sosyal Farkindalik Odulleri – Yilin En Iyi Erkek Dizi Oyuncusu (Filinta)
2016 – KKTC Magazin Gazetecileri Odul Toreni – Yilin En Iyi Erkek Dizi Oyuncusu (Filinta)
Social
Instagram: Official Instagram Account
Twitter: Official Twitter Account
Facebook:
E-Mail:
Trivia
Body Type:
Skills: Piano, Guitar, Vocals
Zodiac Sign: Cancer
Blood Type:
Hobbies: Basketball, Football, Table Tennis
Languages: English (Advanced), Turkish
Weight:
Onur Tuna Gallery
Bi' Hicmisim Gibi (Official Video)
Onur Tuna - Bi' Hiçmişim Gibi (Official Video)