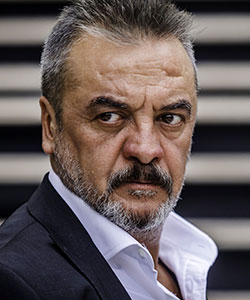 Profile
Name: Mesut Akusta
Birthdate: February 22, 1964
Birthplace: Konya, Turkey
Height: 180 cm
Eye Color: Brown
Hair Color: Black
Education:
Talent Agency: Ates Menajerlik
Spouse: Safak Ozbir (m. 2016-present)
Biography: Mesut Akusta was born in 22 February 1964 in Konya, Sarayonu, Gozlu. He went to primary school there. After his father was retired, they moved to Afyon in 1976 and Mesut Akusta went to secondary school in Afyon. When his father died in 1985, Mesut Akusta went to Ankara and attended trainings at public training centers. He took technical painting classes and theatre classes. Mesut Akusta took part in children theatre plays during 1986 and 1992. He joined to theatre group named Hadi Caman Yedi Tepe Oyunculari in Istanbul in 1992.Mesut Akusta started his acting career on tv with his role in Turkish series Sen Olasin Nuri Bey. While his tv career, Mesut Akusta also continued to take part in various theatre plays and musicals such as Cahide by Nezihe Araz (1997); Fehim Pasa Konagi; Atlari da Vurdular; Serefe Yirmibirinci Yuzyil.
Mesut Akusta Tv Series / Movies
1993 – Sen Olasin Nuri Bey
1993 – Son Soz Sevginin
1993 – Wrong Address (Yanlis Adres) (as Ercan) (Movie)
1996 – 1997 Black Angel (Kara Melek) (as Hidayet)
1997 – Nice Yillardan Sonra (as Haldun) (Movie)
1997 – Yanlis Saksinin Cicegi (Movie)
1997 – Yasemin
1998 – Affet Bizi Hocam
1998 – Kanal Yumusak G (as Bekir) (Movie)
1998 – Everything is Gonna Be Great (Hersey Cok Guzel Ocak) (Movie)
1999 – Carzy Heart (Deli Yurek) (as Burhan)
1999 – After the Fall (Eylul Firtinasi) (as Kahraman) (Movie)
2000 – Delikanli
2000 – Elephants and Grass (Filler ve Cimen) (Movie)
2000 – Pasa Baba Konagi (as Hudai)
2001 – Would You Marry Me (Benimle Evlenir Misin) (as Erkan/Ayhan)
2001 – Autumn Roses (Guz Gulleri)
2002 – Fathers Learn the Last (En Son Babalar Duyar) (as Muzo)
2002 – Zerda (as Ahmet)
2003 – Bullet Wound (Kursun Yarasi) (as Riza)
2004 – Cocuklar Ne Olacak (as Oktay)
2005 – 2 Super Films At the Same Time (2 Super Film Birden) (Movie)
2005 – Waiting for Heaven (Cenneti Beklerken) (as Osman) (Movie)
2006 – Karagumruk is Burning (Karagumruk Yaniyor) (as Gafur)
2006 – Rental Room (Kiralik Oda) (Movie)
2007 – Silent Storm (Sessiz Firtina) (as Barut Demirci)
2008 – Ipsiz Recep (as Serif)
2009 – 2010 Valley of Wolves Ambush (Kurtlar Vadisi Pusu) (as Unsal Kemal Alniacik)
2009 – Ah Kalbim (as Selim)
2009 – 2010 Ezel
2009 – How Are You (Kako Si?) (as Fatih) (Movie)
2009 – Hope (Umut) (as Mr. Turan) (Movie)
2010 – Divanyolu: Bir Medeniyet Ruyasi (as III. Selim) (Movie)
2010 – Kardelen (as Osman) (Movie)
2011 – Eclipse (Ay Tutulmasi) (as Sevket)
2012 – The Mountain (Dag) (as Kemal Karadag) (Movie)
2013 – Gitme Baba (as Harun) (Movie)
2013 – 2016 Black Rose (Karagul) (as Kendal Samverdi)
2015 – Memleket (as Seydi) (Movie)
2015 – Kanli Postal (as Esat) (Movie)
2016 – Untill Death (Olene Kadar) (as Gurcu Tekin Zerdan)
2016 – Koroglu (as Bolu Beyi)
2017 – Yildizlar Sahidim (as Fiko/Fikret)
2018 – The Wolf (Boru) (as Irfan Aladag)
2018 – The Wolf (Boru) (as Irfan Aladag) (Movie)
2018 – Who Killed Lady Winsley (as Ismail) (Movie)
2017 – Bandits (Eskiya Dunyaya Hukumdar Olmaz) (as Ekrem Yildiran)
2019 – Masal Cicegi (as Riza)
2019 – The Confrontation (Yuzlesme) (as Battal Torosoglu)
2019 – Miracle in 7th Cell (7. Kogustaki Mucize) (as Yusuf) (Movie)
2020 – The Choice (Babil) (as Suleyman)
Awards
Social
Instagram: https://www.instagram.com/mesutakusta/
Twitter: https://twitter.com/mesutakusta
Facebook:
E-Mail:
Trivia
Body Type:
Skills:
Star Sign: Pisces
Blood Type:
Hobbies:
Weight: 58 kg
Mesut Akusta Gallery