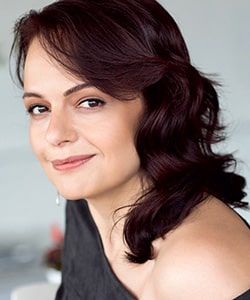 Profile
Name: Selen Ucer
Birthdate: May 5, 1983
Birthplace: Istanbul, Turkey
Height: 173 cm
Eye Color: Brown
Hair Color: Brown
Education: Bogazici University – Chemistry (Bogazici Universitesi kimya bolumu); Chicago Roosevelt University – Masters Degree in Acting and Theatre (Chicago Roosevelt Universitesi oyunculuk ve tiyatro alaninda yuksek lisans)
Talent Agency: Persona Sanat Management
Spouse:
Biography: Selen Ucer was born in 5 May 1983 in Istanbul. Her full name is Leyla Selen Ucer. Her parents are chemistry engineer. After graduating from Austria High School located in Istanbul, she studied chemistry at Bogazici University. While pursuing her undergraduate study, Selen Ucer also started to take part in acting at Bogazici University Oyunculari. She studied as a part-time student for singing section at Istanbul University State Conservatory. She became a student of Isil Kasapoglu at Akademi Istanbul. After then, Selen Ucer did her masters degree in acting and theatre at Chicago Roosevelt University in 2000. In 2002, she took part as an intern actor into Ensemble Studio Theatre that is one of the off-Broadway theatres in New York City. In 2003, she wrote a theatre play named Dream in New York (Amerikan Ruyasi) and became its the lead actress. In 2004, she returned to Turkey. Selen Ucer gave lessons about "improvisation", "comedy and character", "voice for acting" at Yeditepe University. She hold workshops at Bogazici University Mithat Alam Film Center.

Selen Ucer Tv Series / Movies
2000 – Offside (Dar Alanda Kisa Paslasmalar) (as Fatma) (Movie)
2005 – Istanbul Tales (Anlat Istanbul) (as Rahsan) (Movie)
2006 – Karinca Yuvasi (as Zerrin)
2007 – Zincirbozan (as Aynur) (Movie)
2007 – Dicle (as Dilfiruz)
2008 – Ara (as Gul) (Movie)
2008 – O.. Cocuklari (as Selvi) (Movie)
2009 – A Step into the Darkness (Buyuk Oyun) (as Amira) (Movie)
2009 – 10 to 11 (11'e 10 Kala) (as Mahinur) (Movie)
2009 – Bornova Bornova (as Senem) (Movie)
2010 – The Voice (Ses) (as Ses) (Movie)
2010 – Deli Sarayli (as Kiraz)
2011 – Lady's Farm (Hanimin Ciftligi) (as Asuman)
2011 – Can (as Ayse) (Movie)
2011 – 2012 Uprightness (Iffet) (as Gulin)
2012 – Never End Like That (Boyle Bitmesin)
2012 – Yabanci (as Nazmiye) (Movie)
2013 – Daire
2013 – Kutsal Bir Gun
2013 – Love Me As I Am (Beni Boyle Sev) (as Eda)
2014 – Kumun Tadi (as Selda) (Movie)
2015 – Cekmekoy Underground (Movie)
2015 – Tutar mi Tutar (as Piraye)
2016 – Seytan Tuyu (as Sevtap) (Movie)
2016 – Perfect Groom (Sahane Damat) (as Kibar)
2016 – Altinsoylar
2017 – Inflame (Kaygi) (as Olcay Terken) (Movie)
2017 – Blood Ties (Evlat Kokusu) (as Belma Akbas)
2018 – The Pit (Cukur) (as Ezgi)
2018 – Big Lies (Koca Koca Yalanlar) (as Nilgun)
2019 – Tainted Love (Leke) (as Serpil Zengin)
2019 – Love, Spells and All That (Ask, Buyu Vs.) (as Reyhan) (Movie)
2020 – Call My Agent (Menajerimi Ara) (as Selen)
2021 – Innocence (Masumiyet) (as Yelda Demirci)
2021 – Leyla and Mecnun (as Feraye)
Awards
2008 – 15. Adana Golden Cocoon Film Festival (15. Adana Altin Koza Film Festivali) – Best Actress (Ara) – En iyi Kadin Oyuncu Odulu (Ara)
2010 – 21. Ankara International Film Festival (21. Ankara Uluslararasi Film Festivali) – Best Actress in Supporting Role (Big Game) – En Iyi Yardimci Kadin Oyuncu (Buyuk Oyun)
2011 – 15. Afife Theatre Awards (15. Afife Tiyatro Odulleri) – Best Actress in Musical (Glass) – Yilin En Basarili Muzikal/Komedi Yardimci Kadin Oyuncusu (Cam)
2013 – 18. Sadri Alisik Cinema Awards (18. Sadri Alisik Sinema Odulleri) – Best Actress (Kurusiki) – En Iyi Kadin Oyuncu (Kurusiki)
2015 – 20. Sadri Alisik Theatre and Cinema Awards (20. Sadri Alisik Tiyatro ve Sinema Oyuncu Odulleri) – Best Actress in Supporting Role in Theatre Plays (Kurusiki) – Yardimci Rolde Yilin En Basarili Kadin Tiyatro Oyuncusu (Kurusiki)
2020 – 39. Istanbul Film Festival (39. Istanbul Film Festivali) – Best Actress (Love, Spells and All That) – En Iyi Kadin Oyuncu Odulu (Ask Buyu Vs.)
Theatre Plays
2005 – Kantocu
2005 – Bocek
2010 – Cam
2012 – Yeni Kiraci
2012 – Kucu Kucu
2014 – Kurusiki
2015 – Isiltili Hasereler
2018 – Gule Gule Diva
Social
Instagram: https://www.instagram.com/selenucer/
Twitter:
Facebook:
E-Mail:
Trivia
Body Type:
Skills:
Zodiac Sign: Taurus
Blood Type:
Hobbies:
Weight: 65 kg
Selen Ucer Gallery
From Interview of Selen Ucer
"Nefes Almaya Devam Ettikçe Yaşamak Ve Oldurtmak Zorundayız" Selen Uçer Buyrun Benim'de