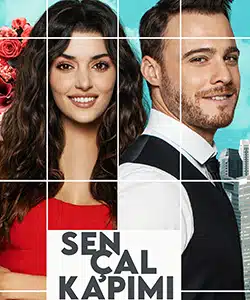 Details
Original Title: Sen Cal Kapimi
English Title: You Knock on My Door
Also Known As: Love is in the Air, Love in the Air, Ko potrka ljubezen, Pyaar, Me Robaste el Corazon, Zapukaj do moich drzwi, Pokucaj na moja vrata, Love for rent, Será Isso Amor?, Será que Es Amor?, Knock on my door, Love knocks on the door
Genre: Romance, Comedy
Episodes: 52
Broadcast Network: Fox Tv
Broadcast Period: 8 July 2020 – 8 September 2021
Production Company: MF Yapim
Director: Altan Donmez
Screen Writer: Ayse Uner Kutlu
Filming Locations: Zeytinburnu, Istanbul
Synopsis
Eda (Hande Ercel) is a young and beautiful college student. After her parents passed away when she was a little girl, she manages to survive all the hardship in her life with the guidance of her aunt.
Eda studies landscape architecture at a private university with full scholarship. When her scholarship is cut without any notification, she is dismissed from the university at her last year. Even though she is accepted for a graduate study in one of the universities in Italy, Eda's dreams of getting a university degree and pursuing a graduate study in Italy all fly away.
After then, Eda starts to work part-time at her aunt's flower shop. She lives together with her close friend Melek (Elcin Afacan) in a cozy house and tries to continue her life all over again.

Eda wants to enter a nationwide university exam and this time, wants to study at a public university so that she would not need to deal with any scholarship issue. However, she still cannot forget the injustice in her life and cannot forget the man who is responsible for cutting scholarships.
Serkan Bolat (Kerem Bursin), who is a young and successful businessman, is in charge of scholarships given to the university where Eda studies. When Serkan Bolat orders to cut unnecessary expenses in the company, his financial manager cuts the student scholarships by himself. This situation may not be such a big deal for the company but it is an issue that would dramatically change a young person's life.
Eda and Serkan Bolat's lives intersect out of pure coincidence. When Serkan Bolat is invited for a graduation ceremony at the university to give a speech, Eda meets him and argues that her life has turned upside down just because his company has not kept its promises for student scholarships.
Serkan Bolat, who hates for making any mistake, cannot believe that he is responsible for making this kind of decision. When he questions this situation, he learns that his financial manager makes this decision with his own initiative.
Eda and Serkan Bolat dislike each other and hope that they would not meet again. However, they come across to each other again and again in different occasions.
Serkan Bolat goes to Gokceada to attend his ex-girlfriend's engagement ceremony via private aircraft. In the aircraft, he bumps into Eda, who works as a part-time hostess on behalf of her housemate Melek. These two young people do not have anything to do but to travel together.
When they arrive at the engagement ceremony, Serkan finds himself in a difficult position. He believes that his ex-girlfriend and at the same time, his business partner Selin (Bige Onal) is getting engaged to Ferit just because she is tired of waiting for Serkan's intention for marriage.
Serkan knows that Selin is still in love with him and thus, he wants to reverse her decision.
Sequence of events causes Serkan and Eda to enter into a contract so that they would act as if they are dating. Serkan wants to make Selin cancel her engagement while Eda wants to make her crush jealous.
You Knock on My Door (Sen Cal Kapimi) tv series story is about two young persons, Serkan and Eda, who enter into a contract so that they would act as if they are dating. Will the press believe in the surprise love between Serkan and Eda? Will Eda get along with Serkan? Will Serkan manage to break his ex-girfriend's engagement? Will Eda continue her education and eventually get university degree?
You Knock on My Door (Sen Cal Kapimi) Tv Series Cast
Additional Cast Members
Sevki Yilmaz as Akif Sezgin
Ali Ihsan Karahasanoglu as Muharrem Sezgin
Muharrem Coskun as Yigit Sangay
Sinan Albayrak as Kemal Ozcan
Sinan Helvaci as Burak Balci
Sina Ozer as Kerem
Maya Basol as Kiraz Bolat
Ahmet Efe Metekoglu as Can Sezgin
Doga Ozum as Pina Bolat
Ayse Akin as Deniz Kolcu
Sarp Can Koroglu as Deniz Karasu
Hakan Karahan as Alexander Zucco
Aysegul Issever as Semiha Yildirim
Ilayda Cevik as Balca Kocak
Ali Ersan Duru as Efe Akman
External Links
Official Site: Broadcast Network
English Wikipedia:
Imdb:
Social
Instagram: Official Instagram Account
Twitter: Official Twitter Account
Facebook: Official Facebook Account
Youtube Channel: Official Youtube Channel
You Might Also Like
Rental Love (Kiralik Ask)
Daydreamer (Erkenci Kus)
You Knock on My Door (Sen Cal Kapimi) Turkish Drama Relationship Chart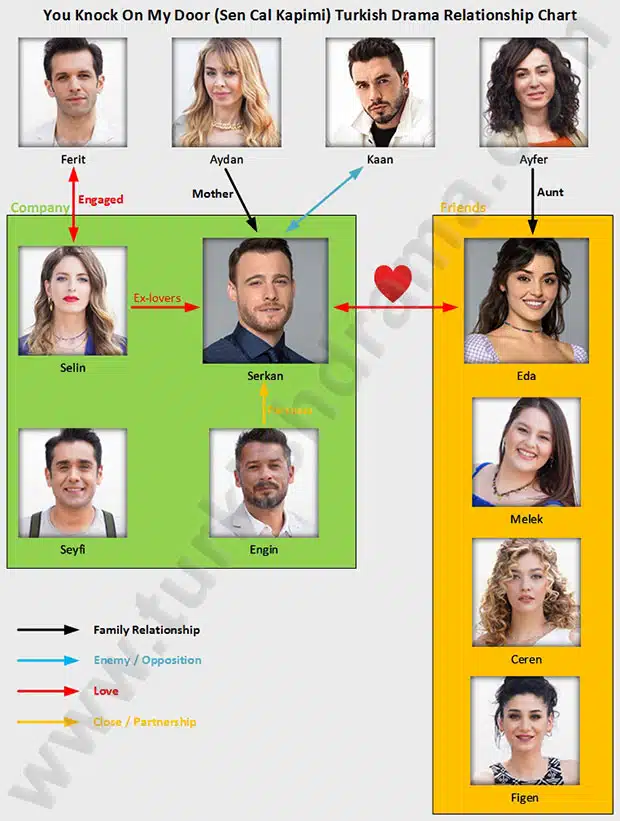 You Knock on My Door (Sen Cal Kapimi) Tv Series Trailer (with English Subtitle)
Sen Çal Kapımı yakında FOX'ta! (8 Temmuz Çarşamba)