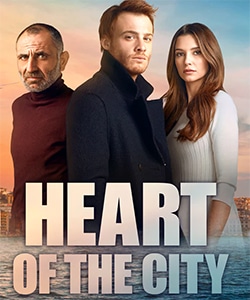 Details:
Original Title: Bu Sehir Arkandan Gelecek
English Title: This City Will Come After You
Also Known As: Heart Of The City; Kota ini Mengikuti Arahmu
Genre: Romance, Drama, Action
Episodes: 20
Broadcast Network: Netflix, ATV
Broadcast Period: January 4, 2017 – June 14, 2017
Production Company: Ay Yapim
Director: Cagri Vila Lostuvali
Screen Writer: Ece Yorenc, Melek Gencoglu
Filming Locations: Istanbul, Turkey
Synopsis
Ali Smith (Kerem Bursin) has had a tough life after his mom was killed by his father when he was just 4 years old. He starts to live in cargo boats together with a man Rauf (Osman Alkas) who has cared for him after this tragedy. Ali travels all over the world and considers the cargo boat as his home/country. He becomes a man with no country.

Ali does not want to come back to Istanbul where he remembers the tradegy in his childhood. However, he returns to Istanbul out of pure coincidence when he becomes 20 years old. He needs to spend 24 hours in Istanbul until his cargo boat take off to the next destination.
Whenever Ali sets foot in Istanbul, he manages to gets into trouble. While he wants to help a young girl named Derin (Leyla Lydia Tugutlu), he loses his passport but finds true love. Ali and Derin spend all day together without knowing what will bring them the next day.
Derin come from a rich family and is about to get married to Yigit (Ali Yorenc) in 10 days. She wants to become a dancer but needs to live according to her parents' will. She just wants to have one free day before the marriage and do whatever she wants apart from her parents and her fiancée. Her coincidence with Ali turns her life upside down and she finds the courage eventually to cancel her wedding plans.
Ali, on the other hand, cannot board and has to stay in Istanbul longer due to the problem in his passport. He has nothing to do but to go to the former boxing champion Sahin (Gurkan Uygun) without knowing that Sahin is his biological father.
In heart of the city (bu sehir arkandan gelecek) tv series story, you will explore a pure love between a man with no country and a woman from a rich family. Will Ali and Derim meet again? What will Ali do when he learns the truth about his past? Will Ali forgive his biological father? Will Ali and Derin manage to become happy even though they come from different backgrounds?
Heart Of The City Tv Series Cast
External Links
Official Site: Broadcast Network
English Wikipedia:
Imdb:
You Might Also Like
Black Money and Love (Kara Para Ask)
Heart Of The City (Bu Sehir Arkandan Gelecek) Tv Series Trailer (with English Subtitle)
Heart Of The City (Bu Sehir Arkandan Gelecek) Tv Series Trailer (Eng Sub)