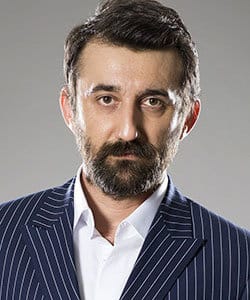 Profile
Name: Necip Memili
Birthdate: May 27, 1980
Birthplace: Adana, Turkey
Height: 186 cm
Eye Color: Black
Hair Color: Black
Education: Cukurova University Theatre (Cukurova Universitesi Tiyatro) (2003-2007)
Talent Agency: Ahmet Koralturk Management
Spouse: Didem Dayicioglu (m. 2020 – present)
Children: Asya Memili
Biography: Necip Memili was born in 27 May 1980 in Adana. He has two brothers named Ozkan and Bahtiyar. Necip Memili went to Vocational High School (electrics and erection of machinery). He started to play in an amateur way at Adana Seyhan Municipality Theatre. In 2007, Necip Memili moved into Istanbul with his childhood friend Caner Cindoruk.

Necip Memili Tv Series / Movies
2005 – Fifth Dimension (Besinci Boyut) (as Ali)
2006 – Selena
2007 – Back Streets (Arka Sokaklar) (as Nevzat)
2007 – 2008 Fall of the Leaves (Yaprak Dokumu) (as Erkan)
2007 – Rag Baby (Bez Bebek) (as Selman)
2007 – Give Your blessing (Hakkini Helal Et)
2007 – Pusat
2008 – Night Daytime (Gece Gunduz) (as Nuri)
2009 – 2010 Lady's Farm (Hanimin Ciftligi) (as Zaloglu Ramazan)
2010 – Woman's Kingdom (Kukuriku – Kadin Kralligi) (as Cagatay) (Movie)
2010 – Nene Hatun (as Mizra) (Movie)
2011 – I Can't Sleep While Moon is Rising (Ay Buyurken Uyuyamam) (as Necmi) (Movie)
2011 – 2012 Escape (Firar) (as Fikret)
2011 – Luxury Hotel (Luks Otel) (as Polat) (Movie)
2011 – Portre (Short Movie)
2011 – Sumela'nin Sifresi: Temel (as Ali Kemal Sozer) (Movie)
2012 – Fake World (Yalan Dunya) (as Cumali)
2012 – 2014 Dila Hanim (as Azer)
2012 – Moskova'nin Sifresi: Temel (as Ali Kemal Sozer) (Movie)
2013 – My Aunt is Here (Halam Geldi) (as Haluk) (Movie)
2013 – Cow in Exile (Surgun Inek) (as Ahmet) (Movie)
2014 – Grumbled Hearts (Guruldayan Kalpler) (as Yasar) (Movie)
2014 – Buddy Istanbul (Ulan Istanbul) (as Dogan)
2015 – Price (Bedel) (as Vedat Seyhanli)
2016 – Magnificent Century: Kosem (Muhtesem Yuzyil: Kosem) (as Evliya Celebi)
2015 – No Way (Yok Artik) (as Ahmet) (Movie)
2016 – Deli Dumrul (as Kadir) (Movie)
2016 – Don't Run Away Brother (Kacma Birader) (as Kadir) (Movie)
2016 – The Return (Kehribar) (as Musa Bozoglu)
2017 – Bitter Sweet (Full Moon – Dolunay) (as Hakan)
2018 – Personality (Sahsiyet) (as Tolga Yazgan)
2019 – Karakomik Filmler Kacamak (as Neco) (Movie)
2020 – Seytan Icadi (as Nihat) (Movie)
2018 – 2021 The Pit (Cukur) (as Cumali Kocovali)
2021 – Kimya (as Kinyaz) (Movie)
2021 – 2022 Lawless Lands (Kanunsuz Topraklar) (as Ali Gedik)
2021 – Sen Ben Lenin (Movie)
2022 – The Bad Penny (Uc Kurus) (as Kilic Hicaz)
2022 – Ersan Kuneri (as Amin Faryadi / Tilki Selim)
2022 – Darmaduman (as Harun Servet)
2023 – Aaahh Belinda (as Necati) (Movie)
2023 – A Hundred Years of Miracle (Yuz Yillik Mucize) (as Turgut)
Social
Instagram: @neocu Instagram
Twitter: @NecipMemili
Facebook: @necipmemiliofficial Facebook
E-Mail:
Necip Memili Gallery