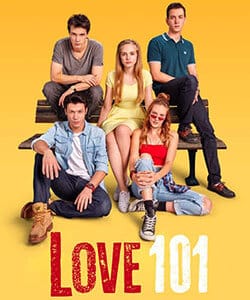 Details
Original Title: Ask 101
English Title: Love 101
Also Known As:
Genre: Youth, Romance
Episodes: 8+
Broadcast Network: Netflix
Broadcast Period: April 24, 2020 –
Production Company: Ay Yapim
Director: Ahmet Katiksiz, Deniz Yorulmazer
Screen Writer: Meric Acemi, Destan Sedolli
Filming Locations: Istanbul, the school scenes of Love 101 were shot in Istanbul Macka Akif Tuncel Mesleki ve Teknik Anadolu Lisesi while the backyard of school scenes were shot in Istanbul Cihangir Munir Ozkul Ortaokulu.
Synopsis
The story takes place in 1998 in Istanbul.
Sinan, Kerem, Osman and Eda are 17 years old and go to the same high school. They are all troublemakers:
Sinan (Mert Yazicioglu) lives in an old mansion along the Bosporus together with his grandfather who is not capable of providing good care. Since his parents got divorced and started their own lives, Sinan has been struggling to survive without the love of his parents. Even though he is very clever, he does not care about the school and his grades. Most of the time, he drinks alcohol to forget his loneliness and acts as an arrogant student.

Kerem (Kubilay Aka) is a successful basketball player in the school team but he does not control his anger. He comes from a wealthy family who provides everything except kindness and love. For this reason, he often expresses his anger through fighting and beating.
Osman (Selahattin Pasali) is a clever guy who does not use his intelligence for good reason. He finds interesting ways to earn money. Sometimes, he forms an army of nerds and sells homework at school and sometimes, he becomes a commissioner for making a bet.
Eda (Alina Boz) is a beautiful and attractive girl who does not care about school. She considers her beauty as a wealth that must be used for becoming rich. Thus, she does not refrain from using her beauty and charm in order to reach her goals.
Even though Eda is interested in graphic design, she does not want to waste her time in front of computer screen.
The lives of these four troublemakers intersect when a debate contest is held at their school. Eda sabotages the debate contest and distracts the contestants through using sound and lighting system. Kerem injures one of the contestants. Osman opens a debate bet and collects money.
Sinan comes as drunk and happens to start a fire. When all these things come together, students and teachers find themselves in a chaos.
Sinan, Kerem, Osman and Eda are referred to the school disciplinary committee for their unwanted behavior. School disciplinary committee comprises of all teachers at the school and take a decision through consensus. Since there have been many unwanted cases before, almost all teachers lose their tolerance.
In consideration of the weight of breach of discipline, all teachers except teacher Burcu (Pinar Deniz) want to expel these students. Teacher Burcu does her best to help these students and vetoes the decision to expel them. As a result, the students are saved just barely.
Meanwhile, teacher Burcu gets good news about her career and learns that she is relocated. She learns that she is going to start her duty in another city after 2 months. The troublemaker students realize that their last castle is falling in 2 months. They know that they can be expelled from school when teacher Burcu leaves. For this reason, they come together to find a solution for their problem.
Sinan, Kerem, Osman and Eda want to find a way to keep teacher Burcu in their school. They think that teacher Burcu can stay in Istanbul if she falls in love with someone in Istanbul. Their mission to make teacher Burcu fall in love seems so easy at first but they realize that they cannot fulfill this mission without knowing anything about love. For this reason, they ask the help of their classmate Isik (Ipek Filiz Yazici).
Isik is a perfect student who has good grades and sincere personality. She is so romantic and has been in love with Sinan for a long time. Even though she has a one-sided love, she knows what love means. Therefore, she accepts to help her classmates and by this way, make teacher Burcu find happiness.
Meanwhile, a new teacher is appointed to the school. Kemal (Kaan Urgancioglu) is a new basketball coach who is handsome and cool. He becomes a perfect candidate for teacher Burcu.
Love 101 tv series story is about a group of teenage high school students who try to make their school teacher fall in love so that she will not leave their school. Will teacher Burcu fall in love with teacher Kemal? Will teacher Burcu decide not to leave the school? Will Sinan find love and tenderness in his life? Will Isik manage to end her one-sided love? Will Kerem find peace in his life and start to control his anger? Will Eda find a true meaning in her life?
Love 101 Tv Series Cast
External Links
Official Site: https://www.netflix.com/tr-en/title/81080697
English Wikipedia:
Imdb:
You Might Also Like
Teacher (Ogretmen)
Those at the Back Row (Arka Siradakiler)
Love 101 (Ask 101) Turkish Drama Relationship Chart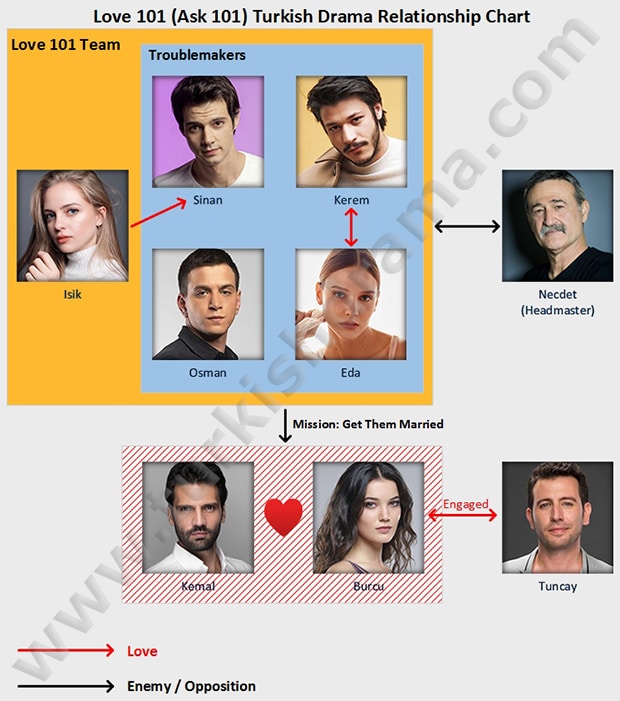 Love 101 (Ask 101) Netflix Series Trailer (with English Subtitle)
Love 101 (Ask 101) Tv Series Trailer (Eng Sub)