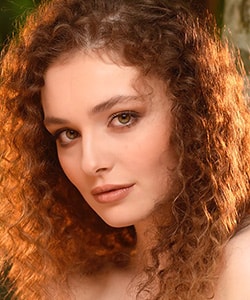 Profile
Name: Serra Ariturk
Birthdate: June 22, 1998
Birthplace: Istanbul, Turkey
Height: 168 cm
Eye Color: Green
Hair Color: Brown
Education: Acibadem Mehmet Ali Aydinlar University (Acibadem Mehmet Ali Aydinlar Universitesi)
Talent Agency: Runltd Agency
Spouse:
Biography: Serra Ariturk was born in 22 June 1998 in Istanbul. When she was 7 years old, she started to play a guitar and after then, she has been interested in music by the support of her family. She took guitar lessons from Husrev Isfendiyaroglu. After high school, Serra Ariturk started to sing. She took part in Bosborus Jazz Chorus (Bogazici Caz Korosu). Serra Ariturk became popular with various cover works. In 2019, she launched her first single of "Kendimi Bilmeden" and then, launched her second single of "Kimse Yok" and "Olmazdin" in 2020. Serra Ariturk started her televison career with her role at Turkish Series Recipe of Love (Askin Tarifi).
Serra Ariturk Tv Series / Movies
2019 – Club of Sleepless (Uykusuzlar Kulubu) (Self) (TV Competition)
2019 – Genc Sahne (Self) (Voice Contest)
2021 – Recipe of Love (Askin Tarifi) (as Naz Soyluer)

Awards
Single Songs
2019 – Kendimi Bilmeden
2020 – Kimse Yok
2020 – Olmazdim
From an Interview with Serra Ariturk
Are you orderly and regular?
I am not a regular. But, I like order and routines.
Do you have any nickname that your fans have call you?
Since I use Sariturk (the first letter of her name together with her surname) as my username, they call me yellow (literally Sari in Turkish).
Do you prefer singing or acting?
I prefer singing right now.
Is singing more fun than acting?
Acting is more enjoyable. I have just found out it. Acting makes me positively nervous right now.
Is there anything you're positively jealous of?
I'm jealous. When I hear a beautiful song, I get jealousy about why I didn't do it or better.
What is the "must" thing in a relationship?
Discussion. You can know a person via a discussion.
Is there any habit that you often do and want to change?
I think a lot. I think very hard on any topic. I want to change it.
Social
Instagram: https://www.instagram.com/sariiturk/
Twitter:
Facebook:
Youtube: https://www.youtube.com/channel/UChKwP-fGeybSgrKgB6uMjKg
Spotify: https://open.spotify.com/artist/6my1E0Xgjweume5eR9cWW7
Youtube Music: https://music.youtube.com/channel/UCGkwNekICyePeP3Vn5VgZhg
Deezer: https://www.deezer.com/en/artist/14445783
E-Mail: [email protected]
Trivia
Body Type:
Skills:
Zodiac Sign: Gemini
Blood Type:
Hobbies:
Weight: 54 kg
Serra Ariturk Gallery
You Know I'm No Good (Cover)
Amy Winehouse - You Know I'm No Good (Cover) | Serra Arıtürk
Someone Like You (Cover)
Adele - Someone Like You (Cover) | Serra Arıtürk
Starboy (Cover)
The Weeknd - Starboy (Cover) | Serra Arıtürk