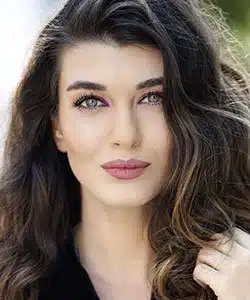 Profile
Name: Aslihan Guner
Birthdate: December 17, 1987
Birthplace: Istanbul, Turkey
Height: 172 cm
Eye Color: Blue
Hair Color: Red
Education: Baris Manco Culture Center – Acting Training (Baris Manco Kultur Merkezi – oyunculuk egitimi)
Talent Agency: Abdullah Bulut management
Spouse: Mert Kilic (m. 2013-present)
Biography: Aslihan Guner was born in 17 December 1987. While she was 16 years old, she made her debut with her role in turkish movie The Imam. Her mother is from Malatya while her father is from Sivas. She has 2 sisters and 1 brother. Aslihan Guner got married to Mert Kilic on 9 June 2013, she and her husband met while they were taking part in the same turkish series The Hill (Sefkat Tepe).

Aslihan Guner Tv Series / Movies
2002 – 2003 Mystery World (Sir Dunyasi) (as Nazli)
2004 – 2005 Big Meeting (Buyuk Bulusma) (as Zeynep Gunay)
2004 – My Best Friend (En Iyi Arkadasim)
2005 – The Imam (as Zehra) (Movie)
2006 – Eski 18
2006 – Captive Hearts (Esir Kalpler)
2006 – Geceler Yarim Oldu (as Gulcan) (Movie)
2006 – Selena (as Demeter)
2006 – Love Flower (Sevda Cicegi)
2006 – Rose and Thorn (Cemberimde Gul Oya) (as Dilek)
2007 – 2009 Rebellious (Asi) (as Gonca Kozcuoglu)
2007 – North Wind (Kuzey Ruzgari) (as Hilal)
2007 – Yine Bana Kalasin (as Menekse) (Movie)
2007 – Where the Word Ends (Sozun Bittigi Yer) (Movie)
2007 – You Cannot Break Up My Family (Yuvami Yikamazsin) (as Pelin) (Movie)
2007 – Zeliha'nin Gozleri (as Selma)
2008 – Endless Mercy (Sonsuz Merhamet) (as Henna) (Movie)
2010 – 2014 The Hill (Sefkat Tepe) (as Leyla / Yasemin)
2011 – Sumela's Code (Sumela'nin Sifresi: Temel) (as Zuhal Yucesoy) (Movie)
2012 – Moscow's Code (Moskava'nin Sifresi: Temel) (as Zuhal Yucesoy) (Movie)
2013 – Everything is Allright (Her Sey Yolunda Merkez) (as Yasemin Karatan)
2014 – Red Apple (Kizil Elma) (as Azra Gunes)
2014 – Sungurlar (as Leyla)
2015 – Salaam: Journey to Spring (Selam: Bahara Yolculuk) (as Sevgi Yuce) (Movie)
2016 – The Return (Kehribar) (as Bahar Bozoglu)
2017 – 2019 Resurrection Ertugrul (Dirilis Ertugrul) (as Karaca Hatun)
2017 – Ver Kac (as Nazli) (Movie)
2019 – Akillara Seza (as Seza) (Movie)
2019 – 2021 North Star (Kuzey Yildizi: Ilk Ask) (as Yildiz Kadioglu)
2020 – Hanimaga'nin Gelinleri (as Defne)
2021 – The Tale of the Far City (Uzak Sehrin Masali) (as Umay Demirkan)
2022 – Komutan (as Zuleyha) (Movie)
Awards
Social
Instagram: Official Instagram Account
Twitter: Official Twitter Account
Facebook:
E-Mail:
Trivia
Body Type:
Skills:
Star Sign:
Blood Type:
Hobbies:
Aslihan Guner Gallery