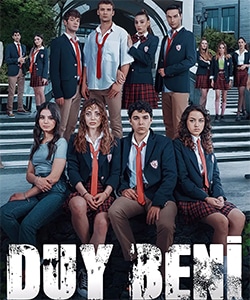 Details
Original Title: Duy Beni
English Title: Hear Me
Also Known As:
Genre: Youth, Romance
Episodes: 20 (each episode is 140-150 minutes)
Broadcast Network: Star TV
Broadcast Period: July 07, 2022 – November 17, 2022
Production Company: Surec Film
Director: Ali Balci
Screen Writer: Makbule Kosif, Zafer Ozer Cetinel, Gulsev Karagoz, Okan Basar Bahar
Filming Locations: Istanbul, Turkiye
Synopsis
Ekim (Rabia Soyturk) is a high school student who lives in a middle-class neighborhood. She lives together with her mother and enjoys her life together with her lovely friends.
One morning, the life of Ekim and her best friend Leyla (Helin Kandemir) turns upside down. On their way to school, Leyla is hit by a car and unfortunately, became incapable of walking due to this car accident. The driver that hits Leyla wears a mask and nobody sees his face. After the car accident, the driver runs away and hides inside a private high school in the neighborhood where rich kids study.

People from the neighborhood go to the private school in order to find the driver. However, the school director covers this accident. In order to protect the rich students, the school discourages people to enter the school and hides the car involved in this accident.
The culprit of this car accident cannot be found. The school administration decides to give scholarships to three young people from the neighborhood where the accident occurred in order to reduce the effects of this unpleasant accident.
Ekim also wins the scholarship to go to the private high school where rich students study. She at first becomes reluctant to use this scholarship but later on, she decides to attend this school in order to track down those who committed a car accident. She knows that the culprit is someone from this school.
Ekim, Ayse, and Bekir start to study at this private high school. On the first day of school, they realize that their school days would not be easy. They have to fight against rich students in order to deal with bullying.
Kanat (Caner Topcu) is the popular guy at school. Melisa (Sumeyye Aydogan) is called as the queen of the school. These ex-lovers become the target of Ekim.
Meanwhile, a new teacher is appointed to the school. He is an idealistic person who tries to do his best for the good of his students. From the start, he gives his support to the ones who need help.
Hear Me (Duy Beni) tv series story is about high school students who deal with bullying. Will Ekim manage to find the culprit who makes a car accident and runs away? Will Leyla become healthy again and start walking after the car accident? Who are the real culprits behind this car accident? Will Ekim and Kanat get along well?
Hear Me (Duy Beni) Tv Series Cast
Additional Cast Members
Durul Bazan as Fikret Tosun
Murat Daltaban as Riza Gunay
Feride Cetin as Nese Guleryuz
Aytac Usun as Halil Kaplan
Utku Coskun as Ozan Yilmaz
Gokce Gunes Dogrusoz as Ayse Karaca
Yeliz Akkaya as Suna Gunay
Elif Cakman as Hatice Karaca
Bedir Bedir as Sedat Karaca
Ibrahim Yildiz as Daghan Kara
Hamdi Alp as Selcuk
Alper Atak as Suleyman Gercek
Dilara Sumbul as Ece Ay
Jasmin Berkis as Naz Duru
Sena Gencturk as Ceyda Astan
Cemre Ozsisman as Emine Sakan
Izzet Yuksek as Orijinal
Bedia Ener as Sukran Ertener
Ufuk Ozkan as Dervis Demir
Miro Gerede Erkaya as Ates Atahanli
Tugba Uluay as Gaye
Characters:
Ekim is a beautiful girl who has been living together with her mother Nese. Ekim has an ordinary life and goes to a public high school. She is a good friend of Leyla. She feels responsible for causing a car accident that led to Leyla's injury. Ekim decides to go to the private high school where Kanat and Melisa study in order to find out the culprit of the car accident.
Kanat is a cool and handsome student. He comes from a wealthy family and suffers from the psychological and physical violence of his father. Kanat tries his best to protect his mother and his brother. He is the ex-boyfriend of Melisa.
Melisa is the queen of the high school. She wants to be the best, the most beautiful, and the most popular girl at school. Even though she has broken up with Kanat, she never quits and wants him back. Melisa is a cruel girl who does not refrain from hurting her classmates. She comes from a wealthy family and lives together with her father. She takes advantage of her father's position.
Ozan Yilmaz (Utku Coskun):
Ozan is the friend of Melisa and Kanat. He has been in love with Melisa for a long time.
Leyla is Ekim's close friend. She has been in love with Kanat and dreams to go to the private high school in her neighborhood. Leyla becomes incapable of walking due to a car accident. After then, she becomes depressed and starts to discuss her best friend Ekim all the time.
Nese Guleryuz (Feride Cetin):
Nese is Ekim's mother. She is a single mother who has done her best to raise her daughter.
Bekir Kaplan (Taha Bora Elkoca):
Bekir is a funny and cool guy who is a close friend of Ekim and Leyla.
Halil Kaplan (Aytac Usun):
Halil is Bekir's elder brother. She has some feelings towards Nese.
External Links
Official Site: Broadcast Network
English Wikipedia:
Imdb:
Social
Instagram: Instagram – diziduybeni
Twitter: Twitter – @diziduybeni
Facebook:
Youtube Channel: Youtube – @DuyBeniDizi
You Might Also Like
Daydreaming (Kavak Yelleri)
Tozluyaka
Hear Me (Duy Beni) Turkish Series Trailer (with English Subtitle)