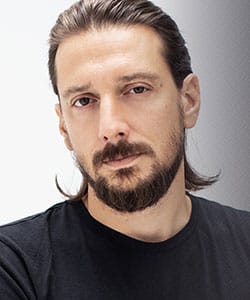 Profile
Name: Engin Hepileri
Birthdate: March 3, 1978
Birthplace: Istanbul, Turkey
Height: 180 cm
Eye Color: Brown
Hair Color: Brown
Education: Istanbul University State Conservatory Theatre (Istanbul Universitesi Devlet Konservatuvari Tiyatro Bolumu); Master's degree in Istanbul University State Conservatory Theatre (2002-2005)
Talent Agency: Sokmen Talent Management
Spouse: Ayse Topcu (m. 2011–2014), Beyza Sekerci (m. 2015-present)
Children: Can Hepileri
Biography: Engin Hepileri was born in 3 March 1978 in Istanbul. While he was going to high school, he took part in theatre plays in state theatres. He started to study at Istanbul University State Conservatory in 1996. He started to pursue his master's degree in Istanbul University in 2002 and graduated in 2005. Engin Hepileri took part in various theatre plays such as "Anlat Sehrazat", "Olumsuzler" at Theatre Fora. He tool directed a theatre play "Kuyruk" by Israel Horowitz in 2008. Engin Hepileri presented culture and art program at Turkish National Tv during 2011-2012.

Engin Hepileri Tv Series / Movies
1998 – Iki Arkadas (as Riza)
2000 – Story of Snake (Yilan Hikayesi)
2000 – No 7 (Yedi Numara)
2002 – Gulum (Movie)
2002 – Betrothed in the Cradle (Besik Kertmesi)
2002 – Canim Kocacigim
2003 – Hurrem Sultan (as Cihangir)
2003 – Campus (Kampusistan) (as Oguz)
2005 – Yes Sir (Emret Komutanim) (as Seyfi)
2005 – Beyza's Women (Beyzanin Kadinlari) (as Huseyin) (Movie)
2006 – Girls' Dormitory (Kizlar Yurdu) (as Seyfi Sarsilmaz)
2006 – Bride (Gelin) (Movie)
2007 – Outside the Circle (Cemberin Disinda) (as Kivanc Ozyurt)
2007 – Forbidden Apple (Yasak Elma) (as Teoman)
2007 – Sohretin Bedeli (Movie)
2007 – Last Class: Love and University (Son Ders: Ask ve Universite) (as Hakan/Saffet)
2007 – Idam (Movie)
2008 – Night and Daytime (Gece Gunduz) (as Tekin)
2009 – Family Bliss (Aile Saadeti) (as Mahir)
2009 – Does This Heart Forget You? (Bu Kalp Seni Unutur Mu?) (as Engin Dogan)
2009 – Fall of the Leaves (Yaprak Dokumu) (as Emir)
2009 – Breath (Nefes) (Movie)
2010 – Kustum Cicegi (as Semih)
2010 – Becoming a Lady (Gonulcelen)
2010 – The Bane of My Life (Basimin Belasi) (as Onur Ozturk) (Movie)
2010 – Hunting Season (Av Mevsimi) (Movie)
2011 – Celal Tan and His Family's Tragic Story (Celal Tan ve Ailesinin Asiri Acikli Hikayesi) (as Arkibiyades) (Movie)
2011 – Tek Olum Yetmez (as Cem) (Short Movie)
2012 – Deep Red (Koyu Kirmizi) (as Ufuk)
2012 – Ferahfeza (Movie)
2013 – 2014 Revenge (Intikam) (as Hakan Eren)
2014 – Ask Me Your Name (Bana Adini Sor) (as Hakan) (Movie)
2014 – Let the Music Play (Calsin Sazlar) (Movie)
2014 – Rain: Flower of Judgement Day (Yagmur: Kiyamet Cicegi) (as Kazim Koyuncu) (Movie)
2015 – Black Bread (Kara Ekmek) (as Taylan)
2016 – Melek and Serhat (Melek ile Serhat)
2017 – 7Faces (7Yuz) (as Ridvan)
2018 – Gulizar
2019 – Nobody Knows (Kimse Bilmez) (as Uygar Sarikaya)
2019 – 2020 My Home (Dogdugun Ev Kaderindir) (as Faruk)
2021 – All About Marriage (Evlilik Hakkinda Hersey) (as Koray Tercan)
2021 – 2022 Orta Kafa Ask (as Mesut Cak)
2022 – Midnight at the Pera Palace (Pera Palas'ta Gece Yarisi) (as Resat)
2022 – Anka (Movie)
Awards
2004 –

8. Afife Theatre Awards (8. Afife Tiyatro Odulleri) – Special Award for Young Generation at Theatre (Tiyatroda Yeni Kusak Ozel Odulu)

2010 –

15. Sadri Alisik Actor Awards (15. Sadri Alisik Oyuncu Odulleri) – Best Actor in Supporting Role in Comedy Theatre Play (Tiyatro Komedi Dalinda Yardimci Rolde En Iyi Erkek Oyuncu Odulu)

2011 –

18. Adana Golden Cocoon Awards (18. Adana Altin Koza Odulleri) – Jury Special Performance Award (Juri Oyunculuk Ozel Toplu Performans Odulu)

2015 –

20. Sadri Alisik Cinema Awards (20. Sadri Alisik Sinema Odulleri) – Ayhan Isik Special Award (Ayhan Isik Ozel Odulu)
Theatre Plays
1998 – Anlat Sehrazat
1998 – Benim Kucuk Yildizim
1998 – Olumsuzler
1998 – Marti
1999 – Nukte
2000 – Hep Ask Vardi
2001 – Cozum
2002 – Sirca Kumes
2003 – Ask Cemberi
2003 – Inishmore'lu Yuzbasi
2004 – Kumarbazin Secimi
2006 – Anna Karenina
2007 – 2016 39 Basamak
2007 – Acik Denizde
2008 – Victoria (Zafer)
2010 – Cimri
2010 – Zorla Guzellik
2011 – Ve Veya Ya da
2011 – Olumune
2012 – Macbeth
2013 – Oda ve Adam
2014 – Katil Joe
2015 – Tamamen Doluyuz
2016 – Akciger
2022 – Anne
Theatre Plays That He Directed
2008 – Kuyruk
2010 – Zorla Guzellik
2011 – Bulanik
Music Clips
2001 – Mor ve Otesi (Son Giden)
2014 – Gokhan Turkmen (Bir Oyku)
2017 – Nilufer (Seni Kimler Aldi)
Social
Instagram: Official Instagram Account
Twitter: Official Twitter Account
Facebook:
E-Mail:
Trivia
Body Type:
Skills: Dubbing, Acting coaching, Skiing
Star Sign:
Blood Type:
Languages: English, German
Hobbies:
Engin Hepileri Gallery