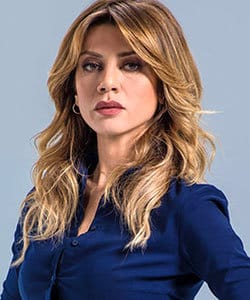 Profile
Name: Gokce Bahadir
Birthdate: November 9, 1981
Birthplace: Istanbul, Turkey
Height: 170 cm
Eye Color: Brown
Education: Academy Istanbul Radio and Television (Akademi Istanbul Radyo Televizyon)
Spouse: Ali Sunal (m. 2011–2012)
Other: Gokce Bahadir took acting lessons Mujdat Gezen Art Center. She also made a radio program at Fenerbahce FM. After graduation, Gokce Bahadir became VJ at Best TV and presenter of Sinyal Program at Show TV. Gokce Bahadir made her debut as Torpu role in high-school Turkish drama Life Sciences (Hayat Bilgisi). She became highly popular with her Leyla role in Turkish drama Leaf Cast (Yaprak Dokumu).
Notable Works
2001 – Sweet Life (Tatli Hayat) (as Fulden)
2002 – Betrothed in the Cradle (Besik Kertmesi)
2003 – Life Science (Hayat Bilgisi) (as Torpu Yeliz)
2003 – Sealed Roses (Muhurlu Guller) (as Oksan)
2004 – Yol Palas Murder (Yol Palas Cinayeti) (Movie)
2005 – I Am Still in Love (Yine de Asigim) (as Ali)
2006-2010 – Fall of the Leaves (Yaprak Dokumu) (as Leyla Tekin)
2009 – Peevish Girl Kadife (Hircin Kiz Kadife) (as Kadife) (Movie)
2011 – My Grandfather's People (Dedemin Insanlari) (as Nurdan) (Movie)
2011 – Impossible Without You (Sensiz Olmaz) (as Begum)
2012 – Lost City (Kayip Sehir) (as Aysel)
2013-2014 Between You and Me (Aramizda Kalsin) (as Yadigar)
2014 – Don't Tell Me Tale (Bana Masal Anlatma) (As Neriman) (Movie)
2015 – Remember Gonul (Hatirla Gonul) (As Gonul)
2017 – His Name is Legend (Adi Efsane) (as Bahar)
2017 – Sleep of Love (Ask Uykusu) (as Yonca) (Movie)
2017 – Stiletto Vendetta (Ufak Tefek Cinayetler) (as Oya)
Social
Twitter:
Instagram: https://www.instagram.com/gokce.bhdr/
Gokce Bahadir – Vazgectim
Bana yalan soylediler