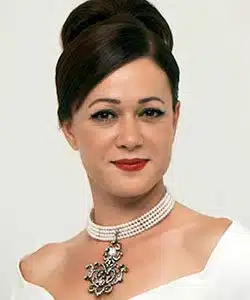 Profile
Name: Bennu Yildirimlar
Birthdate: November 22, 1969
Birthplace: Istanbul, Turkey
Height: 168 cm
Eye Color: Brown
Hair Color: Brown
Education: Istanbul University State Conservatory (Istanbul Universitesi Devlet Konservatuvari) (1990); Erenkoy Girls High School (Erenkoy Kiz Lisesi) (1986)
Talent Agency:
Spouse: Bulent Emin Yarar (m. 1995 – present)
Children: Ada Yarar
Biography: Bennu Yildirimlar was born in November 22, 1969. While Bennu Yildirimlar was studying at Istanbul University, she started to work at Istanbul City Theatres and took part in various theatre plays such as Birds from Aristopfanes (Kuslar). She also took drama lessons from Westminster Adult Education Institute during 1990-1991. Bennu Yildirimlar made her debut with her role as Elif at popular Turkish drama Super Dad (Super Baba). She became very popular with her role Fikret at popular Turkish drama Fall of the Leaves (Yaprak Dokumu).
Bennu Yildirimlar Tv Series / Movies
1987 – From Heart to Heart (Gonulden Gonule) (Movie)
1987 – Hafiz Yusuf Efendi (as Semiha) (Movie)
1989 – Juniors (Gencler)
1989 – Iz Pesinde (as Zeynep)
1990 – Haunted House (Perili Kosk)
1992 – Last Night in Island (Adada Son Gece) (Movie)
1992 – Smiling Quince Crying Pomegranate (Gulen Ayva Aglayan Nar)
1993 – Return to Agri (Agri'ya Donus) (as Muhsine) (Movie)
1993 – Night, Angel, and Our Children (Gece, Melek ve Bizim Cocuklar) (Movie)
1993 – Super Dad (Super Baba) (as Elif)
1995 – Kopgel Taksi (as Bennu)
1995 – Muhtesem Zango
1996 – Life is Beautiful Sometimes (Hayat Bazen Tatlidir) (as Bennu)
1997 – Deadlock (Kordugum)
1998 – Old Photos (Eski Fotograflar) (as Sertap) (Movie)
1998 – Run For Money (Kac Para Kac) (as Ayla) (Movie)
1998 – Shameless Man (Utanmaz Adam)
1998 – Handwriting of Death (Olumun El Yazisi) (Movie)
2000 – Love After All (Hic Yoktan Ask) (as Nurgul)
2000 – Sorry for Leila (Ozgunun Leyla) (as Suzan)
2001 – Single Session (Tek Celse)
2002 – Bir Tatli Huzur
2004 – Mirrors (Aynalar) (as Gul)
2005 – Maki (as Iraz)
2006 – Nightmare House: Missed Opportunities Limited (Kabuslar Evi: Kacan Firsatlar Limited) (as Filiz)
2006 – 2010 Fall of the Leaves (Yaprak Dokumu) (as Fikret Tekin)
2008 – 3 Apples Fell from the Sky (Gokten Uc Elma Dustu) (as Nilgun) (Movie)
2010 – Living the Moment (Ani Yasamak)
2010 – Tales from Kars (Kars Oykuleri) (Movie)
2011 – 2013 Desperate Housewives (Umutsuz Ev Kadinlari) (as Nermin)
2014 – Affairs of the Heart (Gonul Isleri) (as Servet)
2016 – Altinsoylar (as Saadet Altinsoy)
2016 – Cicadas and Ants (Agustos Bocekleri ve Karincalar) (as Selma) (Movie)
2017 – 2018 The Woman (Kadin) (as Hatice Sarikadi)
2018 – The Wild Pear Tree (Ahlat Agaci) (as Asuman) (Movie)
Awards
1994 – Umut Veren Yeni Kadin Oyuncu (Agri'ya Donus) / 6. Ankara Film Festivali
1996 – Bir Atin Oykusu Oyunu / Bedia Muvahhit Odulu
1998 – Huzur Oyunu / Ismet Kuntay Odulu
2000 – En Iyi Kadin Oyuncu (Kac Para Kac) / 4. Sadri Alisik Sinema Odulleri
2006 – Saygili Yosma Oyunu / Lions Tiyatro Odulleri
2008 – En Iyi Kadin Oyuncu / Altin Kelebek
Social
Instagram: https://www.instagram.com/bennu_yldrmlar/
Twitter: https://twitter.com/Bennu_Yldrmlar
Facebook: https://www.facebook.com/bennuyildirimlarr
E-Mail: [email protected]
Bennu Yildirimlar Gallery
Bennu Yildirimlar – Turkish Actress
Bennu Yildirimlar - Turkish Actress