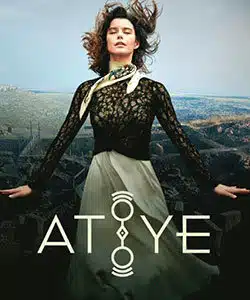 Details
Original Title:
Atiye
English Title:
The Gift
Also Known As:
Genre:
Mistery
,
Fantasy
,
Action
Episodes:
8
(season 1) +
Broadcast Network:
Netflix
Broadcast Period:
December 27, 2019 –
Production Company:
Netflix Studios
,
OG Medya
Director:
Ozan Aciktan
,
Ali Taner Baltaci
Screen Writer:
Nuran Evren Sit
,
Jason George
Filming Locations:
Gobeklitepe, Sanliurfa, Turkey; Nemrut Mountain, Turkey; Adiyaman, Turkey; Istanbul, Turkey
Synopsis
Atiye (Beren Saat) is a talented artist who has a happy life with her family and her fiancée Ozan (Metin Akdulger) in Istanbul. She has been drawing a symbol purely out of her own imagination since childhood. She does not know the meaning of this symbol but somehow she finds herself drawing it all the time.
Atiye eventually holds her first painting gallery. Almost all her paintings have been sold out. Even though her mother wants her to have a stable job, she is determined to follow her dreams and live her life as she wishes. However, Atiye's life turns upside down with a discovery made in Anatolian archaeological site named Gobeklitepe, the world's oldest temple.
Next day, out of pure coincidence, Atiye watches the news about Gobeklitepe on tv and sees the same symbol in her paintings. She does not understand how she knows this symbol which was engraved in Gobeklitepe thousands of years ago and just revealed in the excavation of a temple.

Atiye decides to go to Gobeklitepe in order to look for her own past in the ancient temple. She meets archaeologist Erhan (Mehmet Gunsur) who is responsible for the excavations in the region.
Erhan is the son of a famous archaeologist who started excavations in Gobeklitepe. When he was seven years old, his parents and his little sister pass away in a car accident. After the death of his family, Erhan has been raised by his aunt and becomes an archaeologist just like his father. He takes over his father's job and starts to carry out the excavations in Gobeklitepe and discovers the symbol that reveals the mystical relationship between Atiye and Gobeklitepe.
When Atiye wants to see the archaeological site, Erhan does not permit it by saying that it is not open for visitors yet. Atiye returns to her hotel but in the middle of the night, she is awakened by a little nomad girl who speaks ancient language and has a star symbol on her forehead. Atiye follows this nomad girl till Gobeklitepe and enters into the cave. She passes through purple stones and reaches to the point that has not been discovered yet. Upon the noises, Erhan and his staff find Atiye and send her away. Atiye tries to explain this little nomad girl and purple stones but she cannot persuade archaeologist Erhan.
Atiye has nothing to do but return to Istanbul. Even though she knows that she is somehow connected to Gobeklitepe, she goes away empty-handed. However, her life in Istanbul changes dramatically after then. She starts to see nightmares and hallucinations.
Meanwhile, while carrying out excavations, Erhan discovers the place with purple stones and the engraved nomad girl with star symbol in her forehand. He understands that Atiye is telling truth and decides to chase after this mysterious event.
The lives of Atiye and Erhan intersect again. This time, they start to work together to question everything between the past and the future. Right in the hearth of Anatolia, they question what is real and what is spiritual.
The Gift (Atiye) tv series story is about a talented artist who is connected to an Anatolian archaeological site Gobeklitepe. Why Atiye has been drawing the same symbol since her childhood? How is Atiye connected to Gobeklitepe? Will Erhan believe in Atiye and find out the truth behind his parents' death?
The Gift (Atiye) is an adoptation of a novel by Sengul Boybas (Dunyanin Uyanisi).
The Gift (Atiye) Tv Series Cast
Beren Saat as Atiye
Mehmet Gunsur as Erhan
Metin Akdulger as Ozan
Melisa Senolsun as Cansu
Basak Koklukaya as Serap
Civan Canova as Mustafa
Tim Seyfi as Serdar
Meral Cetinkaya as Zuhre
Hazal Turesan as Hannah
Cezmi Baskin as Oner
Fatih Al as Nazim
External Links
Official Site: https://www.netflix.com/se-en/title/81037848
English Wikipedia:
Imdb:
You Might Also Like
Phi (Fi)
Trailer (with English Subtitle)
The Gift (Atiye) Tv Series Trailer (Eng Sub)
Trailer 2 (with English Subtitle)
Beren Saat New Drama: Atiye (The Gift)