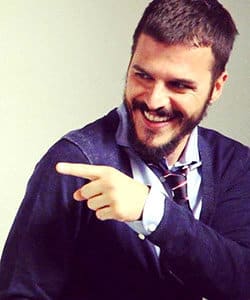 Profile
Name: Mehmet Gunsur
Birthdate: May 8, 1975
Birthplace: Istanbul, Turkey
Height: 178 cm
Eye Color: Brown
Hair Color: Black
Education: Marmara University Communications Faculty (Marmara Universitesi Iletisim Fakultesi)
Talent Agency: Id Iletisim Ve Danismanlik
Spouse: Katerina Mongio (m. 2006-present)
Children: Ali Gunsur, Maya Gunsur, Cloe Gunsur
Biography: Mehmet Gunsur was born in 8 May 1975 as a second child of a Tatar Family. His mother is an instructor, his father is a physicist and his sister is a choreographer for modern ballet. Mehmet Gunsur started acting through various tv commercials when he was 7 years old. After he graduated from Italian High School, he studied Marmara University Communications. Her role in popular Turkish movie Hamam (Steam: The Turkish Bath) in 1997 made him well-known. After this movie, Mehmet Gunsur decided to improve his acting career. He also took part in various theatre plays in Italia. In 2006, Mehmet Gunsur got married to Italian director Katerina Mongio and started to living in Italy.
Mehmet Gunsur Tv Series / Movies
1989 – Last Spring Mimosas (Gecmis Bahar Mimozalari) (as Sabih)
1989 – Cahide
1997 – Turkish Bath (Hamam) (as Mehmet) (Movie)
1999 – Games of Dreaming (Hayal Kurma Oyunlari) (as Soccer Player) (Movie)
1999 – File of Secrets (Sir Dosyasi) (as Ayhan Ince)
2001 – Tommaso (as Giovanni) (Movie)
2001 – Guida (as Giovanni) (Movie)
2001 – Don Matteo
2002 – Italyan (as Giorgio) (Movie)
2003 – Il papa buono (as Don Paolo) (Movie)
2003 – He is a Soldier Now (O Simdi Asker) (as Nihat Denizer) (Movie)
2003 – Stregeria (Short film) (Movie)
2003 – Battery Operated Doll (Pilli Bebek) (as Tarik)
2004 – Non ci sarebbe niente da fare! Short film (Movie)
2004 – Storm People (Kasirga Insanlari) (as Sinan)
2005 – Istanbul Tales (Anlat Istanbul) (as Rifki) (Movie)
2005 – 2006 White Poppy (Beyaz Gelincik) (as Mustafa Aslanbas)
2007 – Fall Down Dead (as Stefan Kerchek) (Movie)
2007 – 2008 Knife Edge (Bicak Sirti) (as Mehmet Ertugrul)
2008 – Se chiudi gli occhi (Movie)
2010 – Noice (Ses) (as Onur) (Movie)
2010 – Matrimoni e altri disastri (as Andrea) (Movie)
2011 – Love Loves Coincidences (Ask Tesadufleri Sever) (as Ozgur Turgut) (Movie)
2012 – 2014 Magnificent Century (Muhtesem Yuzyil) (as Sehzade Mustafa)
2014 – Whisper if I Forget (Unutursam Fisilda) (as Tarik Ertugrul) (Movie)
2017 – Istanbul Red (Istanbul Kirmizisi) (as Yusuf) (Movie)
2017 – Phi (Fi) (as Deniz)
2017 – Lord of the Gulls (Martilarin Efendisi) (as Senol) (Movie)
2018 – Kanaga (as Mardin Tamay)
2019 – The Gift (Atiye) (as Ozan)
Awards
1998 – 10. Ankara Film Festival (10. Ankara Film Festivali) – Promising Young Actor (Steam: The Turkish Bath) – Umut Veren Yeni Erkek Oyuncu (Hamam)
2003 – 40. Antalya Film Festival (40. Antalya Film Senligi) – Jury Special Award (He is in the Army Now) – Juri Ozel Odulu (O Simdi Asker)
2003 – 6. Gokceada Film Festival (6. Gokceada Film Festivali) – Best Actor (He is in the Army Now) – En Iyi Erkek Oyuncu (O Simdi Asker)
2004 – 9. Sadri Alisik Awards (9. Sadri Alisik Odulleri) – Jury Special Award (He is in the Army Now) – Juri Ozel Odulu (O Simdi Asker)
2011 – 16. Sadri Alisik Awards (16. Sadri Alisik Odulleri) – Jury Special Award (Voice) – Juri Ozel Odulu (Ses)
2012 – ELLE Style Awards (ELLE Style Odulleri) – Best Actor (Magnificent Century) – En Iyi Erkek Oyuncu (Muhtesem Yuzyil)
2012 – Ayakli Gazete TV Stars (Ayakli Gazete TV Yildizlari) – Best Actor in Supporting Role in Period Drama (Magnificent Century) – En Iyi Donem Dizisi Yardimci Erkek Oyuncu (Muhtesem Yuzyil)
2012 – 18. Kral Music Awards (18. Kral Muzik Odulleri) – Best Movie Song (Love Loves Coincidences – Mehmet Gunsur & TNK) – En Iyi Film Muzigi (Ask Tesadufleri Sever – Mehmet Gunsur & TNK)
2014 – Sakarya University Justiniaus Media Awards (Sakarya Universitesi Justiniaus Medya Odulleri) – Best Actor (Magnificent Century) – En Iyi Erkek Oyuncu (Muhtesem Yuzyil)
Social
Instagram: https://www.instagram.com/mehmet.gunsur/
Twitter: https://twitter.com/iammehmetgunsur
Facebook: https://www.facebook.com/mehmetgunsurresmi/
E-Mail:
Trivia
Body Type:
Skills:
Star Sign:
Blood Type:
Hobbies:
Mehmet Gunsur Gallery