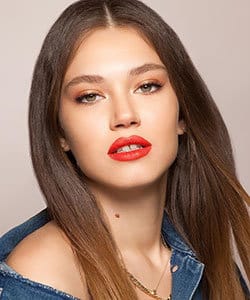 Profile
Name: Melisa Senolsun
Birthdate: September 24, 1996
Birthplace: Izmir, Turkey
Height: 170 cm
Eye Color: Green
Hair Color: Brown
Education: Istanbul University State Conservatory Theatre (Istanbul Universitesi Devlet Konservatuvari Tiyatro Bolumu)
Talent Agency: Icon Talent Management
Spouse:
Biography: Melisa Senolsun was born in 24 September 1996 in Izmir. She has been taking part in theatre plays since she was 6 years old. After she watched her sister's theatre play, she decides to be an artist. Melisa Senolsun also did gymnastics and ballet for 7 years.
Melisa Senolsun Tv Series / Movies
2015 – Pretty Little Liars (Tatli Kucuk Yalancilar) (as Hande)
2015 – 2016 Rental Love (Kiralik Ask) (as Sude Iplikci)
2016 – 2017 Never Lose Hope (Umuda Kelepce Vurulmaz) (as Ceren)
2017 – My Father (Babam) (as Feride) (Movie)
2018 – Breathless (Nefes Nefese) (as Ruya Kiran)
2019 – 2020 The Gift (Atiye) (as Cansu Ozgursoy / Elif Kurtiz)
2019 – Guzelligin Portresi (as Hilal) (Movie)
2020 – The Agency (Menajerimi Ara) (as Melisa)

Awards
Social
Instagram: https://www.instagram.com/melisasenolsun/
Twitter: https://twitter.com/melisasenolsun
Facebook:
E-Mail:
Trivia
Weight: 59 kg
Body Type:
Skills:
Star Sign: Libra
Blood Type:
Hobbies:
Melisa Senolsun Gallery
A True Home
Melisa Senolsun - Turkish Actress