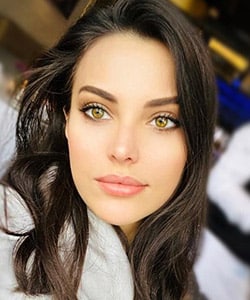 Profile
Name: Tuvana Turkay
Birthdate: October 3, 1990
Birthplace: Istanbul, Turkey
Height: 175 cm
Eye Color: Green
Hair Color: Black
Education: Istanbul College, Beykent University Radio Television and Cinema School
Talent Agency:
Spouse:
Biography: Tuvana Turkay was born in 3 October 1990 in Istanbul. Her father is Bulgar Turk. After graduating from Istanbul Gunes College, she continued to study at Beykent University Radio Television and Cinema. Tuvana Turkay became very popular with her role as Bade at popular turkish series Love is in the Air (Yer Gok Ask). Tuvana Turkay is also interested in music besides acting. In 2015, she sung a song named Ara Ne Olursan (she wrote the lyrics) at Enbe Orchestra. After then, she launched a cover of song named Tuana. Tuvana Turkay both writes lyrics and composes music.
Tuvana Turkay Tv Series / Movies
2009 – Break Up 2 (Ayrilik 2) (as Kevok)
2010 – Naks-i Dil Sultan (as Naks-i Dil Sultan)
2010-2012 Love is in the Air (Yer Gok Ask) (as Bade Palali)
2013 – Lacking Pages (Eksik Sayfalar) (as Aysegul) (Movie)
2014 – Black Money and Love (Kara Para Ask) (as Bahar Cinar)
2015 – Byzantine Games (Bizans Oyunlari) (as Aycorek) (Movie)
2015 – The Most Beuatiful (En Guzeli) (as Gizem) (Movie)
2015 – The Pigeon Flew (Guvercin Ucuverdi) (as Sema Taskin) (Movie)
2016 – What Happened Happened (Olanlar Oldu) (as Asli) (Movie)
2016 – Killjoy (Oyunbozan) (as Ece)
2016 – You are Alive and I am Well (Sen Sag Ben Selamet) (as Doga) (Movie)
2016 – Baker Father: Mystery of Love (Somuncu Baba Askin Sirri) (as Necmiye) (Movie)
2017 – One Breath is Enough (Bir Nefes Yeter) (Movie)
2017 – Crazy Heart (Deli Gonul) (as Fatmanur Guzel)
2017 – 2018 For My Daughters (Kizlarim Icin) (as Kumru)
2019 – 2020 Forbidden Fruit (Yasak Elma) (as Ayse / Leyla)
2020 – Agir Romantik (as Asli Egeli) (Movie)
2021 – House of Lies (Kagit Ev) (as Azra Ince)
Awards
Single Music
2019 – Yalan De
Books
2020 – We both Love Me (Ikimiz de Beni Seviyoruz)
Social
Instagram: https://www.instagram.com/tuvanaturkay/
Twitter:
Facebook:
E-Mail:
Ah Ask