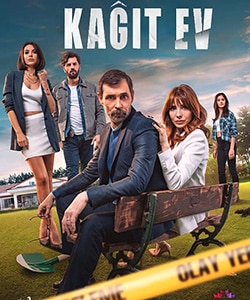 Details
Original Title: Kagit Ev
English Title: House of Lies
Also Known As:
Genre: Crime, Drama
Episodes: 8 episodes (each episode is 150 minutes)
Broadcast Network: ATV
Broadcast Period: 19 April 2021 – 7 June 2021
Production Company: O3 Medya
Director: Senol Sonmez
Screen Writer: Umut Acikalin and Ayhan Bolukbasi; Sebnem Aksoy Acikalin (original story)
Filming Locations: Istanbul, Turkey
Synopsis
Cihan (Erdal Besikcioglu) is a successful professor of law. He is married to a lawyer Aylin (Nur Fettahoglu) and has three children. He also presents a popular television program together with a beautiful woman Azra (Tuvana Turkay).
The perfect life of Cihan turns upside down when he cannot resists the beauty and attraction of Azra and has an affair with her. His wife Aylin cannot understand this betrayal, as she is so busy with her work and children.

However, Cihan's daughter Cemre (Helin Kandemir) learns her father's betrayal. Cemre is a 16 years-old girl who is very fond of her father. She does not want to share her father with another woman and becomes so jealous after learning her father's secret affair.
Cemre tries to find out the woman whom his father has an affair with. She goes to the university where her father works. She incorrectly assumes that her father has an affair with the family maid's daughter Inci (Tugce Aykut).
Inci is the daughter of a family's maid. She is a successful college student who studies law at the university where Cihan gives lectures. She has been studying with the financial support of Cihan and Aylin.
Inci has been dating with Mert (Nejat Uygur) for a long time but cannot disclose her boyfriend due to the fact that she has been raised in a conservative family. Mert is the son of Cihan and Aylin. He keeps his relationship secret upon the request of his girlfriend.
Cemre does not know that her brother Mert has been dating with Inci. For this reason, she incorrectly interprets Inci's behaviors and accuses her for having a secret affair with her father. When Cemre confronts Inci, she attacks her viciously. At their fight, Inci gets injured deadly and passes away right away.
Aylin and Cihan become devastated after what Cemre has done and try to do their best to protect their daughter. They decide to cover up the murder and erase all the evidence so that Cemre would not go to prison. They wrap Inci's corpse in a black bag and bury it into their garden.
Inci's mother and boyfriend try to reach out Inci. Her disappearance makes everybody devastated. A detective Bulent (Can Nergis) is put in charge of the murder case.
Bulent is a successful detective who used to date with Aylin years ago. Since he is a close friend, Aylin does her best to conceal the truth and mislead Bulent.
House of Lies (Kagit Ev) tv series story is about Cihan and Aylin who try to cover up the murder in order to save their daughter. Will Cihan and Aylin successfully erase all the evidences of the murder of their house cleaner's daughter? Will Cemre become regretful for what she has done? Will Bulent eventually find the culprit of this murder case? Will Mert learn that his sister is the murderer of his girlfriend?
House of Lies (Kagit Ev) Tv Series Cast
External Links
Official Site: https://www.startv.com.tr
English Wikipedia:
Imdb:
You Might Also Like
Stiletto Vendetta (Ufak Tefek Cinayetler)
Pretty Little Liars (Tatli Kucuk Yalancilar)
House of Lies (Kagit Ev) Tv Series Trailer (with English Subtitle)
House of Lies (Kagit Ev) Tv Series Trailer