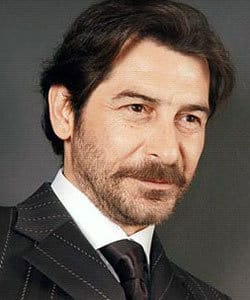 Profile
Name: Ugur Polat
Birthdate: September 4, 1961
Birthplace: Istanbul, Turkey
Height: 178 cm (5′ 10″)
Eye Color: Brown
Hair Color: Black
Education: Mimar Sinan University Theatre (Mimar Sinan Universitesi Tiyatro Bolumu)
Talent Agency: Yasemin Ozbudun Talent Management
Spouse:
Biography: Ugur Polat worked at Ankara Art Theatre (1978), Adana State Theatre (1985), and Istanbul State Theatre (1987) for a long time. He gave lectures in Eskisehir Anatolia University – Theatre Department for 3 years. Ugur Polat took part in more than 30 theatre plays including Hamlet, Kuva-i Milliye, and Kafatasi. Ugur Polat started to take part in movie sector with his film Fog (Sis) in 1988.
Ugur Polat Tv Series / Movies
1988 – The Fog (Sis ) (Movie)
1989 – Cahide
1990 – All Doors Were Closed (Butun Kapilar Kapaliydi) (as Ates) (Movie)
1991 – Other Side of The Water (Suyun Ote Yani) (Movie)
1991 – Stars Grow at Night (Yildizlar Gece Buyur) (as Doctor Orhan)
1992 – Daylight Dreams of Mrs. Cazibe (Cazibe Hanimin Gunduz Dusleri) (as Kursat) (Movie)
1995 – Anatomy of a Woman (Bir Kadinin Anatomisi) (as Metin) (Movie)
1995 – Fake Worlds (Sahte Dunyalar) (as Yilmaz Kilic)
1996 – Anatomy of a Man (Bir Erkegin Anatomisi) (as Taner) (Movie)
1996 – Salvation (Kurtulus) (as Mr. Veli)
1997 – Deadlock (Kordugum)
1997 – After So Many Years (Nice Yillardan Sonra) (as Vedat) (Movie)
1998 – Blue Dreams (Mavi Dusler) (as Serkan)
1998 – Hot Hours (Sicak Saatler)
1999 – Kimsecikler
1999 – Mrs. Salkim's Diamonds (Salkim Hanimin Taneleri) (as Levon) (Movie)
2000 – Mirror (Ayna) (Movie)
2000 – Don't Forget Me (Beni Unutma) (as Huseyin) (Movie)
2000 – Offside (Dar Alanda Kısa Paslasmalar) (as Cem) (Movie)
2000 – Elephants and Grass (Filler ve Cimenler) (Movie)
2000 – Fake World (Yalan Dunya)
2000 – Stars Hill (Yildiz Tepe) (as Murat) (Movie)
2000 – Strawberry Cake (Cilekli Pasta) (as Onur) (Movie)
2001 – Loves Me Too (O da Beni Seviyor) (as Ibrahim) (Movie)
2001 – Istanbul Seven Hills (Yeditepe Istanbul) (as Ali)
2002 – The Encounter (Karsilasma) (as Sinan) (Movie)
2003 – Sultan Seat (Sultan Makami) (as Arif)
2005 – 2 Super Movies at the Same Time (2 Super Film Birden) (as Abdullah) (Movie)
2005 – Dawn (Seher Vakti) (as Ali)
2007 – Fog and Night (Sis ve Gece) (as Sedat)
2007 – Lost (Kayip) (as Erol Benderli) (Movie)
2007 – Little Steps (Kucuk Adimlar)
2007 – Blue Eyed Giant (Mavi Gozlu Dev) (as Mr. Tahsin) (Movie)
2007 – The Clown and His Daughter (Sinekli Bakkal) (as Peregrini)
2007 – Captive (Tutsak) (as Adil)
2007 – Pars: Operation Cherry (Pars Kiraz Operasyonu)
2008 – Ali's Eight Days (Ali'nin Sekiz Gunu) (as Mehmet) (Movie)
2008 – Love Hurts (Ask Yakar) (as Duran)
2008 – Don't Forget Me (Beni Unutma) (as Recep)
2008 – Devrim Cars (Devrim Arabalari) (as Sami) (Movie)
2008 – The Governor (Vali) (as Omer Ucar) (Movie)
2009 – Breath (Nefes) (as Yahya)
2009 – Yahsi Bati (as Buck Berry) (Movie)
2010 – Turkan (as Cihat)
2010 – The Jackal (Cakal) (as Fahrettin) (Movie)
2011 – To Better Days (Guzel Gunler Gorecegiz) (az Izzet) (Movie)
2011 – Jurnal (Short Movie)
2012 – The Long Way Home (Eve Donus: Sarikamis 1915) (as Mr. Saci) (Movie)
2012 – Lost City (Kayip Sehir) (as Ethem)
2012 – The End (Son) (as Kudret)
2013 – Will You Play With Me? (Benimle Oynar Misin?) (as Fatih) (Movie)
2014 – Murder (Cinayet) (as Aslan Kocatepe)
2014 –2015 Buddy Istanbul (Ulan Istanbul) (as Kandemir Mercan)
2015 – Lack (Eksik) (Movie)
2015 – 125 Years Memory (Ertugrul 1890) (as Osman Pasha) (Movie)
2015 – Queen of Night (Gecenin Kralicesi) (as Aziz)
2017 – Unregistered (Kayitdisi) (as Ekrem Tanoz)
2020 – Ask Tesadufleri Sever 2 (as Niko) (Movie)
2021 – Judgement (Yargi) (as Yekta Tilmen)
Awards

1990 – 3. Ankara Film Senligi – Umut Veren Yeni Erkek Oyuncu (Butun Kapilar Kapaliydi)
1996 – Ismet Kunay Tiyatro Odulu
1999 – 36. Antalya Film Senligi – En Iyi Erkek Oyuncu (Salkim Hanimin Taneleri)
2002 – 6. Afife Tiyatro Odulleri – En Iyi Basarili Erkek Oyuncusu (Ben Ruhi Bey Nasilim)
2003 – 14. Orhan Ariburnu Odulleri – En Iyi Erkek Oyuncu (Karsilasma)
2010 – 15. Sadri Alisik Sinema ve Tiyatro Odulleri – Yilin En Iyi Erkek Oyuncusu (Kredi Karti Vak'a)
Theatre Plays
1979 – Ferhat ile Sirin
1979 – Kafatasi
1979 – Oyun Nasil Oynanmali
1980 – Hikaye-i Mahmut Bedrettin
1984 – Dusus
1986 – Akvaryum
1986 – Tohum ve Toprak
1987 – Deli Ibrahim
1987 – Yedi Kocali Hurmuz
1987 – Hosu'nun Utanci
1988 – Alti Kisi Yazarini Ariyor
1988 – Odissinbad
1989 – Ballar Balini Buldum
1990 – Dun Gece Yolda Giderken Cok Komik Bir Sey Oldu
1991 – Firtina
1991 – Oresteia
1992 – Kucuk Burjuvalar
1993 – Hamlet
1994 – Olmayan Kadin
1995 – Icerdekiler
1999 – Kuvai Milliye
2000 – Patron
2001 – Ben Ruhi Bey Nasilim
2002 – Sansurcu
2008 – Vur Yagmala Yeniden
2010 – Kredi Karti – Vak'a aaaaa!
2012 – Cehov Makinasi
Social
Instagram:
Twitter:
Facebook:
Gallery