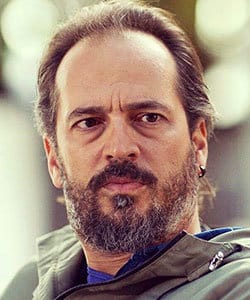 Profile
Name: Timucin Esen
Birthdate: August 14, 1973
Birthplace: Adana, Turkey
Height: 189 cm
Eye Color: Brown
Hair Color: Black
Education: Mimar Sinan University – Theatre (Mimar Sinan Universitesi Tiyatro Bolumu), California Institute of the Arts University (cinema directorship)
Talent Agency:
Spouse: Bilge Ture (m. 2012-present)
Child: Ayda Esen
Biography: Timucin Esen was born in 14 August 1973 in Adana. He is the only child of lawyer mother and lawyer father. He started to be interested in music while he was going to secondary school. He graduated from TED Ankara College. After studying at Ankara University State Conservatory (Theatre) for 2 years, he moved to Istanbul and started to study at Mimar Sinan University (Theatre). He graduated from Mimar Sinan University and at the same time, he took acting lessons in the US and Italy. He did his master's degree in cinema – directorship at California Institute of the Arts University at Los Angeles. Timucin Esen became very popular with his role in popular Turkish movie Loveborn (Gonul Yarasi) in 2004. Timucin Esen is also interested in music and he made his first music album named Mayhos in 2011. He also took part in theatre play such as Mikado's Garbage (Mikado'nun Copleri) during 2006-2008 season.
Timucin Esen Tv Series / Movies
2003 – Night with a Madman (Deliyle Gecen Gece) (as Taci) (Movie)
2003 – Gurbet Kadini (as Hakki)
2003 – Head or Tails (Yazi Tura) (Movie)
2004 – Lovelorn (Gonul Yarasi) (as Halil) (Movie)
2005 – 2006 Thief and Police (Hirsiz Polis) (as Cinar)
2011 – Maze (Labirent) (as Fikret) (Movie)
2013 – Your Story (Senin Hikayen) (as Hakan) (Movie)
2013 – Conscience (Vicdan) (as Yunuz)
2014 – 2015 Affairs of the Heart (Gonul Isleri) (as Yilmaz)
2014 – Seaburners (Kumun Tadi) (as Hamit) (Movie)
2016 – 2017 A Bodrum Fairytale (Bodrum Masali) (as Faryali)
2017 – The Lord of the Seagulls (Martilarin Efendisi) (as Sakir) (Movie)
2018 – Muslum (as Muslum Gurses) (Movie)
2018 – 2019 Gulperi (as Kadir Aydin)
2019 – Hekimoglu (as Ates Hekimoglu)
Awards
2012 – 17. Sadri Alisik Awards (17. Sadri Alisik Odulleri) – Jury Special Awards (Maze) – Juri Ozel Odulu (Labirent)
2005 – 27. Siyad Turkish Cinema Awards (27. Siyad Turk Sinemasi Odulleri) – Best Actor in Supporting Role (Lovelorn) – En Iyi Yardimci Erkek Oyuncu (Gonul Yarasi)
2005 – 42. Antalya Film Festival (42. Antalya Film Senligi) – Best Actor in Supporting Role (Lovelorn) – En Iyi Yardimci Erkek Oyuncu (Gonul Yarasi)
Social
Instagram:
Twitter:
Facebook:
E-Mail:
Trivia
Body Type:
Skills:
Star Sign:
Blood Type:
Hobbies:
Timucin Esen Gallery
Men of the Year 2018 Ikon: Timucin Esen
Timucin Esen - Turkish Actor