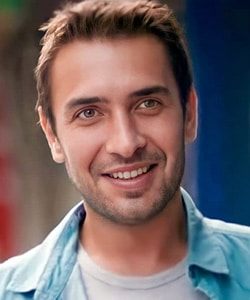 Profile
Name: Ulas Tuna Astepe
Birthdate: May 5, 1988
Birthplace: Kocaeli (Izmit), Turkey
Height: 189 cm
Eye Color: Brown
Hair Color: Brown
Education: Istanbul Male High School (Istanbul Erkek Lisesi), Mimar Sinan University State Conservatory Theatre (Mimar Sinan Devlet Konservatuari tiyatro bolumu)
Talent Agency:
Spouse:
Biography: Ulas Tuna Astepe worked as a costume designer at Turkish movie Ottoman Republic (Osmanli Cumhuriyeti) and then took part in theatre and TV projects. He took part in various theatre plays such as Glass Leaves (Cam Yapraklar) and Flag (Bayrak). He made his debut with his role Orhan in popular Turkish drama Karadayi.
Ulas Tuna Astepe Tv Series / Movies
2010 – Universiteli (Short Movie)
2012 – 2015 Karadayi (as Orhan)
2013 – Zayiat (as Mete) (Short Movie)
2013 – Mesakkat ve Karisi (Short Movie)
2015 – Moms and Mothers (Analar ve Anneler) (as Mustafa)
2015 – Fish Pond (Balik Havuzu) (Short Movie)
2017 – The Gulf (Korfez) (as Selim) (Movie)
2017 – Innocent (Masum)
2017 – Dream (Ruya) (as Alaz)
2018 – 2019 Lifeline (Sen Anlat Karadeniz – You Tell, The Black Sea) (as Tahir Kaleli)
2021 – Barbarossa: Sword of the Mediterranean (Barbaroslar: Akdeniz'in Kilici) (as Barbaros Hayreddin Pasha)
Theatre Plays
2011 – Bayrak
2012 – Cam Yapraklar
2013 – Babamin Cesetleri
Social
Instagram: https://www.instagram.com/ulasastepe/
Twitter:
Facebook:
Gallery
Horon show from Kaleli brothers
Kaleli kardeşlerden horon şov! - Sen Anlat Karadeniz 45. Bölüm