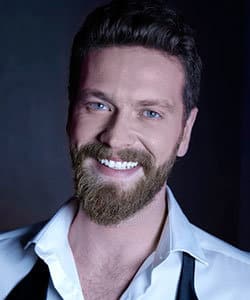 Profile
Name: Engin Ozturk
Birthdate: September 28, 1986
Birthplace: Eskisehir, Turkey
Height: 184 cm
Eye Color: Blue
Hair Color: Dark Yellow
Education: Hacette University State Conservatory Theatre (Hacettepe Universitesi Devlet Konservatuari Tiyatro Bolumu) (2008-2012)
Talent Agency: Abdullah Bulut Management
Spouse:
Biography: Engin Ozturk was born in Eskisehir. His family is Turkish immigrants: his paternal side immigrated from Bulgaria while his maternal side immigrated from Thesselonike. Since Engin Ozturk's father was an aviator at Turkish army, he spent his childhood at Eskisehir. He played voleyball during high school. He chose his father's profession and went to the Izmir Air Sergeant Vocational School in 2003 and graduated in 2005. But, he changed his profession and won Hacettepe University State Conservatory Theatre. He became very popular with his role Selim in popular Turkish drama What is Fatmagul's Fault? (Fatmagulun Sucu Ne?).

Engin Ozturk Tv Series / Movies
Social
Instagram: @enginozturk
Twitter: @engin_ozturk
Facebook: @aenginozturk
Engin Ozturk Gallery
Engin Ozturk Video
Engin Ozturk - L'OFFICIEL HOMMES