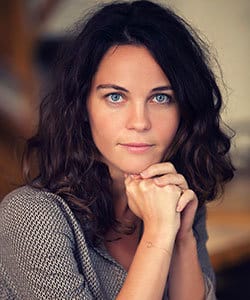 Profile
Name: Tulin Ozen
Birthdate: December 24, 1979
Birthplace: Iskenderun / Hatay, Turkey
Height: 163 cm
Eye Color: Blue
Hair Color: Brown
Education: Istanbul Technical University Electric Engineering (ITU Elektrik Muhendisligi); Yeditepe University Theatre (Yeditepe Universitesi Tiyatro)
Ajans: Sihirli Anahtar
Spouse:
Biography: Tulin Ozen's mother and father are both engineer. She took part in various children theatre plays while she was going to high school. After high school, she studiet at electric engineering. But, she dropped out the engineering faculty while she was at the 3rd year. Then, she started to study at conservatory (theatre).

Tulin Ozen Tv Series / Movies
2003 – Melek Oyunu (Movie)
2004 – Mirrors (Aynalar) (as Melda)
2004 – Fathers Last Hear (En Son Babalar Duyar)
2004 – Angel's Fall (Melegin Dususu) (as Zeynep) (Movie)
2005 – 2007 The White Poppy (Beyaz Gelincik) (as Meryemce Aslanbas)
2006 – Like a Dream (Ruya Gibi) (as Filiz)
2007 – Yarin Gecti (Movie)
2007 – Egg (Yumurta) (Movie)
2008 – Children of Heaven (Cennetin Cocuklari) (as Cennet)
2008 – Milk (Sut) (Movie)
2008 – Yapayalniz (Movie)
2008 – Conscience (Vicdan) (as Songul) (Movie)
2009 – 10 to 11 (11'e 10 Kala) (Movie)
2009 – Honey (Bal) (as Zehra) (Movie)
2009 – 2010 Grand Bazaar (Kapalicarsi) (as Seher)
2011 – While Going to Uskudar (Uskudar'a Giderken) (as Ayse)
2011 – Our Aunt-in-Law (Bizim Yenge) (as Zeyno)
2012 – Carnival (Karnaval) (as Demet) (Movie)
2012 – Burden (Yuk) (as Zeynep) (Movie)
2012 – Fake World (Yalan Dunya) (as Nazli)
2013 – Never Mind My Heart (Aldirma Gonul) (as Gonul)
2013 – The Blue Wave (Mavi Dalga) (as Ceylan) (Movie)
2014 – Gulumse (Movie)
2014 – Very Soon (Pek Yakinda) (as Arzu Yildiz) (Movie)
2015 – Blockade (Abluka) (as Meral) (Movie)
2015 – 2016 Magnificent Century Kosem (Muhtesem Yuzyil Kosem) (as Handan Sultan)
2017 – Love and Pride (Ask ve Gurur) (as Turkan)
2017 – Bas Guy (Kotu Cocuk) (as Nazli) (Movie)
2017 – Innocent (Masum) (as Emel)
2017 – 2018 Stiletto Vendetta (Ufak Tefek Cinayetler) (as Arzu Kucukata Kaymaz)
2018 – Siir Saklayan Cocuk (Movie)
2019 – App (as Nisan Dagdeviren) (Movie)
2020 – Dark Side (Karanlik Bolge) (as Yaz Saymazoglu)
2020 – Ethos (Bir Baskadir) (as Gulbin) (Netflix Shows)
2020 – Karakomik Filmler 2 (as Nuray) (Movie)
2020 – 2021 The Red Room (Kirmizi Oda) (as Doctor Piraye Artun Saner)
2021 – Kefe (as Ayse)
2022 – Ersan Kuneri (Netflix Shows)
Awards:
2004 –

41. Antalya Film Festival (41. Antalya Film Senligi) – Best Actress (Angel's Fall)

– En Iyi Kadin Oyuncu (Melegin Dususu)
2005 –

16. Ankara Film Festival (16. Ankara Film Festivali) – Promising Actress (Angel's Fall)

– Umut Veren Yeni Kadin Oyuncu (Melegin Dususu)
2006 –

11. Nurnberg Turkey / Germany Film Festival (11. Nurnberg Turkiye / Almanya Film Festivali) – Best Actress (Angel's Fall)

– En Iyi Kadin Oyuncu (Melegin Dususu)
2008 –

13. Sadri Alisik Awards (13. Sadri Alisik Odulleri) – Best Actress in Supporting Role (Conscience)

– En Iyi Yardimci Kadin Oyuncu (Vicdan)
2009 –

41. Siyad Turkish Cinema Awards (41. Siyad Turk Sinemasi Odulleri) – Best Actress in Supporting Role (Conscience)

– En Iyi Yardimci Kadin Oyuncu (Vicdan)
2009 –

16. International Golden Cocoon Film Festival (16. Uluslararasi Altin Koza Film Festivali) – Best Actress in Supporting Role (Conscience)

– En Iyi Yardimci Kadin Oyuncu (Vicdan)
2016 –

Istanbul Gelisim University Media Awards (Istanbul Gelisim Universitesi Meda Odulleri) – Best Actress in Theatre Plays (Blockade)

– En Iyi Kadin Tiyatro Oyuncusu (Abluka)
2022 –

Direklerarasi Theatre Awards (Direklerarasi Tiyatro Odulleri) – Best Actress (Nora 2)

– Yilin En Basarili Kucuk Salon Kadin Oyuncusu (Nora 2)
Theatre Plays
2004 – Sersemler Evi (as Turkan)
2005 – Bahtsiz Perikles
2007 – Vakit Tamam Beyler
2009 – Ucuncu Evren (as Serine)
2010 – Guzel Seyler Bizim Tarafta (as Oya)
2010 – Mesele
2015 – Dil Kusu
2016 – Vahset Tanrisi (as Annette Reille)
2019 – Ivanov (as Anna Petrovna)
2019 – Westend – Batinin Sonu (as Charlotte)
2020 – Her Gune Bir Vaka
2021 – Nora 2 (as Nora)
2022 – Bizi Oldurmek Isteyen Muhtesem Hayat (Director)
Social
Instagram: Official Instagram Account
Twitter: Official Twitter Account
Facebook:
Tulin Ozen Gallery
Tulin Ozen – BackStage Elele
Tulin Ozen - 2018 BackStage Elele