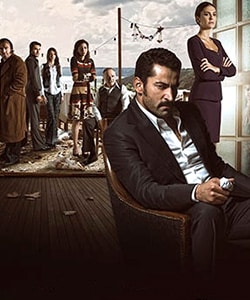 Details
Original Title: Karadayi
English Title: Karadayi
Also Known As: Zware Fuhn, القبضاي, Karadaji, Справедливостта на Кара, Časni ljudi, Prateria Mudo
Genre: Drama, Action, Romance
Episodes: 115
Broadcast Network: ATV
Broadcast Period: October 08, 2012 – June 15, 2015
Production Company: Ay Yapim
Director: Uluc Bayraktar, Cem Karci
Screen Writer: Eylem Canbolat, Sema Ergenekon
Filming Locations: Istanbul, Trabzon Turkey
Synopsis
The story takes place during 1970s.
Mahir (Kenan Imirzalioglu) is a young and handsome guy. He works as a shoe repairer and has a comfortable middle-class life. He lives happilly with his family, father Nazif Kara (Cetin Tekindor), mother, two sisters and one brother. On the day of his engagement with Ayten (Melike Yalova), his perfect life turns upside down.
His father, Nazif Kara is blamed for a murder. His father is convicted of murdering a successful judge and he is sentenced to death after the trial. The witnesses see Nazif Kara on-scene of the murder with the murder weapon in his hands.
Mahir never believes that his father is guilty. He tries to prove the innocence of his father and wants to give him his freedom. However, finding any evidence to save his father would be too hard for him.

Therefore, Mahir gives up himself, his life, and his love. He makes a plan to work with the judges of his father's trial. By this way, he aims to investigate the case in more detail and to find the true murderer. He creates a new identity and acquaints himself as Salih, who is a law apprentice.
Mahir starts to work with Feride (Berguzar Korel) who is the attorney general for Nazif Kara's trial. Feride is a young and beautiful woman who comes from a rich family. She is so succesful on her work.
Mahir/Salih starts to give assistance to Feride while she is doing research about the murder. Mahir/Salih tries to give another perspective to Feride. He always wants to protect his father and for this reason, most of the time he expresses his positive views about Nazif Kara.
As time passes, Mahir/Salih and Feride fall completely into each other. However, Mahir/Salih knows that this is impossible love thus, he tries to hide his love.
In karadayi tv series, you will see the story of Mahir/Salih and Feride who love each other to death but their love is impossible. Will anybody recognise that Salih is actually Mahir in disguise? Will Mahir/Salih live the rest of his life peacefully with Feride? Will Mahir/Salih manage to find the true murderer and save his father?
Karadayi Tv Series Cast
Kenan Imirzalioglu as Mahir Kara / Karadayi
Berguzar Korel as Feride Sadoglu / Kara
Cetin Tekindor as Nazif Kara / Kibar
Riza Kocaoglu as Yasin Ulutas / Kibrit
Melike Ipek Yalova as Ayten Alev
Reha Ozcan as Vehbi Duru
Yurdaer Okur as Turgut Akin
Erkan Avci as Necdet Guney / Barut
Civan Canova as Cetin Hunkaroglu
Leyla Lydia Tugutlu as Songul Kara
Ulas Tuna Astepe as Orhan Kara
Elif Sonmez as Ilknur Kara
Cenan Camyurdu as Erdal Engin
Emir Cubukcu as Osman Guney
Deniz Sen Hamzaoglu as Bulent Tiryaki
Ozan Agac as Ismet Ertekin
Murat Agac as Ismet Ertekin
Murat Mastan as Kemal
Perihan Erener as Zehra
Irem Kahyaoglu as Suna Demir
Ugur Aslan as Ismail Gun
Kerem Firtina as Adnan Tok
External Links
Official Site: https://www.ayyapim.com/en-us/karadayi
Official Site 2: https://www.atv.com.tr/webtv/karadayi/bolum
English Wikipedia:
Imdb:
Youtube Channel: https://www.youtube.com/channel/UCTQ6d7W2JRulB1Pd-9wCsAw
You Might Also Like
Ezel
Karadayi Tv Series Gallery
Posters
Karadayi Tv Series Trailer (with English Subtitle)
Karadayi Tv Series Trailer (Eng Sub)