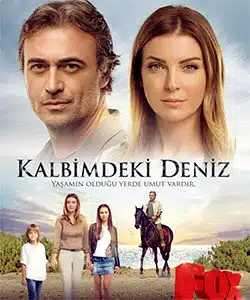 Details
Original Title: Kalbimdeki Deniz
English Title: Deniz Inside My Heart
Also Known As: Second Chance
Genre: Drama, Romance
Episodes: 60
Broadcast Network: Fox Tv
Broadcast Period: January 12, 2017 – March 12, 2018
Production Company: Pastel Film
Director: Aysun Akyuz Mehdiabbas
Screen Writer: Funda Cetin
Filming Locations: Istanbul, Turkey
Synopsis
Deniz (Ozge Ozberk) has everything a woman can ask for: she has a wealthy life and lives happily with her two lovely children and a handsome husband. She has been raised without seeing any hardship. Therefore, she is well-intentioned all the time and trusts all the people around her.
Deniz's life turns upside down when her husband Alihan (Hakan Eratik) disappears with no trace. She worries about the life of her husband without knowing that her husband has left them behind and has run away with his lover Sebnem (Zeynep Aydemir) in order to start a new life. She also does not know that her cousin Hulya (Devin Ozgur Cinar) is the one who arranged this forbidden love.

After 3 days of Alihan's disappearance, Deniz also loses all her wealth. Now, she has nothing and she finds herself in a desperate state with her two children and her father. The betrayal of her husband transforms Deniz's life so radically that she will never be able to go back to the way she used to live.
Deniz moves into a new house in a poor neighborhood and tries to be strong in front of her children and her father. While struggling to settle in her new life, Deniz tries to do her best to help her children adapt their new lives. During her journey, Deniz meets Merit (Kutsi) who will be a lover and be a life saver.
In Deniz inside my heart (kalbimdeki deniz – second chance) tv series story, you will explore the story about a young woman who tries to adjust a new life after her husband's disappearance. Will Deniz and her children get used to living in a small house in a new neighborhood? Will Deniz manage to stand on her own legs?
Deniz Inside My Heart (Kalbimdeki Deniz – Second Chance) Tv Series Cast
Ozge Ozberk as Deniz Oztuna
Kutsi as Mirat Yavuz
Yesim Ceren Bozoglu as Fikriye Yilmaz
Hakan Eratik as Alihan Oztuna
Sebahat Kumas as Diyar Turkcan
Nazli Pinar Kaya as Figen Yilmaz
Guzin Usta as Cemile Sahin
Hakan Vanli as Nejat Aksal
Batuhan Eksi as Mustafa Tarhan
Devin Ozgur Cinar as Hulya Aksal
Caglayan Doruk Ozanoglu as Ozan
Hazal Adiyaman as Ece Oztuna
Zeynep Aydemir as Sebnem
Evren Erler as Sirzat Gulpinar
Faruk Ustun as Ibrahim Tarhan
Temmuz Ugur Yildiz as Yosef
Turan Selcuk Yerlikaya as Serkan
Levend Yilmaz as Mehmet
Sercan Gurbahar as Civan Gulpinar
Serkan Altindas as Serdem
Merve Aysal as Elvan Gulpinar
Kivanc Kilinc as Artun
Emre Yanik as Kerem Can
Melissa Dager as Muge
Aydan Sener as Zahide
Yilmaz Serif as Salman Gulpinar
Kubilay Penbeklioglu as Turgut
External Links
Official Site: Broadcast Network
English Wikipedia:
Imdb:
You Might Also Like
My Road Mate (Yol Arkadasim)
Deniz Inside My Heart (Kalbimdeki Deniz – Second Chance) Tv Series Trailer (with English Subtitle)
Second Chance (Kalbimdeki Deniz – Deniz Inside My Heart) Tv Series Trailer (Eng Sub)