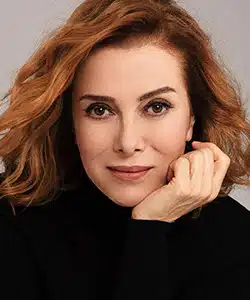 Profile
Name: Zuhal Olcay
Birthdate: August 10, 1957
Birthplace: Istanbul, Turkey
Height: 172 cm
Eye Color: Brown
Hair Color: Brown
Education: Ankara State Conservatory – Acting Training (Ankara Devlet Konservatuvari Oyunculuk Yuksek Bolumu)
Talent Agency: Must Entertainment Management
Spouse: Selcuk Yontem (m. 1976–1979), Zafer Olcay (m. 1980–1987), Haluk Bilginer (m. 1992–2004)
Children: Ceren Olcay
Biography: Zuhal Olcay was born in 10 August 1957 in Istanbul. She is the only child of her family. Her father was a barber while her mother was a housewife. With the support of her aunt who was a piano teacher, she decided to study theatre. She graduated from Ankara State Conservatory in 1976 and she got married to her classmate Selcuk Yontem in 1976. She also got training in London for one year. Her first marriage lasted in 3 years, and after then she got married to businessman Zafer Olcay and moved to Izmir. In 1991, she gave birth to her daughter Ceren. Since 1983, Zuhal Olcay took part in various television projects. In 1987, Zuhal Olcay got divorced from her husband Zafer Olcay. She got married to Haluk Bilginer in 1992 and got divorced from him in 2004.

Zuhal Olcay Tv Series / Movies
1980 – Sonmus Ocak
1983 – Ihtiras Firtinasi (as Mujgan) (Movie)
1985 – Parmak Damgasi (as Seniha)
1985 – Halkali Kole (Movie)
1985 – Kursun Ata Ata Biter (as Hediye) (Movie)
1985 – Amansiz Yol (as Sabahat) (Movie)
1986 – Varsayalim Ismail
1986 – Oteldeki Cinayet (Movie)
1986 – Genc ve Dul (as Ayla) (Movie)
1986 – Atesten Gomlek (Movie)
1986 – Istek (Movie)
1987 – Gecenin Oteki Yuzu
1987 – Gece Yolculugu (Movie)
1987 – Bir Avuc Gokyuzu (as Ayse) (Movie)
1987 – Dunden Sonra Yarindan Once (as Gul) (Movie)
1987 – Bir Gunah Gibi (Movie)
1987 – Atesten Gunler
1988 – Sahte Cennete Veda (as Elif) (Movie)
1989 – Medcezir Manzaralari (as Zeynep Kerimoglu) (Movie)
1989 – Baharin Bittigi Yer
1990 – Gizli Yuz (Movie)
1991 – Kara Sevdali Bulut (as Sibel) (Movie)
1992 – Iki Kadin (Movie)
1993 – Ay Vakti (as Yildiz) (Movie)
1993 – The Young Indiana Jones Chronicles (as Halide Edib)
1994 – Artist Palas (as Hayal)
1994 – An Autumn Story (Bir Sonbahar Hikayesi) (Movie)
1995 – Ask Uzerine Soylenmemis Her Sey (Movie)
1996 – Istanbul Beneath My Wings (Istanbul Kanatlarimin Altinda) (as Kosem Sultan) (Movie)
1996 – 80. Adim (as Lerzan) (Movie)
1997 – Relationship Status (Medeni Haller)
1999 – Women Without a Roof (Catisiz Kadinlar) (as Leyla)
1999 – Mrs. Salkim's Diamonds (Salkim Hanim'in Taneleri) (as Nefise) (Movie)
1999 – Issizligin Ortasinda (Movie)
2000 – Gece Martilari (Movie)
2001 – Istanbul Seven Hills (Yeditepe Istanbul) (as Olcay)
2001 – Nowhere (Hicbiryerde) (as Sukran)
2002 – Ti Show
2004 – Simbiyotik (Movie)
2005 – I Missed You So Much (Seni Cok Ozledim) (as Leyla)
2006 – Ankara Cinayeti (as Mediha Orbay) (Movie)
2007 – Broad Times (Genis Zamanlar) (as Ayla)
2007 – Good Year London (Iyi Seneler Londra) (as Zeynep) (Movie)
2008 – Don't Forget Me (Beni Unutma)
2008 – Mevzuhal
2009 – Pains of Autumn (Guz Sancisi) (Movie)
2010 – Back Streets (Arka Sokaklar)
2010 – Passengers of Love (Umut Yolculari) (as Zahide)
2011 – Uprightness (Iffet) (as Dilek)
2013 – A Love Story (Bir Ask Hikayesi) (as Gonul Karanli)
2014 – Devoted (Urfaliyam Ezelden)
2016 – High Society (Yuksek Sosyete) (as Sureyya)
2020 – Love Loves Coincidences 2 (Ask Tesadufleri Sever 2) (as Sema) (Movie)
2020 – 2021 Flames of Fate (Alev Alev) (as Tomris Ustunoglu)
2021 – The Affair (Sakli) (as Leyla)
2022 – Poison Ivy (Gecenin Ucunda) (as Berrin Isik Kanbey)
Awards
1984 – 21. Antalya Film Festival (21. Antalya Film Senligi) – Best Actress in Supporting Role (Ihtiras Firtinasi) – En Iyi Yardimci Kadin Oyuncu (Ihtiras Firtinasi)
1985 – 21. Antalya Film Festival (21. Antalya Film Senligi) – Best Actress (Amansiz Yol) – En Iyi Kadin Oyuncu (Amansiz Yol)
1986 – Avni Dilligil Theatre Award (Marti) – Avni Dilligil Tiyatro Odulu (Marti)
1988 – Ankara Art Awards (Balkon) – Ankara Sanat Odulu (Balkon)
1989 – Germany Golden Film Festival (Almanya Altin Film Seridi) – Best Actress (Sahte Cennete Veda) – En Iyi Kadin Oyuncu Odulu (Sahte Cennete Veda)
1989 – 2. Ankara Film Festival (2. Ankara Film Senligi) – Best Actress (Dunden Sonra Yarindan Once) – En Iyi Kadin Oyuncu (Dunden Sonra Yarindan Once)
1990 – 3. Ankara Film Festival (3. Ankara Film Senligi) – (Medcezir Manzaralari)
1994 – 6. Ankara Film Festival (6. Ankara Film Festivali)- Best Actress (Bir Sonbahar Hikayesi) – En Iyi Kadin Oyuncu (Bir Sonbahar Hikayesi)
1999 – Afife Theatre Awards (Afife Tiyatro Odulleri) – Best Actress in Comedy (Dolu Dusun Bos Konus) – En Iyi Komedi Kadin Oyuncusu Odulu (Dolu Dusun Bos Konus)
2002 – 21. Istanbul Film Festival (21. Istanbul Film Festivali) – Best Actress (Hicbiryerde) – En Iyi Kadin Oyuncu (Hicbiryerde)
2002 – 24. Siyad Turkish Cinema Awards (24. Siyad Turk Sinemasi Odulleri) – Best Actress (Hicbiryerde) – En Iyi Kadin Oyuncu (Hicbiryerde)
2003 – 6. Gokceada Film Festival (6. Gokceada Film Festivali) – Best Actress (Hicbiryerde) – En Iyi Kadin Oyuncu (Hicbiryerde)
2006 – Afife Theatre Awards (Afife Tiyatro Odulleri) – Best Actress (Nathalie) – Yilin En Basarili Kadin Oyuncusu (Nathalie)
2019 – 26. International Adana Golden Cocoon Film Festival (26. Uluslararasi Adana Altin Koza Film Festivali) – Golden Cocoon Lifetime Honor Award (Altin Koza Yasam Boyu Onur Odulu)
Social
Instagram: Official Instagram Account
Twitter:
Facebook: Official Facebook Account
E-Mail: Mail