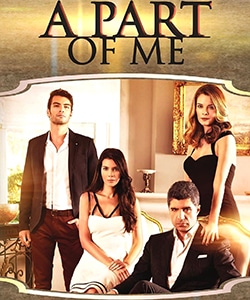 Details
Original Title: Kaderimin Yazildigi Gun
English Title:  The Day My Destiny Is Written
Also Known As: Belahan Jiwa Kahraman; A Part of Me
Genre: Romance, Drama
Episodes: 50
Broadcast Network: Star Tv
Broadcast Period: October 14, 2014 – December 29, 2015
Production Company: 03 Turkey Medya
Director: Sadullah Senturk, Ulas Inac
Screen Writer: Muharrem Buhara, Ozlem Atasoy, Kerim Ceylan, Bektas Topaloglu
Synopsis
The members of Yorukhan family gather all together in Antakya, the city in the southern part of Turkey. They celebrate the first day of pomegranate harvest and wish to have peace, fruitfulness, and wealth. However, their day is ruined when the bride of the family, Defne (Begum Kutuk Yasaroglu) is criticized for not having baby. Kahraman (Ozcan Deniz) protects his wife and makes it clear that they do not care about baby. However, this event changes the life of Yorukhan family forever.
Defne wants to have a baby and becomes willing to do anything to reach that goal. She consults her mother-in-law Kiymet (Gul Onat) and they decide to hire a surrogate who will bear a baby on behalf of Kahraman and Defne, and who will leave after giving a birth. They convince Kahraman and start to search for a perfect surrogate. Their destiny intersects with a beautiful and young girl, Elif (Hatice Sendil).

Elif is a young and naïve girl who lives in Antakya. She is forced by her father to get married to a man in return for money. While protecting Elif, her mother kills her husband accidently. After this tragic event, they run away to Istanbul but Elif's mother is put in prison. Now, Elif becomes all alone in this big city with her little sister. She has no choice but to accept the offer of bearing a baby of Defne and Kahraman who will give them a house and money. She thinks that after 9 months, everything will end: she will give a birth, leave that baby behind, and start a new life with her little sister and her mother. However, unexpected thing happens.
Defne cannot have a baby no matter what but Elif can, so Kiymet makes a big decision because she wants to have a grandchild no matter what. Kiymet makes an agreement with doctor who will use Kahraman's sperm and Elif's egg and will keep this as a secret. Everybody thinks that Elif bears the baby of Kahraman and Defne but in reality, she bears her own baby.
In a part of me (kaderimin yazildigi gun) tv series story, you will explore whether it is possible to bear a baby on behalf of other family and give that baby after giving birth. Will Kahraman and Elif learn that they are the biological parents of the baby? How will Defne react when she learns that she is not the biological mother of the baby? Will Kahraman continue to love her wife Defne or start to fall in love with Elif?
A Part Of Me (Kaderimin Yazildigi Gun) Tv Series Cast
Ozcan Deniz as Kahraman Yorukhan (episodes 1-50)
Hatice Sendil as Elif Dogan Yorukhan (episodes 1-50)
Begum Kutuk Yasaroglu as Defne Baser Yorukhan (episodes 1-50)
Gurbey Ileri as Kerem Serter (episodes 1-25)
Goncagul Sunar as Sukran Yorukhan (episodes 1-50)
Hakan Mericliler as Yakup Yorukhan (episodes 1-50)
Gul Onat as Kiymet Yorukhan (episodes 1-50)
Metin Cekmez as Ziya Yorukhan (episodes 1-47)
Almila Ada as Nehir Yorukhan (episodes 1-34)
Serdar Ozer as Maksut Karakoyunlu (episodes 1-50)
Berrin Arisoy as Meryem Yorukhan Serter (episodes 1-50)
Aysenur Ozkan as Canan Yorukhan (episodes 1-50)
Hasret Canan Tutus as Aysel (episodes 1-50)
Bennur Duyucu as Gulsum (episodes 2-50)
Anil Altan as Selim (episodes 2-50)
Burcin Birben as Celal (episodes 9-50)
Yeliz Baslangic as Mujgan (episodes 30-50)
Bulent Duzgunoglu as Halil (episodes 1-16)
Elif Tas as Nazli Dogan (episodes 1-32)
Gunes Hayat as Sultan Dogan (episodes 1-41)
Ali Yerlikaya as Veysel (episodes 2-42)
External Links
Imdb:
Wikipedia:
Official Site:
Social
Instagram:
Twitter:
Facebook: @kaderiminyg
Youtube Channel: @KaderiminYazildigiGun
You Might Also Like:
Burn Cocoon (Yanik Koza)
A Part Of Me (Kaderimin Yazildigi Gun) Turkish Drama Trailer (with English Subtitle)

A Part Of Me (Kaderimin Yazildigi Gun) Turkish Drama Trailer (Eng Sub)