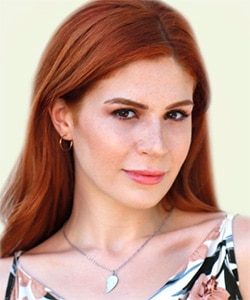 Profile
Name: Yeliz Kuvanci
Birthdate: February 28, 1987
Birthplace: Istanbul, Turkey
Height: 174 cm (5′ 8½")
Eye Color: Brown
Hair Color: Red
Education: Beykent University Fine Arts Faculty – Acting (Beykent Universitesi Guzel Sanatlar Fakultesi Oyunculuk Bolumu)
Talent Agency: Abdullah Bulut Management
Spouse:
Biography: Yeliz Kuvanci was born in 28 February 1987 in Ankara. Even though she did not have any plans for acting in her childhood, she started to attend theatre training with the encouragement of her father. After then, she studied at Beykent University Fine Arts Faculty. Yeliz Kuvanci made her debut with her role as Teacher Inci in popular Turkish series As Time Goes By (Oyle Bir Gecer Zaman Ki). After starting her acting career in tv, she took part in various tv projects.
Yeliz Kuvanci Tv Series / Movies
2010 – 2011 As Time Goes By (Oyle Bir Gecer Zaman ki) (as Teacher Inci)
2011 – 2012 Seni Bana Yazmislar (as Zeynep)
2012 – Don't Let it End Like This (Boyle Bitmesin) (as Nazli)
2014 – My Husband Got Family (Kocamin Ailesi) (as Gunes)
2016 – We All Fall in Love (Hangimiz Sevmedik) (as Itir)
2020 – The Disconnected (Tutunamayanlar) (as Ayse)
2020 – A Woman Scorned (Sadakatsiz – Unfaithful) (as Bahar Gelik)
Awards
Social
Instagram: https://www.instagram.com/yelizkuvancii/
Twitter: https://twitter.com/yelizkuvanci
Facebook:
E-Mail:
Trivia
Body Type:
Skills:
Zodiac Sign:
Blood Type:
Hobbies:
Weight:
Yeliz Kuvanci Gallery