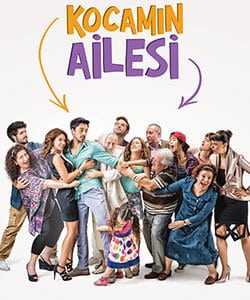 Details
Original Title:
Kocamin Ailesi
English Title:
My Husband's Family
Also Known As:
Genre:
Codemy
,
Romance
,
Family
Episodes:
57
Broadcast Network:
Fox Tv
Broadcast Period:
July 3, 2014 – November 11, 2015
Production Company:
Mia Yapim
Director:
Kemal Uzun
Screen Writer:
Nuray Uslu
,
Veda Pars
Synopsis
Yonca (Selen Seyven) is a young and beautiful woman who is married to her perfect man, Tarik (Gokhan Alkan). Yonca has been affraid of having in-laws and because of this reason, she has always wanted to get marry with a guy who is not closely connected to his family. Tarik is a perfect guy for her, because he is a doctor with sensitive personality and most importantly, he does not have a family. Tarik was adopted by a couple living in Germany when he was a little child and he does not know anything about his real family.
Meanwhile, Mukadder (Aysenil Samlioglu) is the mother of a classic turkish family who lost her son at a traditional market 25 years ago. Because of that traumatic incident, both Mukadder and her family have suffered from a pain but never given up hope on finding their lost family member one day. They live happily in a big family apartment alltogether consisting of mother, father, grandmother, 3 girls, one granddaughter, and uncle.

Their family becomes bigger when Tarik and Yonca moves in their apartment as a neighbor. They behave Tarik as if he is their lost son but somehow, they fight a daily basis with Yonca. The story becomes more complicated when it is understood that Tarik is the lost son of this big family and Mukadder is his real birth parent. Now, Yonca finds out that she has mother-in-law, father-in-law, grandmother-in-law, three sisters-in-law, uncle, and aunt.
My husband's family (Kocamin ailesi) tv series story, you will explore family relations with funny stories. Will Tarik find his real birth parents? How will Yonca react when she realizes that her husband has a big classic Turkish family? How will Tarik and Yonca's marriage be affected by Tarik's family?
My Husband's Family (Kocamin Ailesi) Tv Series Cast
Gokhan Alkan as Tarik
Selen Seyven as Yonca
Buse Arslan as Gulay Ar
Seray Kaya as Miray
Fusun Kostak as Tulay
Ahmet Kayakesen as Fatih
Genco Ozak as Can
Aysenil Samlioglu as Mukadder Ar
Erman Okay as Zafer Ar
Sehsuvar Aktas as Gazanfer
Yesim Salkim as Seniz
Yildiz Kultur as Hikmet Ar
Yeliz Kuvanci as Gunes
Durul Bazan as Cucu
Beren Gokyildiz as Pelin
Baris Murat Yagci as Akin Ertekin
Cengiz Bozkurt as Dilaver Ar
Elif Cakmak as Zuhal Oztuna
External Links
Imdb:
Wikipedia:
Official Site: https://www.fox.com.tr/Kocamin-Ailesi/
http://miayapim.com/kocamin-ailesi/
You Might Also Like
Between You and Me (Aramizda Kalsin)
My Dear Family (Canim Ailem)