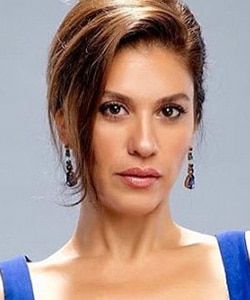 Profile
Name: Evrim Alasya
Birthdate: August 02, 1979
Birthplace: Izmir, Turkey
Height: cm
Eye Color: Brown
Hair Color: Black
Education: Dokuz Eylul University – Theatre (Dokuz Eylul Universitesi Tiyatro Bolumu)
Talent Agency:
Spouse:
Biography: Evrim Alasya was born in 2 August 1979 in Izmir. She graduated from 9 September University Fine Arts School. While she was 5 years old, she started gymnastics and continued gymnastics until high school. While she was going to high school, she started to be interested in theatre. Evrim Alasya got training from Konak Municipality Theatre after graduating from high school in 1997. After then, she studied at 9 September University. In 2003, Evrim Alasya moved to Istanbul to work at Pinar Children Theatre and worked there until 2006. After 2006, she started working at Oyun Atolyesi.

Evrim Alasya Tv Series / Movies
Theatre Plays
Lokamapuf
Androcles Ve Aslan
Mutluluk Dagitan Eskici
Mavi Pullu Balik
Yel Degirmeni
Firtina
Ben Bir Kurbagayim
Kucuk Kiz Ve Yildiz
Ayrilik
Deli Dumrul
Atinali Timon (William Shakespeare)
7 Sekspir Muzikali (William Shakespeare)
Don Juan'in Gecesi (Éric-Emmanuel Schmitt)
Antonius ile Kleopatra (William Shakespeare)
Social
Instagram: @mujdevrim
Twitter:
Facebook:
E-Mail: Contact