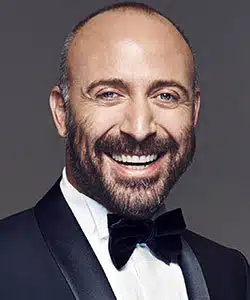 Profile
Name: Halit Ergenc
Birthdate: April 30, 1970
Birthplace: Istanbul, Turkey
Height: 183 cm
Eye Color: Blue
Hair Color: Brown
Education: Besiktas Ataturk High School (Besiktas Ataturk Lisesi) (1989), Istanbul Technical University – Marine Engineering (Istanbul Teknik Universitesi Deniz Muhendisligi) (dropout), Mimar Sinan University Opera (Mimar Sinan Universitesi Opera Bolumu)
Spouse: Berguzar Korel (m. 2009-present), Gizem Soysaldi (m. 2007-2008)
Children: Ali Ergenc
Other: Halit Ergenc's mother is of Albanian descent. Halit Ergenc started to act at the Dormen Theatre and got his first leading role in the musical The King and I. He started his career at television with his role at the popular Turkish drama Black Angel (Kara Melek). Halit Ergenc went to New York City in 1997 and acted in the musical The Adventures of Zak.
Notable Works
1996 – Sweet Madmen (Tatli Kaciklar)
1996 – Black Angel (Kara Melek)
1997 – Was that Supposed to Happen (Böyle mi Olacaktı)
1998 – Migrants (Gurbetciler)
2000 – Death's Autograph (Olumun El Yazisi) (movie)
2000 – Hic Yoktan Ask (movie)
2001 – My Grandfather, Gofret and I (Dedem, Gofret ve Ben)
2002 – Signs at the Beach (Kumsaldaki Izler)
2002 – Zeybek Fire (Zeybek Atesi)
2002 – 2006 Azad
2002 – 2004 Zerda (as Devran)
2003 – Father (Baba)
2003 – People of the Captive City (Esir Sehrin Insanlari)
2003 – School (Okul) (movie)
2004 – 2006 Aliye (as Sinan Karahan)
2005 – The Net 2.0 (movie)
2005 – My Father and My Son (Babam ve Oglum) (as Ozkan) (movie)
2006 – Tramway (Tramvay) (as Nezih) (movie)
2006 – First Love (Ilk Ask) (as Kemal) (movie)
2006-2009 1001 Nights (Binbir Gece) (as Onur Aksal)
2008 – Cars of the Revolution (Devrim Arabalari) (as Ugur) (movie)
2009 – Bitter Love (Aci Ask) (as Orhan) (movie)
2010 – Our Lesson is Ataturk (Dersimiz: Ataturk) (as Ataturk) (movie)
2010 – Guest (Misafir) (as Oktay) (movie)
2011–2014 Magnificent Century (Muhtesem Yuzyil) (as Sultan Suleiman)
2016 – Ali and Nino (as Fatali Khan Khoyski) (movie)
2016–2018 Wounded Love (Vatanim Sensin) (as Cevdet)
2017 – Rosso Istanbul (Istanbul Kirmizisi) (movie)
Awards
2007 – Altin Kelebek Odulleri (Golden Butterfly Awards) – Best Actor (1001 Nights) – En Iyi Aktor (Binbir Gece)
2014 – Altin Kelebek Odulleri (Golden Butterfly Awards) – Best Actor (Magnificent Century) – En Iyi Aktor (Muhtesem Yuzyil)
Halit Ergenc Social
Instagram: https://www.instagram.com/halitergencresmi/
Twitter: https://twitter.com/halitergenc
Facebook: https://www.facebook.com/halitergencofficial
Halit Ergenc's singing video in beyaz show
Halit Ergenc and Berguzar Korel in cannes
Wounded Love's Berguzar Korel & Halit Ergenc