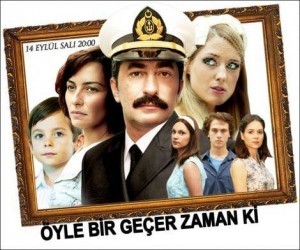 Original Title: Oyle Bir Gecer Zaman ki
English Title: Time Flies
Also Known As:
Genre: Drama, Family
Episodes: 38+
Broadcast Network: Kanal D
Broadcast Period: September 14, 2010 –
Production Company: D Production
Director: Zeynep Gunay Tan
Screen Writer: Coskun Irmak
After a long voyage, Ali returns home. Although everything seems perfect on the surface, his return brings serious difficulties. The life of Akarsu family irrevocably changes when Cemile discovers a letter written in another language in Ali's jacket. As the story ensues, we learn that Ali has an affair with Caroline (Wilma Elles) whom he acquaints with in his voyage. Their affair soon affects every member of the family and brings a lot of trauma.
In this story, you will explore the dramatic changes to the lives of Akarsu family after the matriarch's extra marital affair. How will Cemile react when she learns that her husband has an affair? Will Ali go back to her wife or stay with Caroline? Will the children eventually forgive their father?
Ayca Bingol as Cemile
Emir Berke Zincidi as Osman
Meral Cetinkaya as Hasefe
Wilma Elles as Caroline
Main Characters' Other Popular Dramas
Erkan Petekkaya: Autum (Sonbahar), White Poppy (Beyaz Gelincik), (Silent Storm) Sessiz Firtina
English Wikipedia:
The Fall of Leaves (Yaprak Dokumu)
Aliye (Aliye)