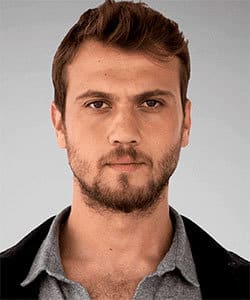 Profile
Name: Aras Bulut Iynemli
Birthdate: August 25, 1991
Birthplace: Istanbul, Turkey
Height: 183 cm
Eye Color: Brown
Hair Color: Brown
Education: Istanbul Technical University Aircraft Engineering (Istanbul Teknik Universitesi (I.T.U.) Ucak Muhendisligi); Besiktas Anatolian High School (Besiktas Anadolu lisesi)
Talent Agency:
Spouse:
Biography: Aras Bulut Iynemli was registered to acting agency upon his brother's request and took part in some tv commercials. He became very popular with his role as Mete in popular Turkish drama Time Goes BY (Oyle Bir Gecer Zaman Ki).
Aras Bulut Iynemli Tv Series / Movies
2008 – Back Streets (Arka Sokaklar) (as Sener)
2009 – Taxi Station (Akasya Duragi) (as Sener)
2010 – 2013 Time Goes By (Oyle Bir Gecer Zaman Ki) (as Mete Akarsu)
2013 – 2014 Magnificent Century (Muhtesem Yuzyil) (as Sehzade Beyazid)
2012 – Mahmut and Meryem (Mahmut ile Meryem) (as Mahmut) (Movie)
2013 – Are We Okey? (Tamam Miyiz?) (as Ihsan) (Movie)
2014 – 2015 Maral: My Most Beautiful Story (Maral En Guzel Hikayem) (as Sarp)
2014 – Very Soon (Pek Yakinda) (Movie)
2016 – 2017 Inside (Icerde) (as Umut/Mert)
2017 – The Lord of the Seagull (Martilarin Efendisi) (Movie)
2017 – 2018 The Pit (Cukur) (as Yamac Kocovali)
2019 – Crash (Carpisma) (as Yamac Kocovali)
2019 – 7. Kogustaki Mucize (as Memo) (Movie)
Award
2011 – Antalya Television Awards – Best Actor in Supporting Role (Time Goes By)
2011 – televizyondizisi.com Best Awards – Best Actor in Supporting Role (Time Goes By)
2014 – 19. Sadri Alisik Awards – Ekrem Bora Promising Actor Award (Are We Okey?)
2017 – 12. ITU Makinistanbul Medya, Sanat ve Spor Awards – Epgik Ozel Icimizdeki Biri Odulu in Supporting Role (Insider)
2017 – Yeditepe Universitesi 5. Dilek Awards – Best Actor in Supporting Role (Insider)
2017 – Okan Universitesi Yilin En'leri Awards – Best Actor in Supporting Role (Insider)
2018 – Yeditepe Universitesi 6. Dilek Awards – Best Actor in Supporting Role (The Pit)
2018 – MGD 23. Altin Objektif Awards – Best Actor in Supporting Role (The Pit)
2018 – 9. Quality of Magazine Dergisi Awards – Best Quality Actor in Supporting Role (The Pit)
2018 – 45. Pantene Altin Kelebek Awards – Best Actor in Supporting Role (The Pit)
2018 – GQ Moty by Clear 2018 – Best Actor in Supporting Role (The Pit)
Social
Instagram: https://www.instagram.com/iynemliarasbulut/
Twitter: https://twitter.com/aras_b_iynemli
Facebook:
E-Mail:
Trivia
Body Type:
Skills:
Star Sign: Virgo
Blood Type:
Hobbies:
Weight: 70 Kg
Aras Bulut Iynemli Gallery
Aras Bulut Iynemli – NBA Collection
Aras Bulut Iynemli - NBA Collection
Hande Ercel & Aras Bulut Iynemli
Hande Ercel & Aras Bulut Iynemli